When the time was right, Alexander Serruys planned to propose to his longtime love Marieke on a beach somewhere during vacation. However, a Facebook post would forever change the course of this Belgian couple's "I do's," leading them to get married in a surprise wedding on an airplane! The craziest part: They weren't even engaged when they boarded the flight, so the proposal took place the same day, too.
Watch their incredible journey here (skip to the 3:12 mark to watch the proposal):
It all started on Valentine's Day, when Thomas Cook Airlines posted, "If you could marry your love on a plane, would you do it?" Serruys, a 24-year-old bus driver, commented, "Immediately!" Thus, preparations for the #FlightYes14 conspiracy began. The groom hid his phone when he was home and became tight-lipped in an effort not to slip up: "Yes, she did become suspicious of me. Bad start for a marriage!" he jokes.
With the help of the airline, he convinced Marieke, 20, that she and her sister won a free girls trip to Rhodes, and a camera crew would film their getaway. Forty of their closest friends and relatives boarded the plane and hid in the back until the bride-to-be arrived and took her seat in the front of the aircraft.
Dressed as a flight attendant, the groom finally asked the question they had all been waiting for: "It was the biggest moment of my life, so it wasn't the right time to be nervous. It just had to be perfect. Such a beautiful moment...not the time to cry," he says.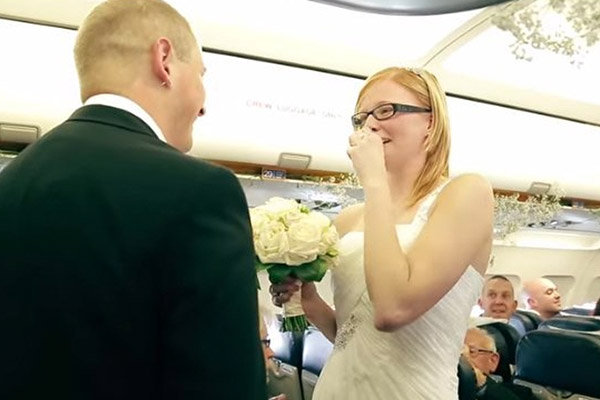 Needless to say, the bride was shocked: "I honestly thought he would pop the question in a football stadium, so I'm very happy it happened on a plane! He always said it would be something spectacular...Everything was very blurry. I don't even remember what he said."
But the celebration wasn't over yet. The newly-engaged pair changed into their wedding attire as the fuselage was decorated with flowers and a violinist began to play. Loved ones finally revealed themselves as they began to recite their "high in the sky vows." Afterwards, they disembarked at Rhodes, where they enjoyed a reception complete with fireworks.
The couple plans on telling their future children their love story "a thousand times." In fact, the airline suggested that if they have a son, they could name him Thomas, after their high-flying adventure.
Best wishes to the happy couple!
—Stefania Sainato