TLC's latest wedding series, "Something Borrowed, Something New," premieres tonight at 10 p.m. EST (9 p.m. CST). In each episode, one bride-to-be works with designer Kelly Nishimoto and stylist Sam Saboura to help her choose between two dress options — a "something borrowed" family heirloom (like her mother's gown) that Kelly re-works into something more befitting of a modern-day bride, or a fabulous "something new" that Sam shops for with the bride's preferences in mind. In the end, the bride has a very important decision to make: Will she wear something borrowed, or will she choose something new?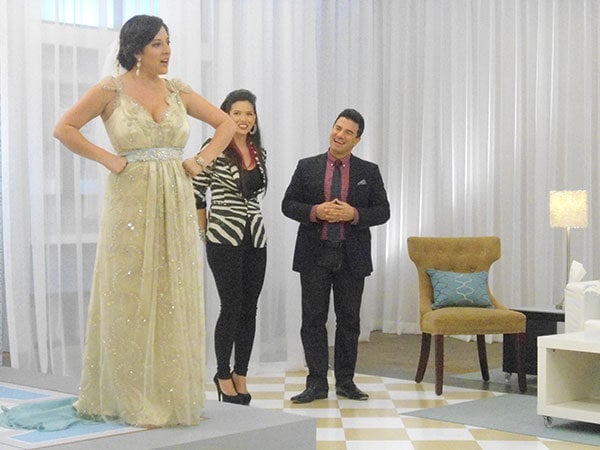 We chatted with stylist Sam Saboura to get the inside scoop on this new series.
Do more brides choose something new or something borrowed?
After we complete our shopping trip, I always feel like I have it in the bag and the bride is going to pick my new dress, hands down. At this point, no one has seen Kelly's reworked/borrowed dress, including me, so I'm always pretty confident. Once the borrowed dress is revealed, everything changes. There are tons of emotion and things escalate to a whole new level. The decision becomes very real for the brides and very tough. We never know which way it's going to go.
I think some brides chose based on history, tradition and emotion, while others are dazzled by the excitement of a new dress that's modern, pristine and all their own. The one thing about the borrowed dress is that once Kelly is done with it, it's one of a kind and no one will have one like it, and I think that appeals to many of the brides when making their decision.
On the show, the bride often ends up with two dramatically different gowns. Does this make her decision easier or more difficult?
So much harder! We hear this phrase from the brides a lot: "They're totally different and there are things I love about both." Sometimes Kelly and I are on the same wavelength and the dresses we choose/create for the brides will be similar in mood or feeling, sometimes we are on opposite ends of the spectrum. I think every bride has a few sides to her, so the different styles from each of us appeal to some part of them, ultimately they go with their heart and their gut and the dress chooses them!
What do most brides seem to be requesting in their "something new" gown?
The brides were all about lace, strapless, and fit and flare dresses. It started to feel like Groundhog Day! I'm a huge fan of lace in all it's incarnations, but I was surprised at how the trend seemed to inspire almost every bride on the show at some point during our shopping trips.
Portrait back dresses were another big request, but they were only successful on a handful of brides, and many of the girls wanted fit and flared styles or trumpet shapes. I'm a big fan of the semi-sweetheart style and I think lots of brides loved the look once they tried it on. It's the perfect balance of sexy and sweet and one of my go to necklines. There was also a lot of the B word — BLING! For whatever reason, shopping for wedding dresses brings out the bling monster in almost every bride, even if they think they don't want or love sparkle and shine they have to try it.
I happen to love a natural waist dress with a modified A-line, and I think we'll be seeing more full skirts as we begin the new wedding season. Many brides will take their cues from the red carpet season that's about to conclude, and we saw tons of clean strapless styles with fuller skirts. It makes me want to get started on Season 2 so we can play with new shapes and styles!
Some of my favorite moments were when the brides tried on dresses that were a total 180 from what they thought they wanted, and then fell in love — and the viewers will see that happen more often than not!
Get a sneak peek at the first episode below! And tune in at 10/9c to see which dress the bride chooses.
—Kristen O'Gorman Klein