If Jennifer Salvage's wedding dress could talk, it would have some pretty wild travel stories to tell. It's gone dog sledding in Iceland, paragliding in New Zealand, and even taken an under-the-sea dip in Maui. The gown's been worn 148 times in 19 locations across six continents and has traveled a total of 147,500 miles. Salvage, 42, a Medford, NJ native, brings it along to every vacation in a backpack.
The "One Dress, One Woman, One World" project , as it was dubbed, began five-and-a-half years ago, when Jennifer married her husband Jeff on Easter Island in Chile — one of the most remote places in the world. Both are avid hikers, and Jeff, a 46-year-old professional photographer, decided they should wed in Chile after visiting the country on a trip when he first started dating Jennifer. He wanted to get some spectacular wedding photos (naturally!), so he shot his beautiful new wife in multiple locations under different lighting conditions. The dress held up well, so they decided to take it with them to their summer travels to the Alps and China.
"When we broke the dress out, people first thought they'd stumbled upon a wedding and were excited. Then, when they found out it was something different, they were even more excited. On the way home, we realized we had the idea of something special and went with it," Jeff tells us.
"We love the idea of using up the dress, reliving our wedding over and over again," he says.
The Salvages relived their wedding everywhere, from iconic monuments (The Eiffel Tower, The Vatican, Egyptian Pyramids) to scenic natural backdrops (mountains, beaches, canyons, craters) to sports stadiums.
Take a look at their amazing photos below!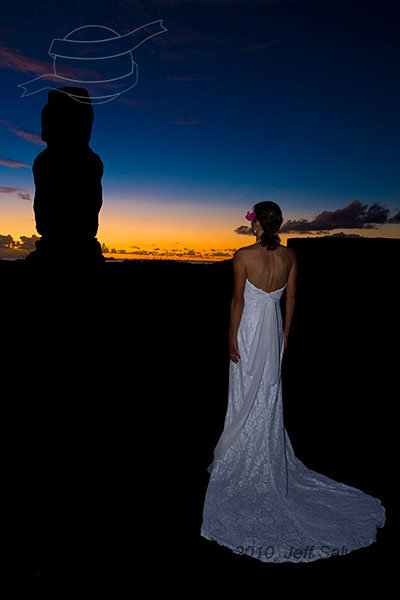 Easter Island: The photo that started it all.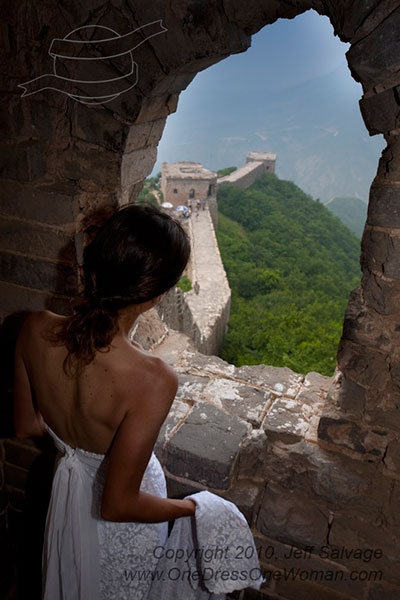 The Great Wall of China

The Eiffel Tower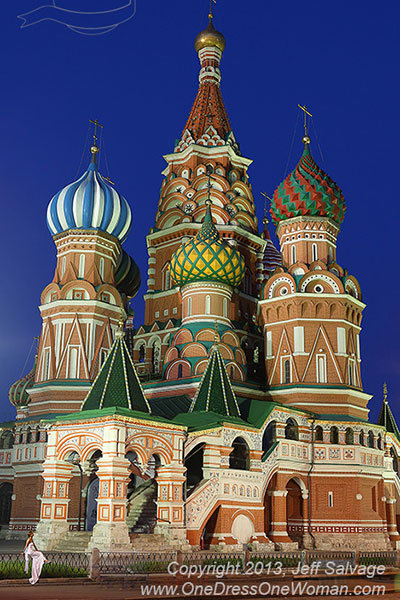 Moscow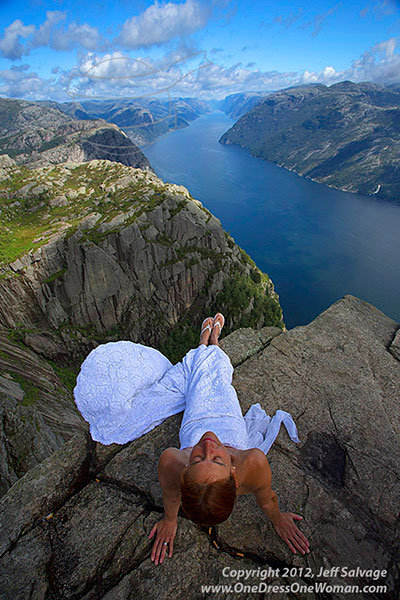 Norway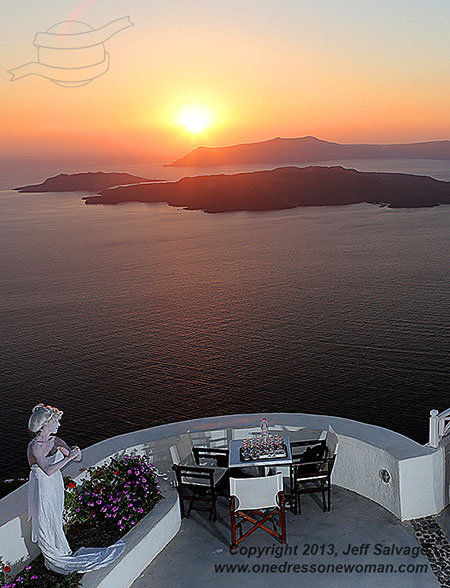 Santorini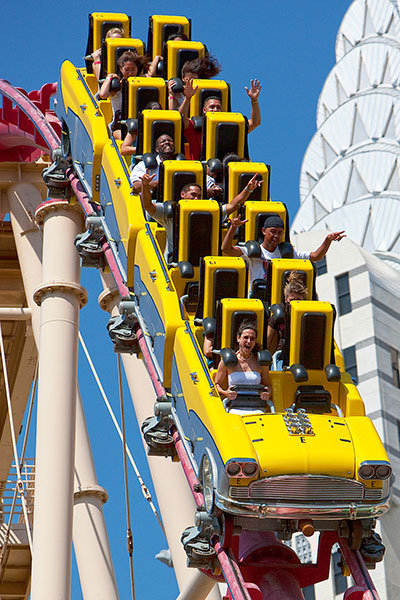 Las Vegas

The Philadelphia 76ers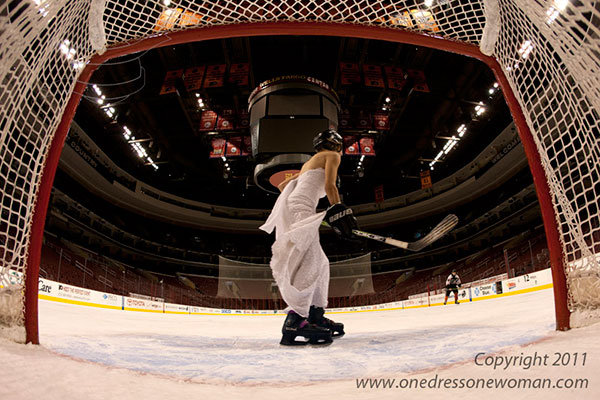 The Philadelphia Flyers

Cairo

Haleakala Crater in Maui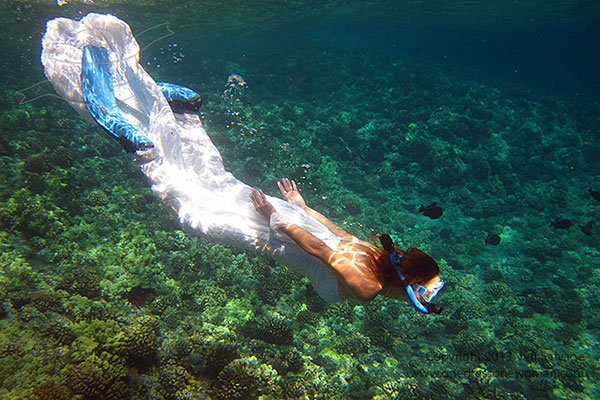 Molokini in Maui

New Zealand

The Vatican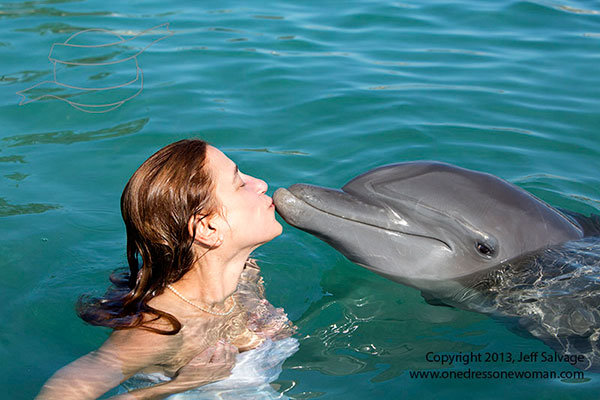 Jamaica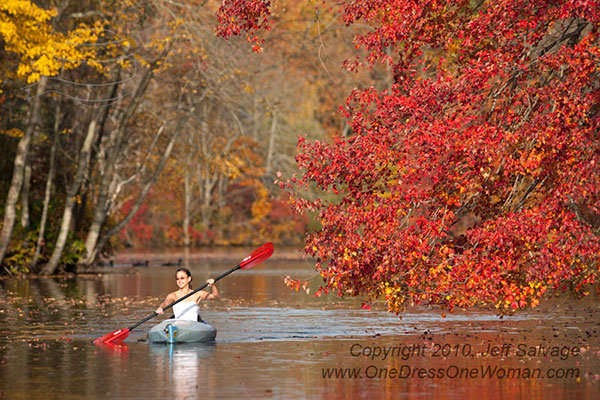 The couple's hometown: Medford, New Jersey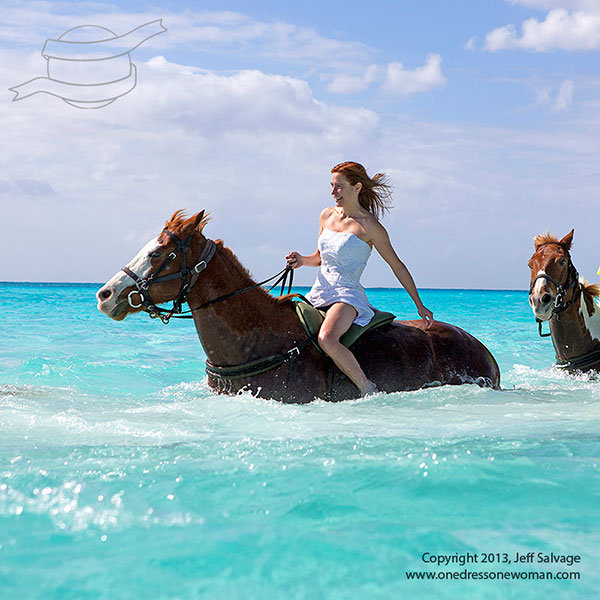 The Bahamas

Antelope Canyon
 

Iceland

Peru
The project has pushed the couple's physical and emotional boundaries. Jeff reveals that the underwater shots were the most challenging to capture ("I get very motion sick…swimming in a wedding dress wasn't much easier for Jennifer!"), and they've learned to communicate more effectively as a result of the project, which stemmed from verbalizing each other's limits.
All of the locales were memorable for different reasons, but the perpetual bride tells us one of the most eye-opening experiences was at the New York, New York rollercoaster in Las Vegas. "It's the only place where people were almost put off, like, 'Oh please, another Vegas bride, how boring.' At first, I wanted to tell them that I wasn't another Vegas bride, and then I thought, well, what if I was? Would that make my day any less magnificent? It was an interesting dynamic and lesson for me," Jennifer tells us.
Up next is a photo shoot with owls at the Cedar Run Wildlife Refuge in their hometown. They're also trying to nail down a shoot with Zero-G, where they'd drop a plane from 30,000 feet to experience zero gravity. The husband-wife adventurers plan on traveling to Thailand, Cambodia and Singapore next summer.
How do they pull all of this off? "We're both academics, and while we do well enough, we're not the 1% as people often assume," Jeff says.
The Salvages have worked with charity groups like the Arthritis Society of Canada as "trekking trainers" on a fundraiser to hike in Peru and Iceland, where their expenses were either fully or partially covered. In addition, they combine trips with Jeff's work as a writer/photographer, where he's covered major events like the Olympics. They take advantage of credit card frequent flyer miles and usually stay at two-star hotels or youth hostels.
The couple revealed that overall, the response to their online photo project — which they've turned into a coffee table book — has been highly positive, with the exception of a vocal unhappy minority. "We hope people see our work and view the world through the eyes of a bride…each photo shoot is a constant reminder of our love for each other," Jeff says.
The Salvages don't have an end date for the project and Jennifer's dress — a style from the Maggie Sottero "Destinations" line — is miraculously still intact, albeit a bit frayed. (The couple cleans it at a $2 dry cleaner and uses a backup gown for the more "hazardous" shots.)
"We think we'll wear out before the dresses do, but we have no plan to stop as long as we continue to enjoy it," says Jeff.
—Stefania Sainato