Our March/April '14 issue is now available on newsstands! Get a sneak peek at our cover shoot here:
Love the Val Stefani gown (style D8053) on our latest cover? We chatted with the sister design team behind the dress, Valerie and Stephanie Chin, to get the inside scoop on their inspiration, what it's like working together, their best style tips for brides, and more.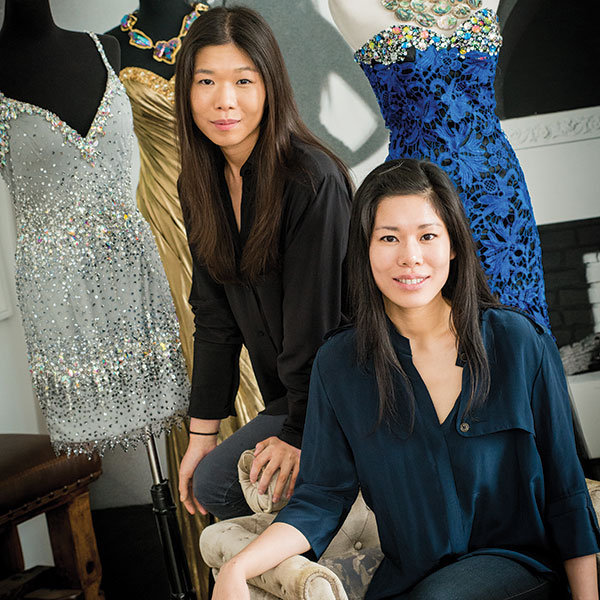 Valerie and Stephanie Chin
Q. What was your inspiration for this collection?
Valerie: We were inspired by the 2000 sculpture featured in the Los Angeles County Museum of Art this season. It's this 200-foot white geometric installation, and even though it's all precisely-placed blocks, as you're walking by, everything looks so different. It changes while you move, and that's what we were inspired by for this season.
Stephanie: When you're looking at the sculpture, it looks like it could be a wave, or it looks very straight, and that's what we were inspired by because when we do our collections, we want to have detailing that when you're looking at it from different angles, then you'll see different types of things. The artist made it so everything is done mathematically and strategically, and it's ever-changing, which is the same way that we like to design our dresses. From every angle you're looking at it from, there's something new to look at. And we liked his precision, so when we did our draping, we tried to do architectural draping — very precise in where we placed the layers and all the detailing. 

The 2000 Sculpture by Walter De Maria at the Los Angeles County Museum of Art
Q. How does your personal style influence your designs?
S: We kind of have different types of style, but at the core of it, it's really a feminine-type aesthetic.
V: With classic touches.
S: Yes, with classic touches. From the curves of the lines that we use on the dresses to the silhouettes, we try to infuse that with that feminine-type aesthetic. When we do, say, a drop-waist, we don't want to cut it straight across; we try to give it a curve so it complements a feminine figure.
Q. What's it like working with your sister?
V: It is so, so great. Amazing every day. We travel together, we work together, we go to all market shows together...
S: This is a 24/7 thing going on right here. It's a ball of fun. One second, you could not want to look at that person because you've been seeing them for the last 24 hours, then the next second, it's time to eat and it's like, "What do you want for lunch?" We have a nice dynamic because we do different things, and we have such different types of personalities, so we really complement each other nicely.
Q. Based on your dynamic, which famous sister duo are you most similar to?
V: I would say Mary-Kate and Ashley Olsen. We've been in this industry since we were young because our parents were in it, so basically, we've been growing up in this industry. 
S: Sometimes we're like the same person, but we definitely have our own distinct personalities, too. And we've been designing and in the wedding industry since we were born. This is exactly what we want to do, and this is our vision, and I think that when the Olsens work and they expand their empire, that they also really have a clear focus in what they want to do, so that's who we'd be most similar to.
Q. Who would be your dream celebrity bride to dress?
V: Our dream bride to dress would probably be Jennifer Lawrence because she has such a nice personality, she's so warm, she's so relatable, and she would be just such an ideal person to dress. She has a classic look.
S: And the way that she styles herself, it never looks like the dress is wearing her. You can totally tell that whatever she is wearing, it's like a reflection of her fun personality. And the styles that she wears are always very feminine and classic, so it definitely reflects the type of aesthetic that we design.
Q. What's the one style tip you give to all of your brides?
S: You want to look at not just the silhouette but also the fit and the proportion. Not every dress looks good on every body shape; you need to dress for what your body shape is. And that's not just for a wedding dress; that's also for regular, everyday clothes. So when you find the right silhouette, fit, and proportion, then you'll never go wrong. The proportion to your body shape is important because it'll minimize and emphasize the things you want to be shown to other people. The fit is really important, too, because if your clothes don't fit, and they're either too big or too small, then it just looks like you're either going to be pulling up your outfit all the time or you're always going to be adjusting yourself.
V: Also, don't limit your options. You might be reading a magazine and thinking, I really want a mermaid. Then when you go into the store and you're like, I'm only going to try on mermaids. Then you try on the mermaid, and you try on four other mermaids, and they still don't look good. So you need to have an open mind. If you're really gung-ho about trying the mermaid, try the mermaid — but don't get stuck on just trying the mermaids. Try all of the classic silhouettes, like ballgowns and A-lines.
—Kristen Klein