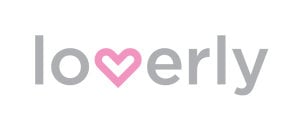 Loverly is the heart of weddings: a visual inspiration search engine designed to help brides discover ideas, people to hire, and things to buy. Loverly makes finding beautiful wedding inspiration easier than ever! Their images are powered by the best wedding publishers and wedding shopping partners on the web. Find Bridal Guide on Loverly >>
Maybe it's the whole "sitting in a tree" thing, but for whatever reason, birds just make for super sweet wedding décor. And they are so versatile! You can do adorable songbirds at a vintage wedding, earthy nests for a rustic wedding, or exotic feathers for a black-tie affair. Here are our favorite bird décor ideas.
Stationery
Set the tone for a fun and classic wedding with this bright bird save-the-date:

Photo Credit: Two Birds Photography on Style Unveiled via Lover.ly
More save-the-date ideas >>
For a rustic wedding, choose invites with a more natural, organic feel. Or, for a modern wedding, fold colorful paper into cranes and use them to prop up your escort cards: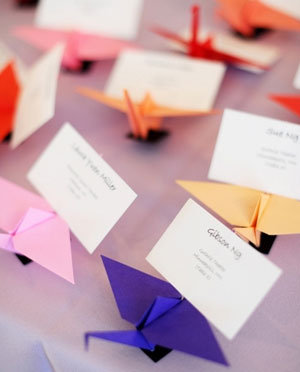 Photo Credit: Paige and Blake Green Photography on Wedding Chicks via Lover.ly(/Two Birds Photography on Style Unveiled via Lover.ly
Guests would love to open this stationery suite sealed with a silver bird charm: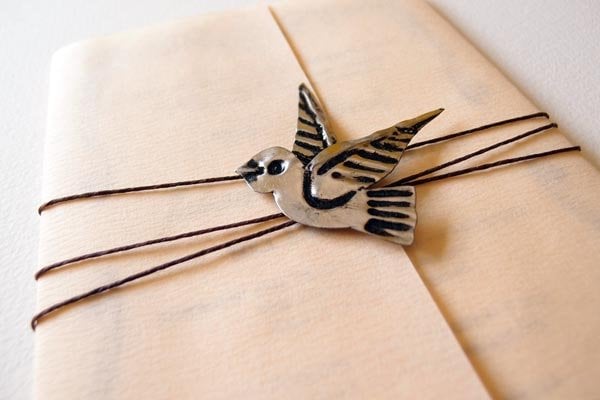 Photo Credit: Lizzy B Loves on Lizzy B Loves via Lover.ly
Invitation inspiration for every couple >>
The pretty birds and flowers on these table numbers remind me of illustrations from my favorite books growing up: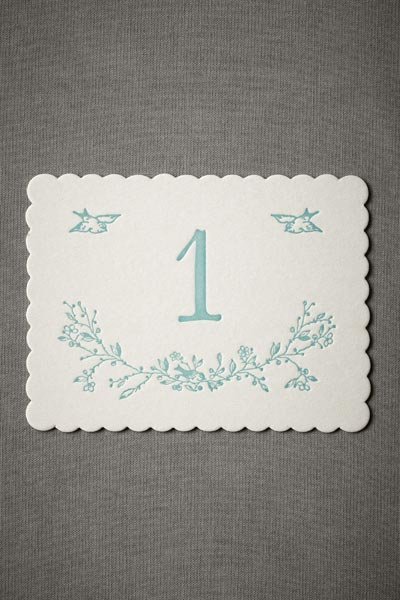 Photo Credit: Blue Bird Table Number Cards (1-15) From BHLDN via Lover.ly
Gorgeous table number ideas >>
Let guests sign in with a thumbprint leaf on your tree:

Photo Credit: Two Birds Photography on Two Birds Photography via Lover.ly
Great guest books for every style >>
A variety of little birdhouses in a row are great on the escort card table at an eclectic wedding: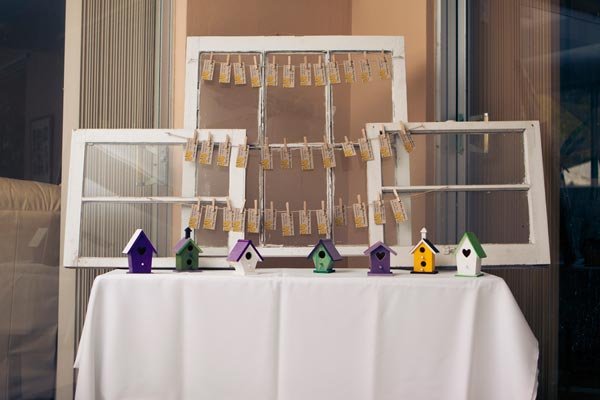 Photo Credit: Taken Photography on Every Last Detail via Lover.ly
Flowers & Décor
You can't go wrong with this neutral feathered bouquet; it's as beautiful on the beach as it is in a barn:

Photo Credit: Christie Pham on Canvas and Canopy via Lover.ly
More unexpected wedding-day bouquets >>
Birdcages are gorgeous anywhere. You can put candles in them on tables, hang them from the ceiling, or just use them as a pretty prop:

Photo Credit: Clayton Austin on Inspired by This via Lover.ly
Wedding Cakes
This rustic cake is so beautiful — love the twig accent!

Photo Credit: Brooke Holm of Lace & Bowties on Polka Dot Bride via Lover.ly
Don't limit yourself to the cake's topper; let a flock of birds cover your cake. Watercolor-style birds turn this cake into a piece of art. And the white accents on the right would look good at any style of wedding: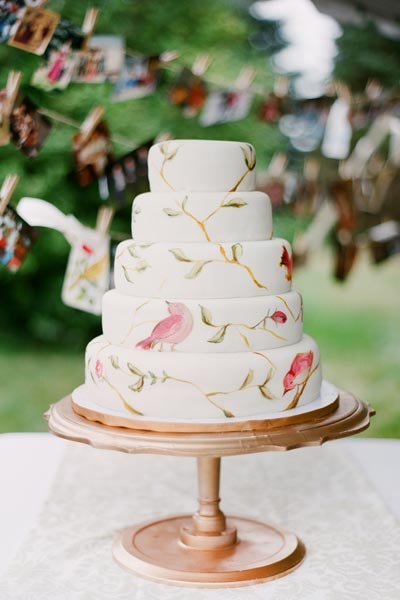 Photo Credit: Kelli Hunt Photography on Inspired By This via Lover.ly; Porcelain Peepers (6) From BHLDN via Lover.ly
Find more cake topper ideas >>
Two different ways to do birds on top of cupcakes. First, teeny birds on top of a shredded coconut nest. Or go for patterned chickadees (each one is handmade and totally unique!):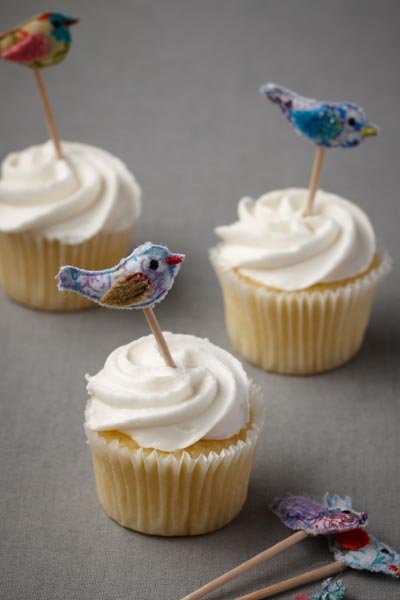 Photo Credit: Flory Photo on Inspired By This via Lover.ly; Chickadee Picks 12 From BHLDN via Lover.ly
Sweet cupcakes your guests will love >>
Accessories
Peacock feathers are surprisingly versatile! This bride's look is bold and dramatic. A peacock feather tucked into a boutonniere is subdued against a neutral suit:

Photo Credit: Kate Byars Photography on Maharani Weddings via Lover.ly; KT Merry on Well Groomed via Lover.ly 
All our favorite peacock wedding details >>
This skinny gold bangle would look great on you or your bridesmaids. And a spray of feathers makes this fascinator quite possibly the best "something blue" I've ever seen: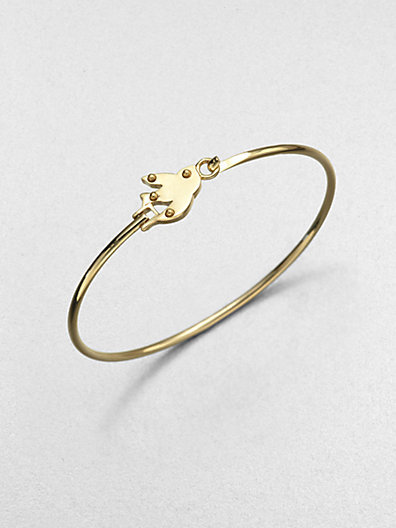 Photo Credit: Saks Fifth Avenue via Lover.ly; Pretty Bird Bridal Fascinator From Emilliner via Lover.ly
A golden bird with a tiny heart cutout and feathered wings is an unexpected (but gorgeous!) hair accessory:

Photo Credit: Golden Bird Bridal Hair clip From Emilliner via Lover.ly
—Rachel Wilkerson