On February 14th, couples from around the world gathered to celebrate their love at a public vow renewal  service in Times Square. Over 250 couples participated, from newlyweds to a couple married for 50 years— all kissing for cameras and thousands of onlookers. Aruba Tourism did a fabulous job transforming a typically-frigid February night into a quasi-tropical paradise. Everywhere you looked, couples were strolling hand in hand, taking photos of each other and with each other.  

Photo Credit: Steven Freeman Photography
The ceremony was beautiful. Captain Arnold, the only captain and ordained chaplain in New York, eloquently expressed his expert views on love. Having been married for a whopping 56 years himself, he is more than qualified to speak on matters of the heart. Over the past 35 years, Captain Arnold has preformed thousands of weddings and vow renewals, and on this gorgeous February night, it showed.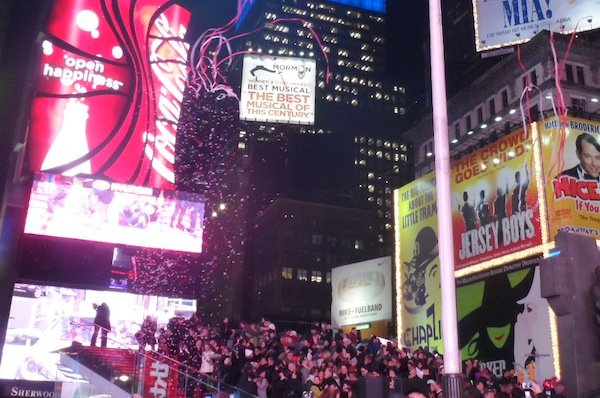 A few of our favorite lines from Captain Arnold's introduction 
"I'm going to bring you back in time to the day that you were first married. I will take you back to that day, and we are going to recreate that ceremony in front of the world. As you walk hand in hand into the future, cherish each moment as a gift — a gift given to strengthen the bond between you. Real love goes well beyond romance and bliss. It is caring about the happiness of your marriage partner more than your own needs and desires. Love is the creator of our favorite memories and the foundation of our fondest dreams."  
Spot-on References To "The Art of Marriage" 
The little things are the big things: Never be too old to hold hands. Say "I love you" at least once a day, and seal it with a kiss. Never going to sleep angry/ Never take each other for granted. Do not expect a husband to always wear a halo or a wife to have the wings of an angel. Share the television set equally — 20% him and 80% her. Build a relationship in which the independence is equal, dependence is mutual, and the obligation is reciprocal. And lastly, marriage is not only marrying the right partner, but being the right partner. 
Captain Arnold ended the ceremony with an adorable twist on the classic concluding line: "You may kiss the bride for as long as you want."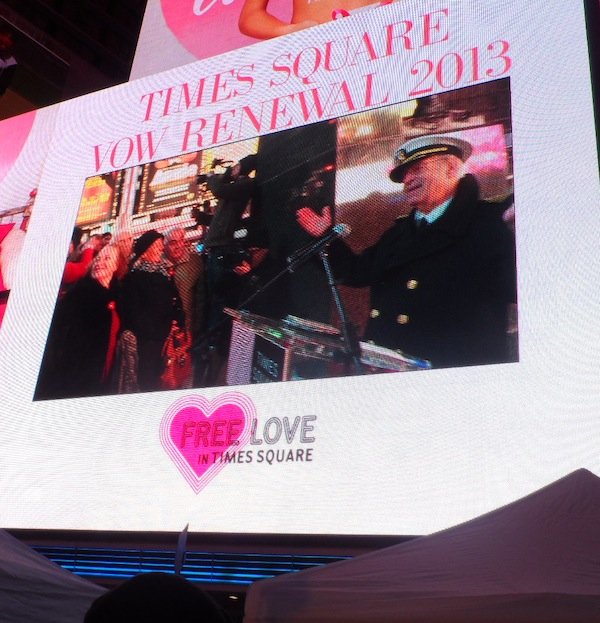 After the festivities, I approached Captain Arnold and asked him for one last piece of advice. His response was short and sweet: "Don't lose sight of what marriage is all about. It's about love. That's what this event is about the love."  
As most of you know, my hometown of Rockaway Beach was hit hard by Hurricane Sandy. Situ Studio has taken remnants of Rockway's boardwalk, along with other neighborhoods ravaged by Sandy, to build this Heartwalk. My boyfriend Brian and I first met in Rockaway, and the boardwalk is very special to us, because it was the site of our first kiss. Here we are kissing on our boardwalk once again!
In the midst of this love-filled scene, another couple posing for pictures in the heartwalk caught everyone's eye when the man dropped to one knee and proposed to his shocked and ecstatic girlfriend. Although Times Square was packed with thousands of people moving about, it seemed as if every passerby stopped to clap and cheer for the happy couple. I didn't want to interrupt their special moment, but it was too perfect for this BG blogger to pass up. After congratulating the couple, I introduced myself, and they were kind enough to share their heartwarming love story.  
Twenty-five year old Benyam and Hiroco met through a friend in church five years ago and have been together ever since. The young lovebirds were able to keep their relationship alive despite living hundreds of miles away from each other — Benyam lived in Atlanta and Hiroco in New Jersey — for years, but their strong faith in God and each other allowed their relationship to thrive.   
The new groom-to-be choose Valentine's Day not for its traditional romantic connotations but for a much more personal reason: It was Hiroco's best friend's birthday, and he wanted to have all of her friends there to share in the special moment. Benyam and Hiroco both love NYC and try to visit as much as they can. Times Square was even the scene of their first date! Popping the question in the heart of the greatest city in the world was the perfect proposal for this adorable couple.
Congratulations Benyam and Hiroco!

Photo Credit: Banti Bros Multimedia/Photography
—Mary Gillen