Most couples hope their guests will, at the very least, put away their cell phones long enough to witness the exchange of vows. But digital media strategist Caroline Waxler and lawyer Michael Levitt aren't like most couples. They encouraged their friends and family members to live-tweet the wedding day using a hashtag, #waxlevittwedding.  
The reason? Using a program called Chute, every photo tagged with the designated hashtag was pulled into their website. Friends and family tweeted throughout the entire day, from getting ready to dancing the hora with Joan Rivers, the bride's aunt. 
We think it's a great way to see your wedding through the eyes of your guests, and you can't beat the instant gratification. Take a look at some of the photos and tweets!

@Pfro: "The couple!!! GORGEOUS!!! #waxlevittwedding"

@brooke: "It soon begins. #waxlevittwedding @ Temple Emanu-El"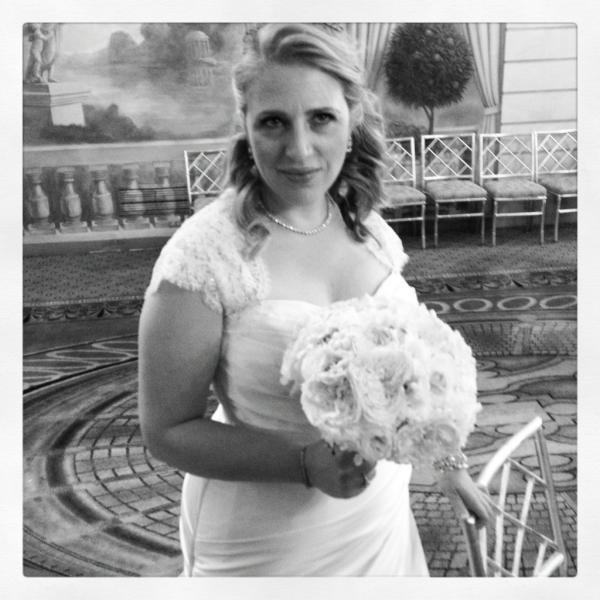 @hedejo: "@MelRivers: 'The bride http://pic.twitter.com/R4rWuaWc' This photo looks like it's from another time. @cwaxler #WaxLevittWedding"

[email protected]: "@SurfHarlem & I couldn't be happier to celebrate with such a beautiful couple. Mazel tov @cwaxler! #waxlevittwedding"

Photo via carolinemichael.com

@owenthomas: "Fanciness! #waxlevittwedding @ Pierre A Taj Hotel"

A few guests with Joan Rivers! Photo via @mbaratz

@lyneka: "The cake, which includes a scene from when they became engaged. #waxlevittwedding"
Tell us, would you live-tweet your wedding?
—Kristen O'Gorman Klein