On July 29, 2012, Nicole Vinciguerra Pagliaro married the love of her life in two stunning dresses. For the ceremony, she wore her aunt's elegant 41-year old dress (which she returned the next day) and during her reception she changed into a stunning ruffled fit-and-flare. 
A few weeks after her nuptials, she took her reception gown to South Beach Cleaners on Staten Island to be preserved. When Hurricane Sandy hit and flooded the dry cleaners with over five feet of water, the new bride thought her dress was lost forever.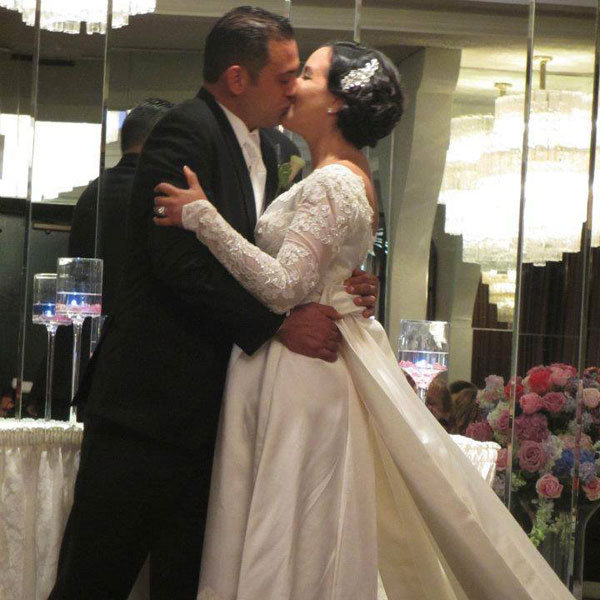 The bride kisses her new husband in her aunt's vintage gown.
Photo via Facebook

Here, we see the beautiful reception dress as the couple pose for photos beneath the Verrazano Bridge.
Photo via Facebook
After the newlyweds tied the knot, they moved into a new house in a different neighborhood. (They were expecting their first child.) A couple days after Superstorm Sandy, the groom, Michael Pagliaro, went back to their old town to check on friends and family that still lived there. The bride was devastated when her husband told her that the shop that had her dress was completely destroyed.
"When I got home, I showed Nicole the pictures and she asked, 'What about the dry cleaners?' When I told her, she started crying," he told SI Live. Pagliaro drove by the store many times thereafter and there was no sign or phone number to call for information on when they would re-open. 
Little did she know that Hector Pacheco, the owner of the store, found the dress floating on top of the water in its airtight box. Unfortunately, all of South Beach's records were destroyed and he was unable to contact the owner. The shop was closed indefinitely and Pacheco wasn't able to open at a new location until February 2014. 
Nearly two years after her wedding, on her way to work in Manhattan, she took a new route and something caught her eye in the window of a dry cleaners: It was her reception dress! Her husband told her it was very unlikely, but she had to be sure.
Pagilaro still had her ticket, and the next day after work she stopped by and asked about her dress and left her phone number. She got a call from the store asking her to come by and meet with the owner. Pacheco instantly recognized her and gave her a big hug. 
Pagliaro was overjoyed to be reunited with her gown. She said, "I want my daughter to wear the dress at her wedding," referring to her 18-month-old, Mia Grace. Finding the dress "is another symbol of our relationship surviving everything," her husband added.
— Mary Gillen