According to a new National Marriage Project study conducted by the University of Virginia, your marriage happiness can be impacted by the decisions you make before tying the knot. Researchers asked 418 married couples to divulge intimate details about themselves and their relationship. Here, the surprising results.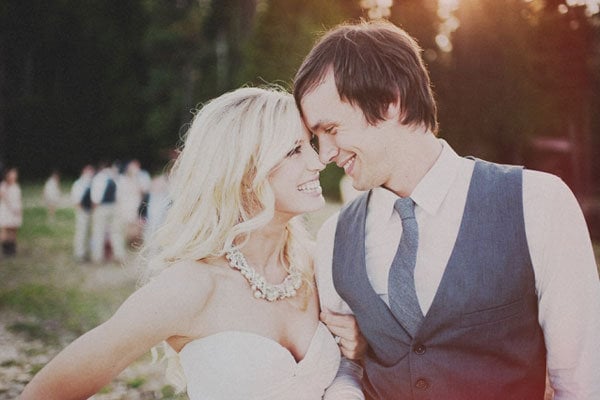 1. Size Matters 
While that intimate destination wedding in Hawaii may look oh-so alluring, research has shown that hosting a big wedding may be a good indicator that you will have a successful marriage. According to the findings, 47% of couples who said their "I dos" with 150 or more guests reported greater satisfaction and overall happiness compared to 31% of couples who hosted a wedding with 50 or fewer attendees.
But interestingly, this has nothing to do with budget — the researchers controlled for income and came to the same conclusion. Bradford Wilcox, the director of the National Marriage Project, explains "One possibility here is that couples with larger networks of friends and family may have more help and encouragement in navigating the challenges of married life. Note, however, this finding is not about spending lots of money on a wedding party, it's about having a good number of friends and family in your corner."
2. Past Relationships 
Couples who had more romantic partners prior to meeting their spouses have reported lower marriage quality and more thoughts of divorce than those who had a more limited romantic history. One possible explanation for this is that one or both individuals may compare their spouse to a previous partner, leading to resentment and unreasonable expectations within the relationship. Also, the more partners you've had, the more times you've ended a relationship — meaning commitment may have a lesser value to you than someone with less experience. The study also found that women with children from prior relationships are more likely to struggle within their marriages. According to their findings, the same isn't true for fathers in this scenario. 
3. Decision-Making Techniques
It goes without saying that communication is an essential component in every relationship. "We believe that one important obstacle to marital happiness is that many people now slide through major relationship transition — like having sex, moving in together, getting engaged or having a child — that have potentially life-altering consequences," says Scott M. Stanley, co-author of the study. Rash decisions have been found to negatively impact in those that are both married and unmarried. The National Marriage Project found that the decisions the couples made did not affect their happiness as much as whether or not they talked it out and made conscious choices.
If you find yourself saying "This sounds like us," it doesn't mean your relationship is predestined to follow a certain path. Every couple is different — something that works for someone else may not fit your lifestyle. Do what makes sense for you and your fiancé and happiness will follow!

Plus, 20 ways to make your marriage stronger ►
— Mary Gillen