Photo via Los Angeles Times
The 56th Grammy Awards will air live tonight, and we won't just be tuning in for the red carpet fashion — The New York Times just revealed that a mass wedding will take place tonight during Macklemore & Ryan Lewis's performance! As the hip hop duo perform their Grammy-nominated marriage equality anthem, "Same Love," 34 couples of various ages, races, and sexual orientations will join the pair and exchange vows. And as you'd expect at a star-studded event, a few other celebrities will join in on the fun: Queen Latifah will be officiating, and Madonna will join the performance. The weddings "will be, in our minds, the ultimate statement of equality, that all the couples are entitled to the same exact thing," said Lewis.
The idea arose after Grammy producer Ken Ehrlich learned from his daughter that couples often propose onstage during Macklemore & Ryan Lewis concerts. So when the producer met with the musicians to discuss their upcoming performance, they decided to celebrate all kinds of love with a mass wedding. A casting agency then began searching for the real-life couples who would join in on this one-in-a-lifetime experience. At the time, the couples just knew that the wedding would occur on live television; they learned a few weeks ago that it'd be on music's biggest night of the year. 
Expect it to be an emotional performance; at yesterday's rehearsal, "hardened entertainment executives and crew members teared up" as the couples walked down the aisle holding hands, according to The New York Times.
Update: 33 couples made it down the aisle for the big, big day. Check out the video!
And guess who caught the bouquet? Katy Perry! Will she and John Mayer walk down the aisle next?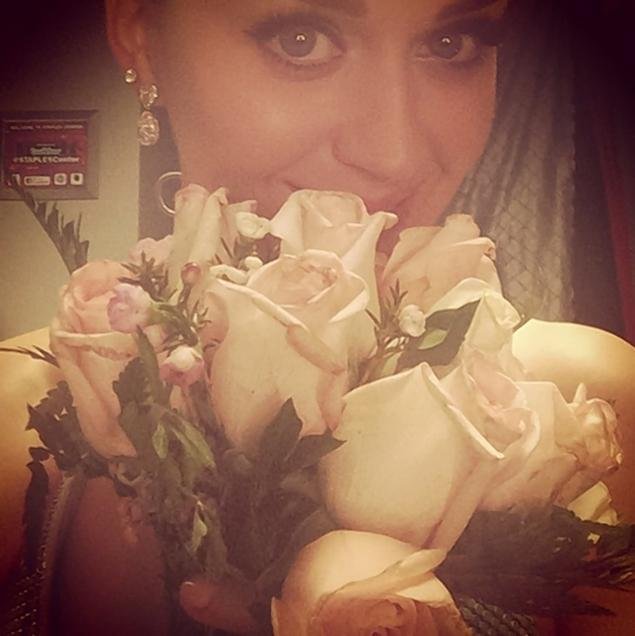 Photo courtesy of Katy Perry via Instagram
Tell us: What do you think of this idea? 
—Kristen Klein