I recently attended a preview for Blue Nile's fall collection, available in October, and was so impressed with the great trends emerging in engagement rings and wedding bands. Here, my favorites from the preview:
Stackable Rings


These thin, mix-and-match rings are a great way to show off your unique style. The old rule of not mixing metals gets thrown out the window with stackables; you're encouraged to mix white gold, rose gold, yellow gold, and black rhodium. On Blue Nile, they're seeing fiancés-to-be buying stackables as promise rings, then building onto those throughout the engagement, wedding, and anniversaries. With prices as low as $300, it's easy to change your look without the huge investment of resetting an engagement ring. We also love mixing colored gemstones. One idea: Start with a ring of your birthstone, add a ring of his, and then add additional rings over the years in the birthstone of each child you have together.
New Vintage
The new Eiros collection is "meant to gain notice, not just by using more diamonds as sidestones, but through elegant detail in the setting," said Josh Holland, Senior Manager of Corporate Communications at Blue Nile. "The ornate designs carved within the precious metal portray the vintage look at its best and is a resurgence of the day when the setting design was as important as the center stone in achieving a truly remarkable engagement ring."
What we love: Since much of the gorgeous detailing comes from metalwork, not from extra diamonds, the rings are very affordable—starting at $1,120 (setting only).
Colored Halos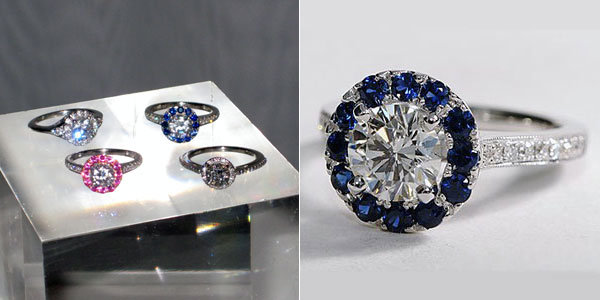 Halos have been popular for a while now, but the new trend is to use colored stones as your halo (think reverse Kate Middleton). We love this because you can incorporate colors without committing to one large colored centerstone.
Cushion-Cut Diamonds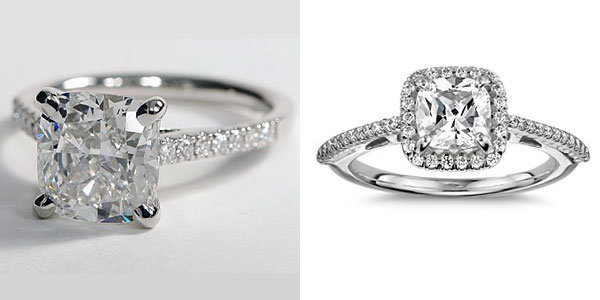 While round diamonds are the most popular overall, cushion-cut diamonds have been growing in popularity. These diamonds are square or rectangular in shape with rounded corners and large facets, which increase their brilliance.
One reason for the increased demand: Price. Choosing a "fancy shape" (non-round) stone can practically cut your costs in half. Other shapes rising in popularity (below, from left to right): princess, radiant, and oval.
Fun facts about engagement rings:
The average engagement ring costs around $3,100.
After diamonds, sapphires are the most popular choice for an engagement rings—and it's been this way even before Kate Middleton. It's the second hardest gemstone (diamond is first), making it a smart choice for daily wear.
Most requested celebrity rings? Kate Middleton's blue sapphire and Natalie Portman's double halo.
You can really track trends by checking out Blue Nile's recently purchased engagement rings. I love seeing what other people are buying!
—Kristen O'Gorman Klein