David Tutera, star of WEtv's "My Fair Wedding," is going to be on the cover of the July/August '12 issue of Bridal Guide! 
Get an exclusive, behind-the-scenes look at the shoot and pick up a copy of the issue (which hits newsstands on May 15th) to see which cover we chose.
Every bride's dream: An entire rack of David Tutera for Mon Cheri wedding gowns to try on. The detailing—everything from blush undertones to lush floral appliques and glam beading—is even more breathtaking in person.
A "bride-to-be" catches up on the latest wedding news while getting her hair and makeup done.
David is just as approachable and warm as he is on-screen—he arrived on set around 10:30 am, armed with plenty of hugs and his favorite Venti Quad coffee from Starbucks. Here, he's shown with Diane Forden, our wonderful Editor-in-Chief.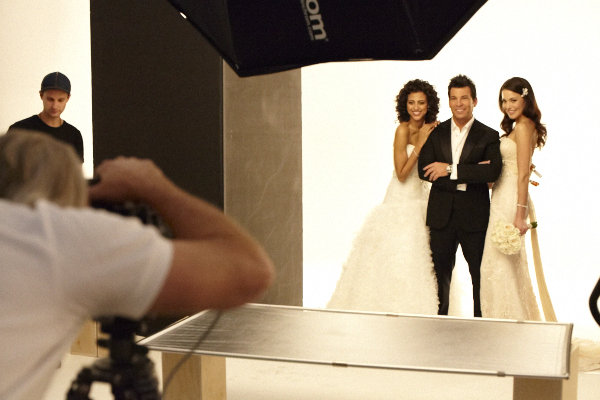 Despite the long hours of posing, David and co. had a blast on set. In between takes, the models danced and twirled around to some of his favorite high-energy songs by Lady Gaga ("Bad Romance"), Adam Levine ("Moves Like Jagger") and Rihanna ("We Found Love").
Here, David steps behind the lens to get a first look at his shots with our photographer.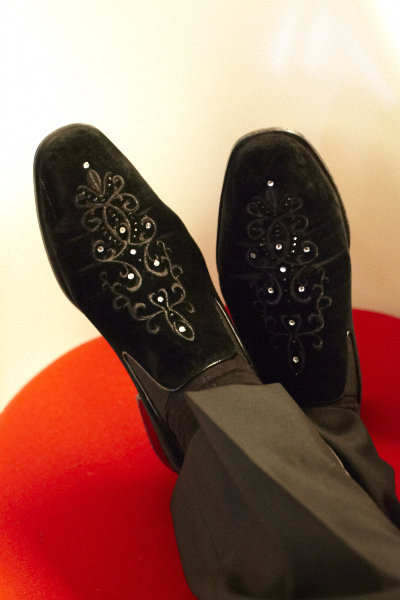 Kicking it with David: 4 Reasons Why We Love Him
Wonder what everyone's favorite wedding planner is like in person? Find out what we chatted about in between takes.
1. He never loses sight of his humble beginnings. David's entrée into the world of event planning began when he was just 19 years old and worked in a singing telegram shop. A customer asked if he would help plan a bat mitzvah (he phoned a friend to find out what the phrase meant!), which eventually led to weddings. "The success of My Fair Wedding has opened up a whole world to giving back to women, empowering women, and showing them that they can do things that are beautiful, and they don't have to spend a lot of money. It's been sort of a cool thing, it's been very full-circle for me," said David.
2. He has an infectious laugh that you can hear from two doors down. David's light-hearted sense of humor was always evident, even when we discussed weightier subjects (such as overbearing MOHs and Moms). "I always tell brides that you need to remind yourself that when the wedding is over, and the dress is put back on the hanger, and the pictures are in the photo album, you need to live with these people for the rest of your life," he said. In other words, it's important to appease loved ones without losing track of what you want for the wedding. 
3. He's there when you need a reality check (and delivers it in the sweetest way possible). When we asked him about non-traditional escort cards, he leaned in closely and broke it down for us:  "If you've got things hanging from trees, or plants, or upside-down, or from a mirror, the problem is you're going to have this mass group of people searching for their names. Odds are they aren't going to be in alphabetical order, and you've caused a problem. There are plenty of places to get creative here, but not the escort card table." Duly noted!
4. He adores his fans and is grateful for all of their love and feedback. A day earlier, he reached out to his Twitter followers and asked what he should wear to the BG shoot, telling us some of his favorite responses. His #1 piece of advice that he gives to brides: "They have to tell a story, there has to be personality and heart. Make your wedding interesting, and make it about them [you as a couple]." 
►Plus: David Tutera personally answered questions from 10 lucky fans!
All photos courtesy of Rafael Lizarraga

—Stefania Sainato