When Michael Wolber and April Hartley planned to get married at Oregon's Rock Springs Ranch they never imagined a wildfire would threaten their perfect outdoor wedding. 
On Saturday June 7th, just as the couple's ceremony was about to begin, fire trucks arrived at the scene and told guests that they would need to evacuate due to a rapidly approaching wildfire. "It was like a movie. We saw a fire truck roll up with sirens blaring," Wolber told The Oregonian.
Luckily, the firefighters had a change of heart and told the couple that the ceremony could go on —  as long as it was brief. The couple quickly said their vows and minister Lisa Leavitt pronounced them husband and wife. Guests cheered the newlyweds and then hurriedly headed toward their cars to relocate to the backup reception space. The couple chose the backup venue in case of inclement weather, little did they know a fire thousands of acres long would force them to evacuate the space. 
While the entire reception was being packed up and taken downtown to the new location at Drake Park, the bride and groom snuck off with their photographer, Josh Newton, to take photos with the fire raging in the background.
The wildfire that set the verdant area ablaze — and nearly ruined their wedding — allowed them to take truly incredible photos.
Check out the spectacular images below: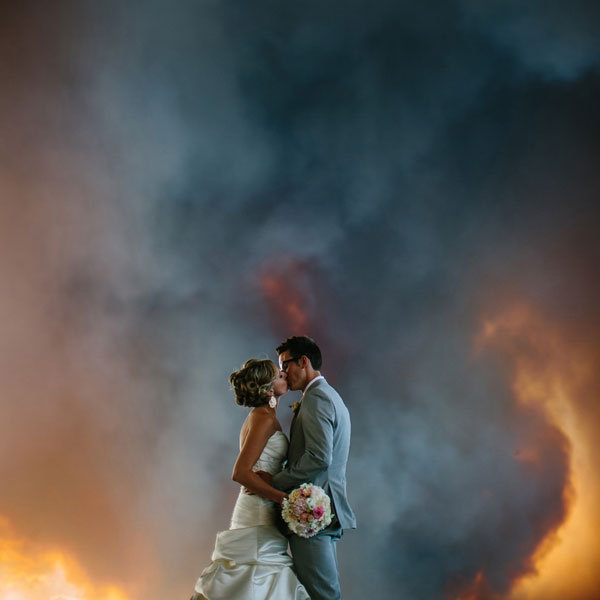 Despite the dramatic disruption and relocated reception, the bride and groom remained in good spirits. Wolber told The Oregonian, "It was the most beautiful ceremony either of us could have ever imagined. We showed up to Drake Park as if the whole plan all along was for us to get married and celebrate down there." 
Congratulations to the happy couple!
All photos courtesy of Josh Newton Photography
Tell Us: If you are having an outdoor wedding, do you have a backup space in case of emergency?
Plus, check out 75 New Must Have Photos With Your Groom.
— Mary Gillen