This morning, Lacy Boland and John Kirk became the first to get married on the EdgeWalk at Toronto's CN Tower — the tallest structure in all of Canada.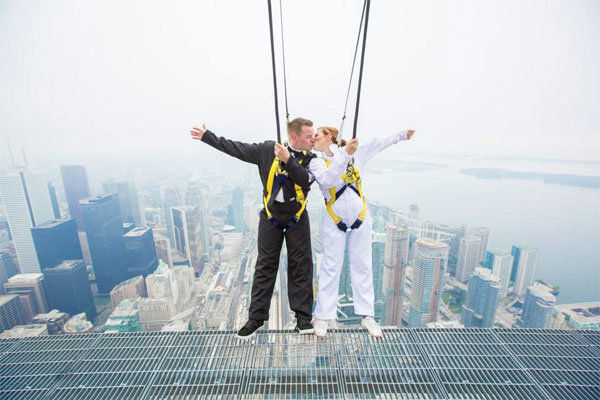 Suspended over 1,100 feet above the ground, the couple was joined by their parents and four wedding party members as the wedding aired live on Breakfast Television. The couple's three children watched from inside (you have to be 13 to walk the EdgeWalk!).
Because they didn't want to risk dropping the wedding rings, they exchanged rope rings instead, swapping them out for the real deal once they were back on safe ground.
"We always wanted a memorable wedding and what could be more exciting than to have it on EdgeWalk," said Boland and Kirk in a statement. "Our wedding seemed to be a distant dream as our three wonderful children have always come first. We feel truly blessed to be part of such a wonderful experience."
When asked about the wedding, Boland joked, "It wasn't as bad as I thought! I think I was more afraid to go out there, but it was fine." The groom, on the other hand, couldn't have been more excited. "It was a whole different experience, and it was a good time," he said. "I've been excited to do it, so I wasn't afraid at all."
Tell us: Would you dare to get married on the edge?
—Kristen O'Gorman Klein
Photos courtesy of CN Tower