Kimye's wedding may be over, but we still have plenty of celebrity weddings to look forward to! We're anxiously awaiting details about soon-to-be-wed couples like Mila Kunis & Ashton Kutcher, George Clooney & Amal Alamuddin, and more. And since the wedding invitation sets the tone for the big day, taking a look at their stationery designs can provide plenty of clues about their wedding style. That's why the experts over at Wedding Paper Divas pulled together what they predict some of our favorite engaged couples will choose for their wedding invitation designs.
Mila Kunis & Ashton Kutcher
We envision this laid-back couple opting for a more traditional wedding — but with plenty of fun touches that reflect their personalities. "This design would be perfect for the couple. It adds a touch of elegance and romance but is still fun and playful."
George Clooney & Amal Alamuddin
The latest rumors suggest that the actor and his British lawyer fiancée will tie the knot in England's Highclere Castle, better known as the castle from Downton Abbey. The pair will likely channel an English garden for their wedding.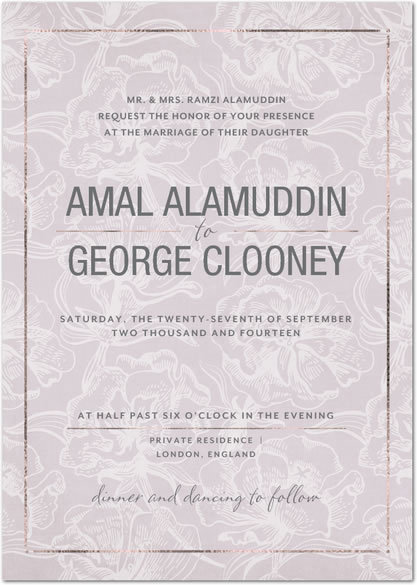 Amber Heard & Johnny Depp
Following their Medieval-inspired engagement party, we predict that this offbeat couple will stray far from the traditional for their wedding. They'll start by making a statement with a black and gold invitation. "Metallics are a hot trend, perfect for that couple looking to add a touch of drama to any design." 
Ashlee Simpson & Evan Ross
The singer and her actor fiancé gave us a sneak peek at their personal style with a vintage-inspired engagement party and Simpson's antique one-of-a-kind ring. We expect their wedding to also reflect their vintage love affair.
Haylie Duff & Matt Rosenberg
The actress/singer/blogger will likely go for a fashion-forward invitation, like one of the designs from Wedding Paper Divas' new Marchesa collection, when she weds her entrepreneur fiancé, who owns an apparel line.
Olivia Palermo & Johannes Huebl
Known for her personal style, we envision the former reality star opting for a romantic, feminine wedding style when she marries her model fiancé. "This elegant design with just a touch of whimsy perfectly complements such a stylish occasion."
—Kristen Klein