In celebrity news for the week, nothing was bigger than the engagement of Brangelina. We've seen the ring, and we know Angelina said yes, but how did Brad pop the question? It seems that every tabloid has its own version of the engagement story. 
OK!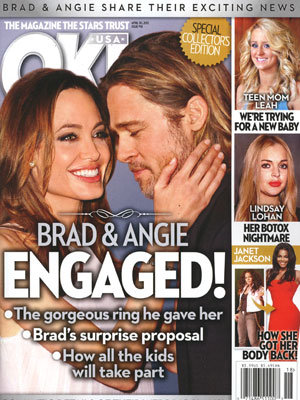 OK! magazine released a "special collector's edition" of the magazine for celebrity gossip junkies with a cover photo of the happy couple and promised details of their romantic wedding plans inside. OK's version of the proposal cites an anonymous source who states that "they had been fighting about their conflicting schedules and it was pretty nasty… Then Brad comes in and says, 'Will you marry me?' They both stared crying and hugged for like 30 minutes." Their children, Zahara and Maddox particularly, had apparently been thinking about wedding bells ringing for their parents for years
In Touch
The story from In Touch is much more simple. In their home-happy recollection, "the kids begged Brad to do it. So one morning, in front of the kids, he asked Angelina: 'Will you marry me, beautiful?' The kids were so happy!" In the Jolie-Pitt household, the children are completely in charge and forced Brad into the whole situation! 
Us Weekly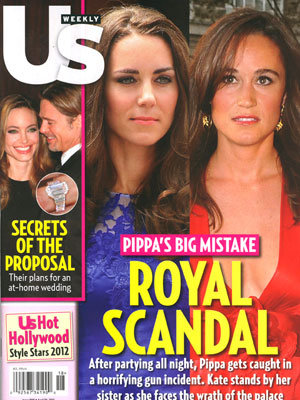 Us Weekly maintains that the whole proposal process was a family affair. Not only did he ask for his kids' help with designing the ring, but assembled them as an audience when he presented the ring to Angelina. He "skipped the tradition of getting down on one knee" and "merely presented the ring as a token of his love." After she accepted, the happy family cried and hugged and gazed upon the ring together. Us then reminds us that Angelina had rejected Brad's offer of marriage in the past when she was pregnant with Shiloh.
Star
Star's proposal story is set apart from the rest of the tabloids. In this version of the engagement, the Jolie-Pitt family was joined by Angelina's father, Jon Voight, and brother James Haven for dinner at their home. Apparently, Brad had already proposed to Angelina in private but asked her again in front of the family. "They had an emotional moment, filled with tears of joy, with everyone. Brad asked Angelina again if she would marry him, and they all had champagne and cried."
People
There's a reason why People is one of the most reputable celebrity news sources around. Their Brangelina coverage danced around the proposal story, saying that "the engagement was long in the planning" and Brad "secretly brought his own design for the ring." Instead of a proposal in front of the whole family, People insists that only a few knew about the engagement right after it happened. Brad and Angelina "savored the moment until their kids returned from school."
 
Which version of the proposal do you think is true?
—Amy Brueckman