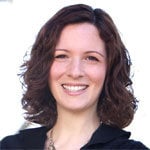 Guest blogger: Kate Harrison, creator of greenbrideguide.com.
After planning her own green wedding in 2007, Kate wrote the best-selling green wedding book, The Green Bride Guide: How to Plan an Earth-Friendly Wedding on Any Budget (Sourcebooks, 2008). In 2009, she founded greenbrideguide.com to help couples use their weddings to promote social and environmental change while supporting the local green economy. Kate has a JD in Environmental Law and a Master's from Yale in Environmental Policy.
Once you hear that familiar buzz in the springtime air, blooming flowers, plants and trees are sure to follow. The hottest wedding trend this spring and summer is a honeybee theme. Bees are popping up on invitations, couples are using beeswax candles for the reception, and guests are taking home raw honey favors. The honeybee is a symbol of spring, regrowth and fertility, but they are also fragile and easily impacted by our choices. Bees can easily become disoriented as a result of environmental changes such as drought, or human activities like moving a colony to speed up honey production. Even phone lines can disrupt a bee's navigation pattern. 

Photo Credit: HoneyColony.com
One-third of the U.S. Food supply requires the assistance of honeybee pollination. The common honeybee pollinates 130 different crops in the U.S. alone, which includes fruits, vegetables and tree nuts. Without bees, almonds, pumpkins, watermelons, other varieties of melon and even vanilla could disappear completely. If you're an ice cream lover, consider all the sweet flavors in that creamy confection that are fueled by honey: Häagen-Dazs donated $250,000 to research into bee Colony Collapse Disorder because they claim that honeybees are responsible for 24 of their 60 popular ice cream flavors. You may recognize some of these: Strawberry, Toasted Pecan and Banana Split! 

Photo Credit: BeeCulinary.net 
How Did the Problem Start? 
Industrial agriculture is the greatest threat to honeybee populations. Their commercial practices are harming bee colonies all over the world. 
Toxic pesticides, insecticides and Genetically Modified Crops can poison bees. In particular, genetically modified corn contains toxin levels that are 70,000 times a bee's lethal dosage. 
While some new pesticides are supposed to be non-lethal to bees, many farmers combine them with a toxic cocktail of sprays that ultimately ravage entire honeybee colonies. 
5 Easy Ways You Can Help Bees at Your Wedding  
1. Support local beekeepers by buying locally-produced honey for your wedding foods or favors.
You can give guests jars of Organic Raw Honey Favors or delicious Vanilla Honey and Fig Lollipops. Pure, natural unfiltered raw honey has an abundance of medicinal and nutritional uses. Honey contains enzymes, antioxidants, amino acids, vitamins and minerals. This sweet nectar of the gods promotes the growth of friendly bacteria in your intestinal tract, is great for your skin, helps with occasional sleeplessness, promotes heart health, soothes coughs, prevents tooth decay and can help tame viruses. If you suffer from allergies, ingesting honey with local pollen can help build up a natural defense against the stuff outside that keeps you itchin' and sneezin'. 

Organic Raw Honey Favors, Honey Tea Thyme

Vanilla Honey and Fig Lollipops, The Groovy Baker  
Organic raw honey is the real deal. Most big box store honey is missing pollen, which makes it useless for fighting your allergies. 77 percent of honey from big box stores (Costco, Walmart, Sam's Club, Target) and 100 percent of honey tested and sampled from drug stores (Walgreens, Rite-Aid, CVS Pharmacy) were absent of pollen. But all of the samples from farmer's markets, co-ops and natural food stores like Trader Joe's had full and proper amounts of pollen. Organic grocery stores brands were also tested and found to be real honey. 
2. If you're a green thumb, consider growing honeybee-friendly flowers to use at your wedding for your bouquets and floral centerpieces. You can also send all of your guests plantable wildflower wedding invitations that they can plant in their garden to entice the bees. 

Photo Credit: TheHealthRevival.com
3. Join or contribute to a campaign designed to help honeybees, such as Häagen-Dazs Help The Honey Bees or The Foundation for the Preservation of the Honey Bees. Donate in each of your guest's names in lieu of a favor and leave a note at each place setting at your reception to educate and inform them about the donation and how it will help future honeybee colonies. 

Photo Credit: HoneyBee Favor, ForeverFiances'  
4. Burn beeswax candles at your reception. Beeswax and soy candles are the healthiest options for the earth. Other candles burn off carcinogens and other toxins into the air.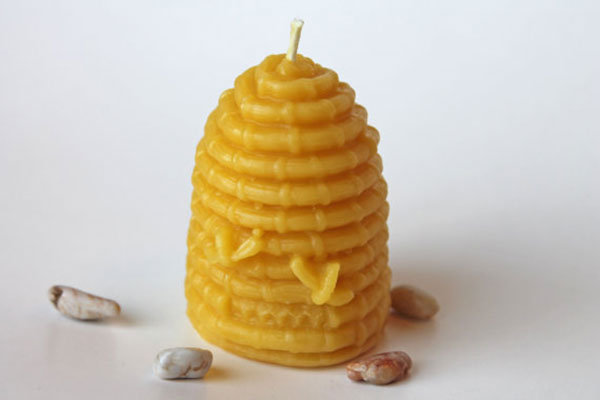 Beehive Candle, Sweet Bee Honey 
Saving the honeybee is no small task. Removing pesticides or completely banning Genetically Modified Foods won't happen overnight. The change within the industry must start with the mindset and values of consumers.
A Fine Feathered Wedding
Nothing is more breathtaking than the sight of birds soaring in the sky. High above the treetops, they are held aloft by delicate, velvety feathers. They crane their necks to cry out. They dive in a ballerina's arc towards the white-capped water.
One thing that makes a bird so lovely is its coat of shining feathers. Feathers are unlike anything else in nature. They are thin and light, soft enough to pillow our sleeping heads, and yet they withstand extremes of atmospheric punishment: 100 mile an hour winds, pummeling rain, hail, heavy snow, and solid ice. They represent elegance and grace, power and strength. Birds are one of nature's most perfect feats of engineering and yet, what could be more beautiful? Feathers come in every color — the deep blue of a jay, the striking red of a cardinal, and the shimmering incandescent greens of a peacock. They are the perfect eco-friendly wedding accessories: renewable, biodegradable, and stunning.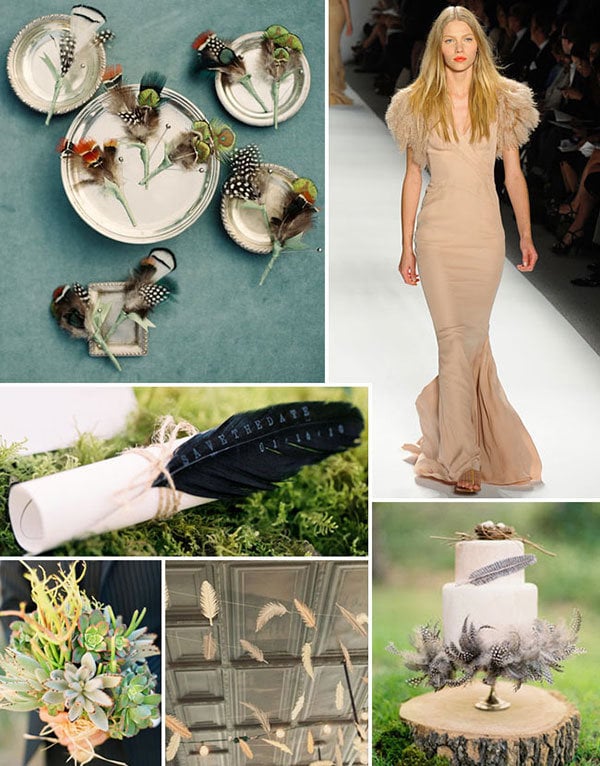 Photo Credit: Greenweddingshoes.com
In Your Hair
Feathers always look glamorous as a hair accessory. They add softness and shine while accenting your hair's natural glow. They evoke old Hollywood or 1920s flapper chic. Attach a simple veil for the bride! Etsy has a wide selection of feathered hair accessories, from pretty feathered combs to intricate feathered hats.

Photo Credit: Etsy.com (left); Jade Feather Fascinator, Carrie Jenkinson (right)
On Your Dress
Feathered wedding dresses are always elegant. The feathers add volume without adding weight. They catch the wind, creating movement even when you're standing still. They are dynamic and glitzy without being gaudy or over the top. Depending on their placement, they also create a figure-flattering shape by drawing the eye to your best features.

Photo Credit: Chicvintagebrides.com
In Your Bouquet
Substitute feathers for flowers and create an unusual, eye-catching and longer-lasting bouquet. Feathers don't wilt, so you can keep your bouquet as a keepsake. If you have your heart set on flowers, incorporate some feathers to add some texture and dimension to the ensemble. Etsy crafters seem to love feathered bouquets. There are many to choose from, or consider creating your own.

Photo Credit: Weddingbycolor.com
In Your Décor
Larger feathers, like ostrich or peacock feathers, work well in centerpieces or as decorative accents on gift or food tables. Incorporate some smaller feathers into your confetti or basket of flower girl petals. As they are thrown they will float, settling gently on your hair or blowing quietly by as you walk down the aisle.  

Photo Credit: Aperfectcelebration.com
—Kate Harrison