The thrill of trying on a wedding dress is a cherished experience for many brides. Take it from Ruth Sullivan, who at the age of 92, finally got that princess moment she had been longing for her entire life.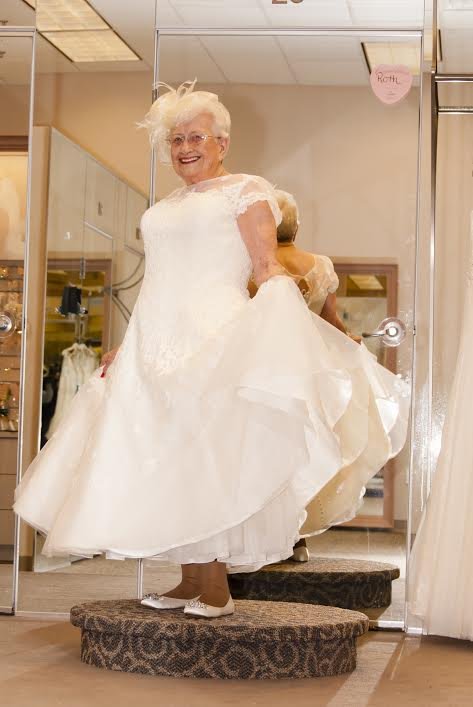 "I like something with a full skirt and I like glamour," Sullivan told The Today Show.
Photo Credit: April Cole/Kathy Woodhouse with Digital Expressions
The Frankfort, Kentucky native married her husband, Norman Sullivan, in Columbus, Ohio in the year 1946. World War II had ended, and there weren't too many big weddings at that time, so she didn't get to wear a grand white wedding dress, although they did spring for a hotel stay to celebrate her nuptials.
Sadly, Norman passed away in 2004, but throughout their 58-year marriage, Ruth always wondered, "What if?"
"I really wanted to know if I would look pretty. It was something that I never got to do and I just wanted the experience of trying them [wedding gowns] on," Sullivan tells us.
Thanks to the help of Second Wind Dreams — a foundation whose goal is to change the perception of aging — and David's Bridal, she enjoyed a fun-filled day trying on beautiful wedding gowns with her loved ones in attendance.
"Our elders had lives and a story to tell. Some of them want to relive their past and some want to do something they never got to do — like Ruth wearing a wedding dress," says Candice Beaty, the Managing Director of Second Wind Dreams.
Sullivan's story captivated women across America (including us!) when she was featured on The Today Show: "I think it's interesting how many women's comments [on The Today Show's Facebook page] were about their similar experiences and dream of wearing a wedding dress."
After trying on dresses, Equestrian Limo picked up Sullivan and her "bridal party" and whisked them off to a surprise reception at the historic Glen Willis House, located in Frankfort. When they arrived, there was a large crowd of supporters waiting to greet the bride (local radio stations and social media had leaked the news to the community earlier that morning).
Inside, Terri Sullivan from Terri's Catering and The Glenn Willis had organized a reception befitting a true Southern belle, complete with a four-tiered wedding cake, a jazz musician, gorgeous flowers and even party favors from Bauer's Candies. The guest of honor was surrounded by her beloved friends and relatives and enjoyed everything she may have missed years ago.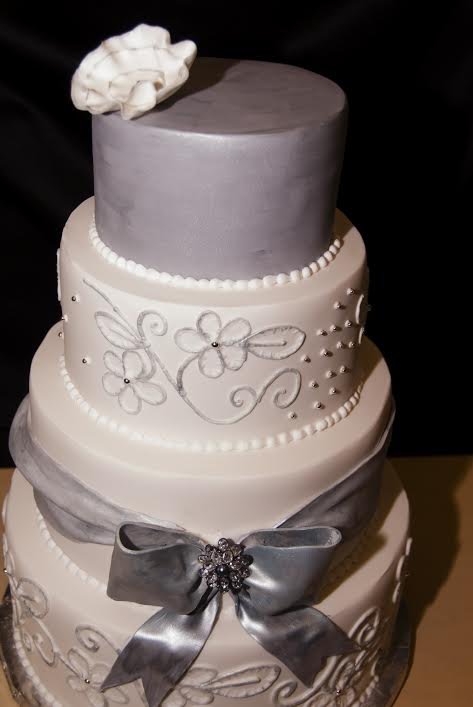 Sullivan's reception cake was donated by Red Head Custom Cakes. 
The floral arrangements and bouquets were donated by Milam House florist.
Photo Credit: April Cole/Kathy Woodhouse with Digital Expressions
At Ruth's wedding, her sister told her to put a dime in her ring box so that it would bless her marriage and she and her husband would never have to worry about money. At the time, no one had a dime, so they placed two nickels in the ring box, and she still has them today. The highlight of the reception was when the staff from Ashwood Place (the FiveStar Senior Living Community where she lives) brought out a ring box with a dime — there wasn't a dry eye in the room.
Sullivan reflects on her emotional day: "I am overwhelmed at all that has come from this. I think people have been waiting for something nice to happen."
To get involved with this worthy cause and help make other senior citizens' dreams come true, you can volunteer your time or donate to a dream on their website, secondwind.org. 
— Stefania Sainato