12/12/12 marks the last repetitive-number date in our lifetimes; it's no wonder that an estimated 7,500 couples plan to tie the knot on this iconic date, according to David's Bridal — a 1446% increase over the previous year, even though the date falls on a Wednesday. 
This follows the trend set by other triple-number dates: David's Bridal reports that on 10/10/10 (a Saturday), 65,000 couples got married, and on 11/11/11 (a Friday), 57,000 couples said "I do." 
Here, find out why these three couples have chosen this once-in-a-lifetime wedding date:
Nena and Marc
This couple first met 19 years ago on a job interview; Nena's final interview was with Marc. "When I first saw him, my palms started to sweat; not because of the interview itself but because I knew that he was the one for me."
Marc proposed 12 (yes, 12!) years ago at Nena's favorite Chinese restaurant in Manhattan, Mr. K's. "When he asked me if I'd like an appetizer, he presented me with the ring. After that, I don't really remember what we had for dinner!"
Nena explains that "somehow life got in the way" of setting a date earlier — but right after 11/11/11, she jokingly told Marc they were going to pull off a 12/12/12 wedding, they only had a year left. A few months later, while watching a TV special on the most famous duets, she commented on how beautiful the songs were. Marc replied that he had already started compiling a list for their 12/12/12 wedding! "I was, needless to say, quite surprised."
Numerology played a significant role in choosing their date. "12/12/12 won't happen again for another 100 years, and we may not be around then!" The number 12 also has cultural significance for Nena, who is Filipino and Chinese. "Picking an auspicious date is very important, and 12/12/12 is a perfect date in more ways than one," she explained. "12 is the number of what is completed, which forms a whole; a perfect and harmonious unit."
Also, when you add 12 + 12 + 12, you get 36; 3 + 6 = 9, which is another good luck number. And their wedding reception will be held on the 12th floor of Studio 450 in Manhattan. "So now we have 12/12/12 on 12 — which is 48, and 4 + 8 = 12!"
80 guests will be attending; in Chinese culture, the number eight is a good luck number. "Also, if you were to turn an 8 on its side, it will be the symbol of eternity," said Nena.
The wedding will be a "fun and contemporary fusion of East and West," incorporating both Asian and American traditions.
How Nena chose her Oleg Cassini gown reflects how she fell in love with Marc; "When I tried it on, just as when I met Marc, I knew it was for me. The classy, simple elegance symbolizes our relationship."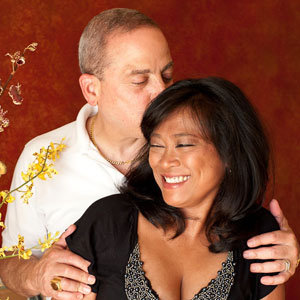 Throughout the celebration, they'll also have a number of symbols of love, happiness, and togetherness, including:
► Buddha: peace and tranquility
► Chinese coins: good fortune
► Crystals: energy
► Dragon and phoenix: a blissful union
► Double happiness symbol: positivity and happiness in the life of a newlywed couple
► Orchids: luxury and virility
► Succulents: endurance and hearts burning with love
► 1,000 origami paper cranes, lovingly made by their two best friends: long life, happiness, and peace
Even the color palette — green and red — is symbolic: Green represents good fortune, and red represents good luck.
Nena has also arranged a surprise for Marc: Chinese lion dancers! "A girl always needs to have a surprise or two for her husband," she said.
Alysen and Tommy
During the summer of 2005, Alysen and Tommy met through Alysen's sister, Robyn, who was dating Tommy's best friend. Tommy proposed last year on Alysen's birthday, which fell on 11/11/11. "I had a mini bucket list of 11 things I wanted to do before 11/11/11, including buying a house, reading 52 books in the year, going hot-air ballooning, and shooting a gun for the first time. Secretly, I wanted to add getting engaged to my list!"
For Alysen's "platinum birthday," Robyn and Tommy planned a party and told Alysen to arrive at her parents' house at 6 p.m. that day. When she walked into the house, Tommy was playing their song, "Stay With Me" by John Legend, on the piano. "He does not play the piano! But I was feelin' it and sat down on the piano bench next to him." Next thing she knew, he was down on one knee, asking "Will you make me the happiest man in the world and marry me?" Alysen, of course, said yes. "I was surprised, not by the question but by the timing! Robyn and Tommy really fooled me into thinking I was going to my birthday party." She expected everyone to rush out for a party after the proposal, but the house was empty. Tommy led her into the kitchen, where they shared a romantic candlelit three-course dinner, prepared by their friend Francisco, a chef. "The table we ate dinner at was just two feet from where I was sitting the first time I met Tommy. We both remembered that."
The pair chose 12/12/12 because it was a perfect follow-up to their 11/11/11 proposal. "We couldn't not do it!" They originally wanted to get married in Cancun but soon learned that there was a conference from 12/12/12 until 12/21/12, the "end of the world," because of the the Mayan ruins there. They decided to hold the wedding in Costa Rica instead.
Because the date falls on a Wednesday, the couple and their 26 guests have turned the destination wedding into a weeklong vacation. They rented out the Mareas Villa from Saturday to Saturday, giving them four days before the wedding and three days post-wedding to enjoy and "recover" together. They also saved their guests money by renting a villa instead of staying at a resort — although the villa costs $10,000 for the week, each guest only has to pay less than $400. Another big savings — scoring a band for nearly half the price, thanks to the middle-of-the-week date.
The couple has asked their guests to wear one of five colors (light purple, dark purple, gray, capri blue, or rose petal pink) so that everyone will coordinate in the group photos. Alysen will be wearing a halter gown by David's Bridal. "Once I put it on, it was perfect. The pearl and crystal beading will make it really sparkly, especially in the sun in Costa Rica. Plus, it's light enough that I won't be too hot." 
Monica and John
This pair met online in October of 2009 and got engaged earlier this year. "He never really dropped down on one knee. We had talked about getting married, and one day, I got home from work and he said, 'I know I've asked and you've agreed, but how about we set it in stone?' and he pulled out the ring!"
They decided on a 12/12/12 wedding because "it's iconic! It only happens once every century." Since the date falls on a Wednesday, they expected many of their guests to decline but were pleasantly surprised when nearly every guest responded with a resounding "yes!"
The couple will tie the knot before 75 guests at a beautiful cathedral in Houston, incorporating traditions from their mixed heritage — American, Mexican, and German — followed by a country-chic reception at Shirley Acres. "Our Texan roots will be on display at every table," said Monica. The color palette of black, yellow, and ivory combines their favorite colors (which they're also wearing in their engagement photo on the right!).
Monica will be wearing a gorgeous ballgown by David's Bridal with a chapel-length veil, accessorized with pearls. Biggest splurge? Cowboy boots! But the couple saved big on their venue — "Wednesdays are cheap days to get married."
Monica's advice to other brides: "Take your time! I planned for six months, and I feel exhausted!"
Tell us: Do you know anyone getting married on 12/12/12?
—Kristen O'Gorman Klein