They came, they cut, and they've (definitely!) seen it all. And now that your big day is approaching, they want to spare you the horror of some of these hair flubs they've witnessed. Read on for how to avoid these potential hair flops and get gorgeous hair for your wedding day.
By: Perri O. Blumberg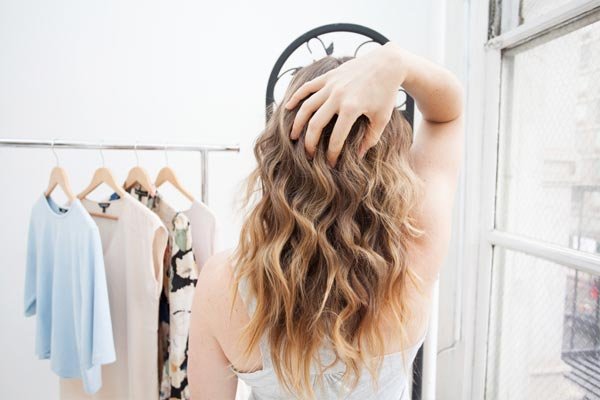 Photo courtesy of Corals + Cognacs
The Months Leading Up To The Big Day...
1. Letting hair grow out before your wedding without regular trims.
Calling all Rapunzels-in-training: "This just leads to dry hair and split ends. Stay with a regular eight to 10-week trim schedule, and hair will grow faster and stay healthier," says Matrix ColorSync Stylist George Papanikolas, who also recommends treating your locks with a deep moisturizing product that works to restore dry, brittle hair, like Matrix Biolage Hydrasource Mask.
2. Not scheduling your trial date ASAP.
"Don't wait too long to make appointments and trials. And definitely don't skip having trial hair sessions; consider having two trial hair sessions," says Damon Givens of Muhka Spa, which offers a full lineup of bridal services and creates natural skin and beauty products in Columbus, Ohio. "Set up your trial at least a month prior to the wedding. This gives you plenty of time to make adjustments or find a new hairdresser in case you discover your stylist is not a good fit for your wedding 'do." 
3. Going to your hair trial without preparation.
"Clients often ask me what do they need to prepare when they come for the hair trial," says Anny Chow of Anny Chow Makeup & Hair Artistry. "I always suggest they gather photos of the hairstyles they like; this will give me an idea of the style they want. Also, it's important to pick out the wedding gown first before choosing a hairstyle, because hair and makeup should complement the gown to create the perfect look."
4. Taking too few photos of the look for your stylist.
"Don't fail to take lots of photos," says Givens. "Snap multiple pix of each side, back and front, and even the top. "That way, anyone can replicate it should you need to use a different stylist or your primary stylist gets sick." And, on that note, here's how to avoid common wedding day disasters.
5. Not being completely open with your stylist.
"Too many brides fail to communicate their desires with their stylist," says Givens. "Talk openly about possibilities and the look you're after," he adds. At the same time, keep an open mind about ideas and recommendations from the pros at your trial, since you've hired them for a reason!
6. Letting your veil box you in.
"Don't think you have to use your veil 'as is' — a professional hairdresser can reshape a wire veil to fit perfectly with your hairstyle or even remove and replace it to create your custom look," comments Givens. When researching hair styles for your wedding day and presenting your stylist with photos, you may also want to bring your veil or show her a photo of it for your trial.
7. Crash dieting.
You've probably heard it before, but it bears repeating: "For the health of your hair and skin as well as your sanity, please don't crash diet," advises NYC-based educator, licensed cosmetologist, and bridal beauty artist Eden Di Bianco. "These extreme diets with severe caloric restrictions and unbalanced food choices are depriving your body of the nutrients it needs to perform vital functions, such as processing toxins and regenerating cells and tissues, a.k.a. clearing your skin and creating new skin, hair, and nails." Feel like your hair could use some pizazz? Consult with your doctor or a nutritionist to see if supplements such as biotin or prenatal vitamins could work for you.
8. Frying your hair.
Cut those gorgeous tendrils a break, ladies. "If you want beautiful hair for your wedding day, then prepare to make some adjustments to the way you style your hair in the months leading up to it. Use the lowest possible heat setting when styling your hair, especially if you plan on growing your hair out. The stress of high temperatures coupled with the friction of making multiple passes with a brush and blower (or, worse, a flat iron) causes mechanical damage, which means split ends and rough texture," advises Di Bianco. "When it comes to the question of which is 'better' for you between blow drying and flat ironing: blow drying is like opening a hot oven and sticking your hand into the middle, whereas flat ironing is like opening the hot oven and planting your hand on the bottom." If you absolutely have to style your hair with heat, the least damaging route is blow drying in smaller sections on medium to low heat and using a natural bristle/wooden barrel or quality ceramic brush. Be sure to apply light amounts of natural oils to keep your hair safe.
9. Using too many silicone products.
File this under yikes: "Many heat styling and anti-frizz products are silicone-heavy and they do more harm than good to hair that is dry and/or frizzy. On frizz-prone hair, silicone polymers lock out frizz-causing moisture by coating and smoothing the cuticle of the hair shaft, which is actually made up of tiny overlapping scales that become raised and can make hair look dull and feel rough," says Di Bianco. "The problem is that since '-cones' are not soluble in water, they build up on the hair and block vital moisture from conditioners and oils from reaching the hair shaft, making dry hair even drier with long term use." If you haven't already switched, use a clarifying shampoo and/or conditioner in the weeks leading up to your wedding to help fight build up and scan ingredient lists for any "-cone" items.
10. Letting your hair color fall flat.
If you color your hair, stepping away from the box and spending the money on a professional stylist is worth it. "Those photos are forever, so invest in the expertise of a hairstylist. Give your color an update and get dimensional color to give your desired style texture, movement, and visual interest," says Di Bianco. "Ever notice how most of the popular images of hairstyles on Pinterest feature blondes or brunettes with highlights? That's because the dimension and light created by the interplay of the different shades helps to showcase the textures and shapes of the hairstyle. Those results just can't be achieved at home with flat box color!"
11. Making drastic color changes.
Go big or go home may be a fitting adage for your swoonworthy centerpieces. Your hairstyle? Not so much. "Again, you want to look like the most beautiful version of yourself. Highlights should be used as accents to your natural hair color, focused to frame your face, natural part, and ends the way the sun would do. Using them for a drastic color change ends up with dry hair and can read harsh on camera. I'd recommend seeing your stylist for some fresh highlights," suggests Papanikolas.
12. Skimping on quality product.
"Invest in quality hair care products that are suitable for your hair type/texture and any chemical processing," advises Di Bianco. "You can get away with scrimping on other beauty items by making your own body scrubs at home or using coconut oil as moisturizer and makeup remover, but if you abuse your hair with harsh detergents and crappy ingredients, it will not do you any favors on your wedding day or any other day!"
Pages