It's the big day! Be your most energized and glowing self with the right morning meal.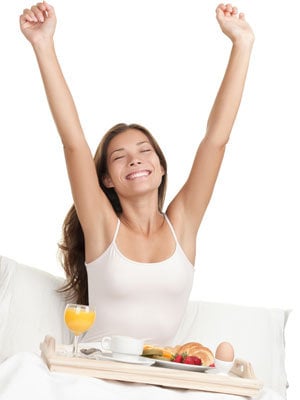 ► "Start your morning with one cup of oatmeal made from steel-cut oats. Add in mixed berries, like raspberries or strawberries. The protein in the oats will give you needed energy. Stay hydrated by drinking water or green tea. This will ensure your body is functioning properly and that your skin looks fresh. Avoid alcohol or anything high in sugar: both will cause blood sugar to spike and your energy to crash later in the day. (This isn't to say you can't enjoy some champagne and a piece of wedding cake when the time comes!)" —David Kirsch, fitness and wellness expert; author, The Ultimate New York Diet (McGraw-Hill).
►"My first recommendation is to have plenty of water with lemon starting upon waking up and then throughout the day. This has a cleansing and diuretic effect. Breakfast should provide energy and avoid any bloating ingredients. Have grapefruit, two eggs (including the yolks)—any style—hard-boiled, scrambled, and oatmeal. Avoid milk or dairy products since these can result in gas and bloat; go with black coffee and/or plain tea with or without lemon. Avoid salt, since this can cause water retention. Drink lots of water and stay hydrated through the reception. Most important: enjoy the food and remember to eat during the festivities." —Jeannette Graf, M.D., assistant clinical professor of dermatology, Mt. Sinai School of Medicine; author, Stop Aging, Start Living (Crown).
► "Set aside enough time for a breakfast that will keep you feeling satisfied yet light and energized for hours to come. Try a low-fat Greek yogurt with fresh blueberries, strawberries and melon. The live cultures in the yogurt will calm your stomach, the higher protein content of Greek yogurt (vs. traditional) will keep you feeling fuller longer and the vitamin A will boost your energy as well as repair cell damage caused by stress. Berries are rich in stress-reducing C and the melon acts as a natural diuretic to help flatten your belly for a perfectly fitting gown! Avoid unwanted jitters by swapping out highly caffeinated morning coffee for a soothing cup of de-bloating peppermint or chamomile tea." —Rebecca Fuller, RD, dietician, Fashion Institute of Technology and NYU Coles Sports Center, NYC.
► "I tell my brides there are three key elements to the perfect wedding-day breakfast. Since your nerves will already be doing a number on your stomach, you want to consume food that will be easy to digest. And be sure to include enough protein to keep you satiated and your blood sugar stable (low blood sugar equals a tired and cranky bride). Finally, you will also want to include foods that will prevent gas and bloating. Asparagus, fennel, papaya, lemon, mint and ginger are some de-bloat favorites. So what does the perfect breakfast look like? Two favorites are:
• 1 egg yolk plus 3 egg white omelet with spinach, fennel and asparagus.
• 1 cup of cooked quinoa (yes, it is great for breakfast) made with organic lowfat milk or almond milk for a lactose-free option. Top with chopped walnuts.
Pair either breakfast with a side of sliced papaya and a cup of ginger tea, which can also aid in digestion and settle a nervous bride's belly." —Melissa O'Shea, National Director of Nutrition, Exhale Mind/Body Spa.
► "The best breakfast for your wedding day will include protein and healthy fats. Just make sure to eat before getting your makeup done and putting your dress on! Try this delicious shake to get off to a great start.
Coconut Bliss Smoothie:
• 1 ounce protein powder
• ½ cup water
• ½ cup unsweetened almond milk
• ½ frozen banana cut into chunks
• 1 tablespoon coconut oil
• 1 tablespoon shredded unsweetened coconut
• 4 ice cubes
Add all ingredients to blender and blend till smooth and creamy." —Dr. Frank Lipman, founder and director of the Eleven Eleven Wellness Center in New York City.
Extra Tip: Drinking lots of water actually helps avoid water retention and prevent fatigue. Add lemon wedges and mint leaves for a de-bloat bonus.
Photo Credit: airwasabi/iStockphoto