From sleek, chic and minimal to decor that oozes vintage charm, there's a wide world of stylish pieces ready to rent. Don't forget the photo booth!
By: Sharon Naylor
Lounge furniture
Essentials: Couch, ottoman, armchair and coffee table arrangements for guest-gathering spots.
What's Hot: Vintage armchairs and settees; French country armoires; clean-lined, modern sofas and chairs; long, wooden tables; Art Deco styles.
Don't Forget: Measure doorways to be sure that larger pieces can be delivered into your party venue before ordering.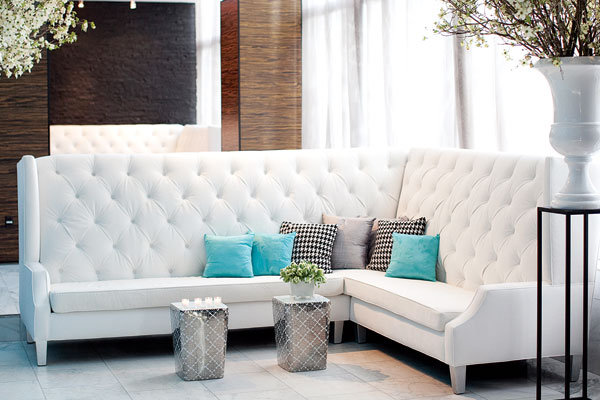 Photo courtesy of Taylor Creative Inc.
Tents
Essentials: Whether simple and utilitarian or fully outfitted with entrance canopies, chandeliers and luxe draping, professional installation is a must.
What's Hot: Clear-topped tents, luxe tent liners, fabric draping in tent ceiling, chandelier lighting, quality flooring so you can dance all night.
Don't Forget: Check with your site to be sure they allow tents. Have your tent rental company conduct a site visit to assess the space, and suggest the ideal tent size and flooring options.

Photo courtesy of Raj Tents
Lighting
Essentials: Lighting for the ceremony site, cocktail party space, reception area and exterior, if desired.
What's Hot: Vintage chandeliers, pendant lamps suspended from the ceiling, exotic, Moroccan-style pendant lamps and metal lanterns.
Don't Forget: Check with your site about their electrical capabilities. You may need a generator to help power your party.

Photo courtesy of Raj Tents
Pages