From sleek, chic and minimal to decor that oozes vintage charm, there's a wide world of stylish pieces ready to rent. Don't forget the photo booth!
By: Sharon Naylor
Gatsby glam. Boho chic. Minimalist zen. If you can envision your ceremony style and décor, you can create it in real life. Such is the state of party and event rentals today. And while the biggest cities offer the widest range of options, if you do some online digging, you'll be surprised at how much is available, no matter your wedding locale.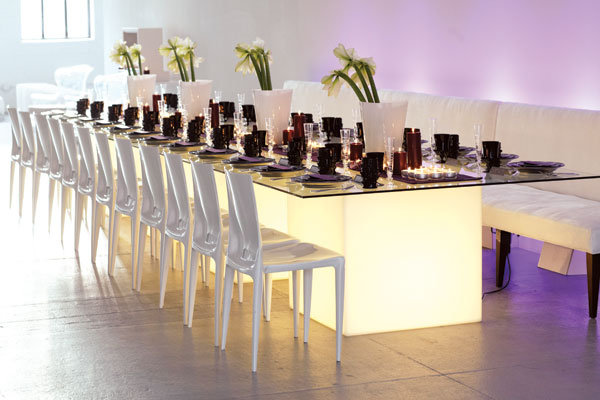 Photo courtesy of Taylor Creative Inc.
Tips for Your Rentals
Make it fun! Consider renting crowd-pleasers such as cotton candy makers and popcorn machines. For outdoor areas, offer games like bocce ball and a beanbag toss.
Your best source for rentals? Ask your caterer, floral designer or venue site manager for referrals. Or go to RentalHQ.com, a website run by the American Rental Association. Type in what you're looking for (anything from tables to tents, etc.), and your location to find companies in your area.
How much do you need? Order at least three to four dishes, glasses, stemware and flatware pieces per guest, says Jenny Orsini, owner and creative director at Jenny Orsini Events in New Jersey. For a cocktail hour, you'll need at least three glasses for each person. And order at least 10 extra chairs for your ceremony, plus 10 extras for your cocktail party and reception in case any chairs arrive cracked or broken.
The essential questions to ask
Are you licensed and insured?

Have you worked events 

at our ceremony/reception venue(s) before? (A very important question, especially for tent rentals!)

Can we view item selections before renting?

Will we be able to view actual rental items from your supply, or will we be shown samples?

Will we be able to contact you on the day of our event? (Get the name and cell phone number of an in-charge person in case of problems and needed solutions.)

Are setup and delivery fees included in our order? Or are they extra?

What are delivery charges for our locations?

How much is required for deposit?

When is deposit due? (Most companies require a non-refundable deposit, roughly equal to one-third of the total rental package price. This amount is usually due when you book your rental items.)

When is final payment due?

Which methods of payment 

do you accept?

When will our rented items be delivered to the venue? 

Arrange for a time that allows setup without pressure, at least several hours before your event starts.

Will delivery workers bring all rented items inside the venue and set everything up? Or do you offer 'tailgate service' delivery, wherein the company just drops off your rented items in a driveway or at the venue entrance, leaving you to carry everything inside and set up yourself?

Will someone instruct us on how to operate the rented item? (Especially key for lighting rentals.)

When will delivery workers return to collect all rented items after the wedding?

How do we prepare rented items for pickup? Do we have to clean dishes, glasses, flatware first, or do we load dirties into their crates?

How will rented chairs need to be arranged for pickup? Some companies require you to fold chairs closed and some require sliding them into padded delivery bags in which they came.

What are the costs and details in case any items are broken or lost?

What is your cancellation/refund policy?
Here, we'll break it all down category by category.
Tables
Essentials: Guest tables in a collection of rounds, long family-style, or a mix of table shapes and sizes. You might also consider sweetheart and buffet tables and separate tables for gifts, guest book and family photos.
What's Hot: Mixing table sizes and shapes to maximize your space. Rustic-wooden tables are a major trend, as are mixes of wood and glass table tops.
Don't Forget: If you don't have a wedding coordinator to handle this task, bring layouts of your ceremony and reception sites to your rental agent, so that he or she can advise on your table choice and arrangements.

Photo Credit: With Love & Embers Photography
Chairs
Essentials: Chairs for ceremony, cocktail party and reception.
What's Hot: Vintage armchairs, chiavari chairs, acrylic chairs, simple chairs dressed up in tie-on ruffled fabric covers.
Don't Forget: High chairs and booster seats for the littlest guests and a pair of decorative chairs for you and your new hubby at the sweetheart table.
Linens
Essentials: Guest table tablecloths, table runners, napkins for both cocktail party and reception, as well as luxe or vintage linens for the cake, gift, sweetheart and photo tables. Also consider chair linens: they are a great way to add color and texture to your space.
What's Hot: "We are seeing luxury materials, supple leathers, monochromatic earth tones, and also color in bright jewel tones such as plum, ruby, emerald, citrine, and sapphire, says Elle Can, senior VP at Taylor Creative Inc. in New York City. Organic linens are in demand as well, with soft bamboo being a top touchable fabric.
Don't Forget: Napkin rings and hidden clips to keep table linens from whipping around in breezes at outdoor weddings. Plus table pads to protect wood tables from damaging water stains and spills.
Dishes
Essentials: Cocktail-party appetizer plates, china patterns, chargers, dessert plates, footed bowls for desserts.
What's Hot: Color in plates, especially in chargers, add flair. Gold- or platinum- rimmed plates and gold or metallic chargers also lead the trends, as well as eclectic vintage collections.
Don't Forget: Unbreakable plates for the little ones — no one wants to deal with expensive breakage.

Photo Credit: Katie Rivers on Southern Weddings via Lover.ly
Stem & Glassware
Essentials: Champagne flutes, bar glasses in various sizes, red and/or white wine glasses, beer mugs, soft-drink glasses, water glasses.
What's Hot: Gold-rimmed stemware, stemless wine glasses (so chic — plus they are well-balanced, which lessens the hance of breakage fees).
Don't Forget: Martini glasses for dessert servings; appropriate glassware for your signature cocktails. (Know what you'll serve before you order your glassware.)
Flatware
Essentials: Utensils for the cocktail party, plus knives, forks and spoons for the reception dinner.
What's Hot: Luxe gold flatware, vintage, heirloom-style silver and mix-and-match utensil patterns.
Don't Forget: Serving utensils, if you'll have family-style service at your reception. And don't forget serving bowls and platters. Rental companies offer gor- geous hammered silver or copper serving bowls and chafing dishes.
Lounge furniture
Essentials: Couch, ottoman, armchair and coffee table arrangements for guest-gathering spots.
What's Hot: Vintage armchairs and settees; French country armoires; clean-lined, modern sofas and chairs; long, wooden tables; Art Deco styles.
Don't Forget: Measure doorways to be sure that larger pieces can be delivered into your party venue before ordering.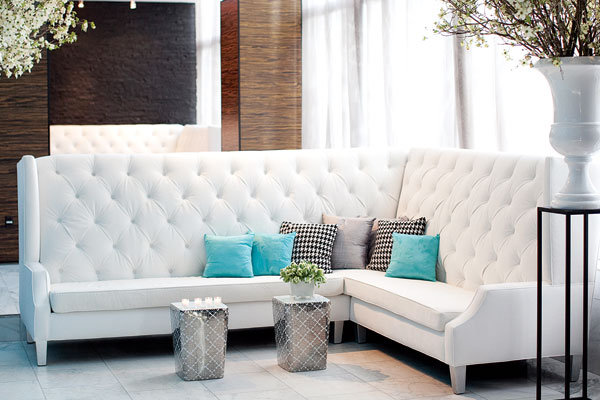 Photo courtesy of Taylor Creative Inc.
Tents
Essentials: Whether simple and utilitarian or fully outfitted with entrance canopies, chandeliers and luxe draping, professional installation is a must.
What's Hot: Clear-topped tents, luxe tent liners, fabric draping in tent ceiling, chandelier lighting, quality flooring so you can dance all night.
Don't Forget: Check with your site to be sure they allow tents. Have your tent rental company conduct a site visit to assess the space, and suggest the ideal tent size and flooring options.

Photo courtesy of Raj Tents
Lighting
Essentials: Lighting for the ceremony site, cocktail party space, reception area and exterior, if desired.
What's Hot: Vintage chandeliers, pendant lamps suspended from the ceiling, exotic, Moroccan-style pendant lamps and metal lanterns.
Don't Forget: Check with your site about their electrical capabilities. You may need a generator to help power your party.

Photo courtesy of Raj Tents
Photo Booth
Essentials: Fun props and at least one attendant — ideally two — to man the photo-booth technology and handle props.
What's Hot: Laura Adaza, owner of Royal Photo Booth in New York City, says that photo booths are available either in open or closed configurations. "Some couples think the closed photo booth is more elegant and nostalgic," she tells us.
Don't Forget: Get measurements of doorways, and let your rental company know if your wedding takes place up or down stairs. Some photo booths weigh over 700 pounds, and wrong measurements can mean your photo booth doesn't get into your site!

Photo Credit: Travelling Photo Booth on The Traveling Photo Booth Bay Area via Lover.ly
Heating & Cooling
Essentials: Portable fans and electric or gas heating units for outdoor weddings.
What's Hot: Outdoor fire pits with surrounding seating.
Don't Forget: Events leading into nighttime can often be cooler than you expect. Fans are essential to keep elderly, pregnant and/or special-needs guests comfortable on a hot summer day.
Eclectic Décor
Essentials: Pedestals for floral arrangements; antiques and ephemera matched to your wedding theme.
What's Hot: Vintage items like books, cameras, birdcages, teapots and tiered serving platters.
Don't Forget: Prop houses provide a variety of décor items for rent, so check with your local theater for the best referrals.