The traditional white wedding isn't what it used to be. Here, three takes on a perennial classic.
By: Rachel Griffiths
Pink & White
Creamy-white with feather-light touches of pale pink made this Deep South wedding look as pretty as a petit four. Tara Guérard, of Soirée Charleston in Charleston, South Carolina, and the author of Weddings by Tara Guérard, tells how to make this vision come true.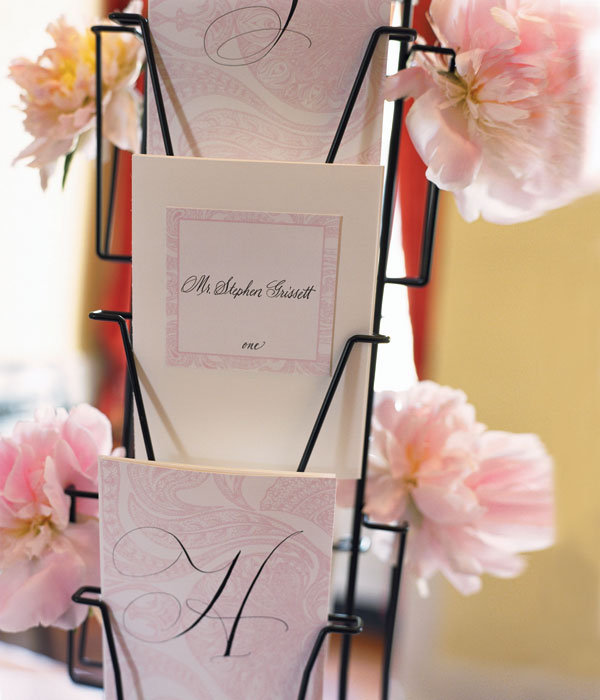 The Invitation: Traditional letterpress in black on thick white card stock provided the details of the wedding day. On the other side of the invitation, however, the planner chose to display the wedding's primary motif: a distinctive pink-and-white paisley design. The inner envelope echoed the paisley, while the outer envelope was kept plain. This subtle mix of traditional choices and unexpected touches was repeated throughout the wedding: very simple yet very distinctive.
The Cocktail Hour: White trolleys brought guests to the reception site, the William Aiken house, one of Charleston's famous historic homes. Pale pink and white peonies and gardenias adorned the wrought-iron gates, and antique urns flanking the main doors were planted with pink and white blooms. Cocktails were held in the garden, where waiters in white jackets and gloves passed drinks and hors d'oeuvres that carried through the pink and white theme. Guests were served crab soup in white espresso cups, tuna tartare with ginger sauce, smoked salmon and cream cheese on buckwheat blinis, oyster shooters and pink-skinned new-potato halves with dollops of caviar and crème fraiche. Highballs also had a shot of the color scheme—the wooden stirrers had a single pink-and-white paisley design.
The Dinner: After cocktails, guests made their way inside for a formal sitdown dinner, stopping to find their escort cards on wrought-iron holders festooned with lush pink peonies. The tables were set with crisp white linens hemmed with pink, and each place setting had that hallmark of Southern entertaining: a white hem-stitched napkin bearing the bride's new monogram, and tied with a white ribbon attached to a paisley-designed seating card. Table arrangements were white ceramic vases filled with pink and white peonies, sweet-smelling gardenias and roses; the table glowed in the soft light of hundreds of votive candles. The chargers? White, of course.
The After-Party: After dinner, guests were escorted back into the garden for a late-night surprise: a pink and white lounge for dancing and cake. As guests made their way down the sweeping Scarlett O'Hara staircase, waiters welcomed them with flutes of champagne, topped with a scoop of pink strawberry sorbet. The tent was draped in pink and white cotton voile, with a white valance that had black piping. Under crystal chandeliers, guests lounged on white-upholstered wicker chaises, plush white ottomans and sleek white couches, piled with pillows that were blush pink on one side and sailor white on the other.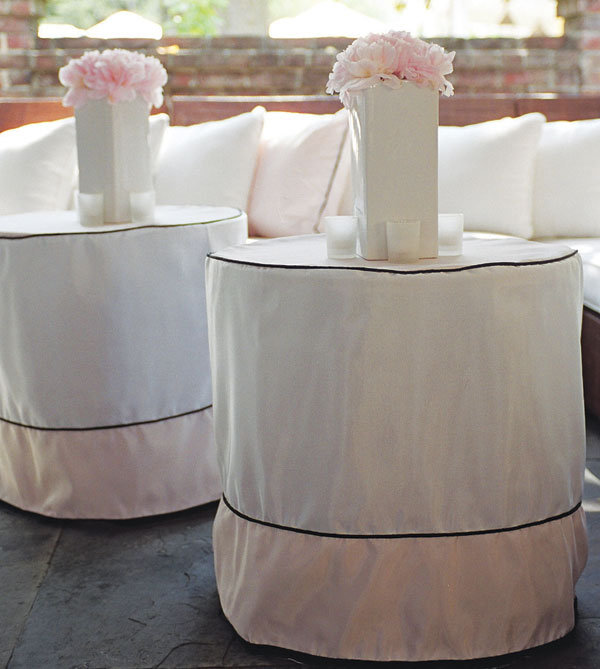 Planner's Tip: "I love a simple white wedding," says Tara. "The trick is to keep it simple. Don't try to bring in too many different looks, and think through all the details."

Photography: Liz Banfield Photography
Pages