Beat the heat with our expert tips from celebrity wedding planners JoAnn Gregoli and Mindy Weiss.
By: Jenna Rigert
FOOD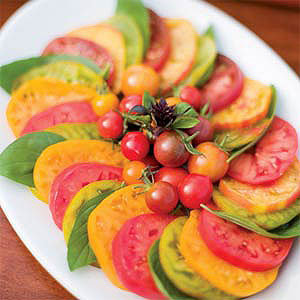 Lets face it, piping hot or super-heavy dishes aren't ideal amidst summer's humidity and heat. Gregoli suggests keeping your choices "light and airy". For example, summer salads of mixed greens and seasonal fruit are delectable. Example: Baby greens served with watermelon slices and a crisp champagne vinagrette. Love cool summer soups? Weiss suggests serving a gazpacho soup along with layered green, yellow and red tomatoes with sliced buffalo mozzarella cheese and basil. Is your mouth watering yet?
For something a little more generous, try a nice cut of fish, such as grilled tuna or halibut—two commonly served fish that are bound to do well with your guests. Or opt for fresh shellfish such as lobsters, oysters and shrimp. Weiss also recommends poached grilled chicken and grilled vegetables—what says summer more than some serious grill marks?  Don't forget you can incorporate fruit into your main course as well—try grilled peaches over chicken, or make a delicious peach salsa served over fish or poultry. Between courses try a trio of mango, raspberry and champagne sorbet to keep your guests cool and refreshed.
Pages