Get ready for toasts, speeches, dancing, cake — and don't forget to eat! Use this guide to make sure your reception flows smoothly.
Cutting the Cake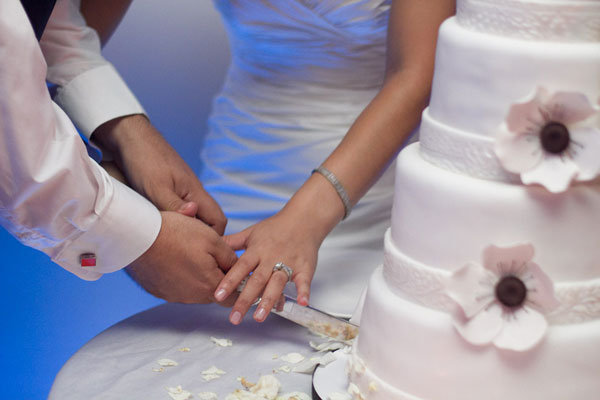 Photo Credit: Casey Fatchett Photography
The time-honored cake-cutting ceremony illustrates the bond that is shared between husband and wife. The master of ceremonies should announce that this event is taking place and direct guests to the location. Check out 101 amazing wedding cakes ►
To cut the cake, place your hand on the cake knife while the groom places his hand over yours. The first slice is placed on a plate and your groom feeds you a small piece, then receives a bite from his bride. The remainder of the cake is then cut by the waiters and distributed to guests. It's customary to save the top tier of the wedding cake, which is frozen and then enjoyed on your first anniversary. Sweet song ideas for your cake cutting ►
Many couples also order an optional groom's cake. This is traditionally a darker color than the bride's cake, and is often made from chocolate (though really, anything flavor and color you choose is acceptable). Often the groom's cake is displayed during the reception, then sliced and distributed to guests as take-home favors. Check out 40+ impressive designs ►
The Bouquet and Garter Ceremonies

Photo Credit: Meg Baisden Photography
Toward the end of the reception, the master of ceremonies may ask all eligible ladies to gather in the middle of the floor for the bouquet toss — the lucky recipient of which is said to be the next woman to marry. The bride should turn her back to the crowd and lightly toss the bouquet over her head to the female guests and bridesmaids. (Or you may want to face everyone and take aim for a particular friend or relative!) Another way to throw the bouquet is to toss it out the window of your car or limousine to the waiting crowd as you leave for your honeymoon (or first night accommodations). Many brides now have two bouquets — one being a smaller, less expensive version called a tossing bouquet or nosegay, specifically made for tossing so that the bridal bouquet can be preserved as a wedding momento.
In the garter ceremony, the groom removes the garter from the bride's leg and tosses it in a similar fashion to the eligible men. According to legend, the man who catches it is the next to marry. The man then puts it on the leg of the woman who caught the bouquet. Both of these ceremonies are optional, and many couples today choose not to include them.
When to Leave
It was once customary for the bride and groom to make a getaway during the reception to begin their honeymoon, and that was also the signal that the guests could start to leave. Today, however, many couples choose to spend extra time with their out-of-town guests and stay at the reception until the very end. You may still change into going-away clothes (check with your reception site about changing rooms) and then come back to bid your guests a final farewell. Guests may throw rice, birdseed or potpourri, or blow bubbles, as you and your new husband make your exit. More ways to exit your wedding in style ►
Pages