Embrace your festive style with a wedding that's anything but buttoned up!
By: Debra Witt
Make Your Party, Well, A Party
Not surprisingly, the planners we talked to had a never-ending stream of memorable reception ideas. Rebecca Rose recalled the Texas couple who surprised everyone with impromptu twostepping lessons. Jennifer Stiebel can't forget the delightful reaction of guests at a recent wedding who were let loose inside a makeshift sweet shop complete with a caricature artist. Similarly, just when guests of one Colorado couple felt the festivities were winding down, Virginia Edelson of Bluebird Events in Aspen helped the duo lead everyone into a "hidden" tent where they were greeted with fruity shots inspired by the Royal Wedding for a drastically different after-party vibe. 
Sasha Souza had fun helping a tech-savvy California couple surprise guests with several different event stations: "Each station had its own atmosphere and food (sushi, grill, patisserie, etc.), but what really made it nice for guests was that at each one they could scan a QR code to receive a secret surprise, like a beer that wasn't otherwise being offered at the bar." 
But perhaps the most "wow" idea we heard came from Stephanie Yuhas and Matt Conant, Philadelphia filmmakers who walked their guests out of a small movie theater (where they previewed a documentary of their love story that ended with their live-action red-carpet vows) and down the street to an arcade and go-kart center. There, the guests merged right into the center's regular crowd. "The caterer packed up the leftovers, including the cake, and brought everything to the arcade," says Stephanie. "We didn't know how people would react, but you can see how much fun they had on their faces in the pictures."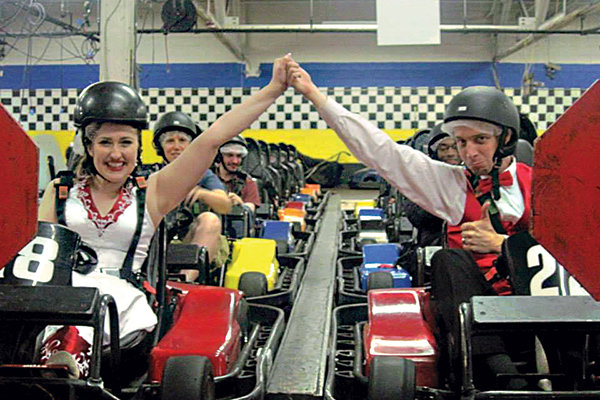 Photo Credit: Mike Licisyn

Photo Credit: Justine Ungaro
Your fun-factor assignment: "Make sure there's always something happening at your reception," says Souza. If you're having an outdoor wedding, set up some yard games off to the side, or offer hand and foot massages, she suggests. Toward the end of the reception, when the dancing is starting to die down, bring out an ice-cream bar or work with your caterer to have the staff pass out mini-milkshakes right there on the dance floor — one of Rebecca Rose's brides did this and had the band play K.C. and the Sunshine Band's "Shake, Shake, Shake" hit classic. "The ideas you come up with don't need to be complicated or costly, just creative," she says.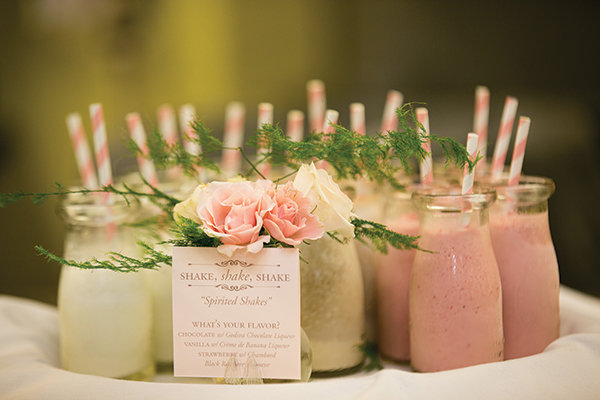 Photo Credit: Rebecca Bouck Photography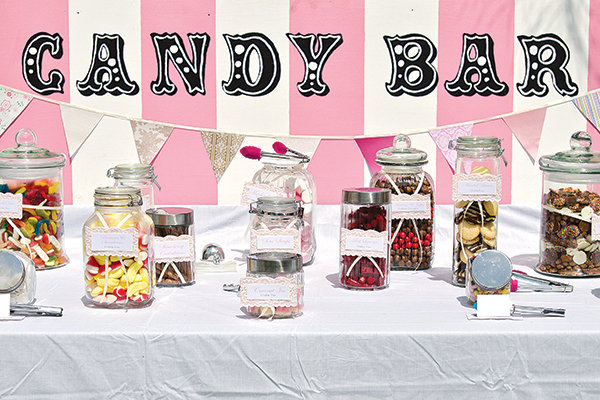 Photo Credit: Mark Greenmantle
There's an App for That
Google + Gifs: Install the Google+ app on your smartphone, turn on auto backup, and ask a few snap-happy wedding- party members to document things like you getting your hair done, guests arriving or key moments on the dance fl oor. The uploaded shots get stitched into a fun animated clip that's perfect for sharing.
Instagram: Come up with a hashtag for your wedding (be sure to do a search fi rst to make sure yours is unique) and share the tag with your guests. Decide where you want the photos to go (such as a Flickr or Dropbox account or a Facebook page), link everything through an account with ifttt.com (you'll need to create a "recipe") and shots with your tag will automatically upload.
Wedpics: Set up an album and invite guests to sync up and snap away. Every photo taken during your ceremony and reception gets uploaded. (You can control what gets shared on social media.) Later on you can organize and edit the shots.
Pages