Embrace your festive style with a wedding that's anything but buttoned up!
By: Debra Witt

Photo Credit: Mark Greenmantle
Weddings are fun by definition, but if your goal is to make your big day a memorable moment for your family and friends — not just for you and your groom — you'll want to focus your attention on your guests.
"If a bride wants to hear, 'This is the best wedding!' she has to get out of the 'It's my day' mentality and think about the guest experience," says Sasha Souza, a wedding planner based in Napa, California. "From the moment a couple becomes engaged the classic line that gets repeated is, 'It's all about the bride' — but it's not! The couple is taking on the role of host for the biggest party they'll probably ever throw. What's a host's main role? To make sure their guests are comfortable and enjoying themselves." Check out more wedding planning myths here ►
"Guests have usually been to countless weddings and can predict what's coming next," says Jennifer Stiebel of SoCo Events in Washington, D.C. How does a couple set their wedding apart from the sea of other happily-ever-afters? "Inject personality and thought into every aspect of your celebration and friends will be talking about the fun they had for years to come!"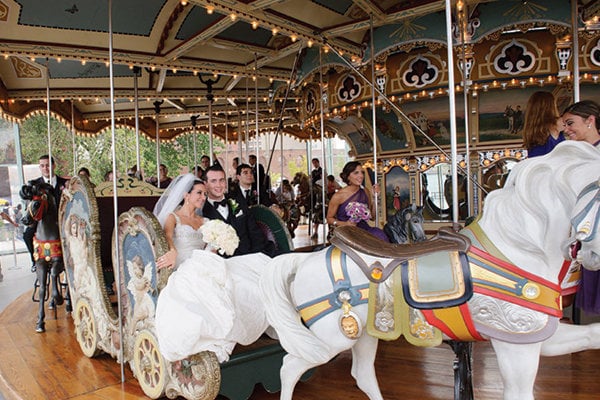 Photo Credit: Josh Lynn Photography
With that in mind, we asked recent brides and wedding planners from across the country to share some creative ways to send your wedding guests home with a smile and unforgettable memories. What they told us ranged from the oh-so-simple touches — like crafting a signature drink or setting up a photo booth — to the why-didn't-I-think-of-that ideas (midnight milkshakes on the dance floor, anyone?). Use these four concepts to help you and your groom up the fun factor at your wedding.
Build Excitement from the Get-Go
In 2012, a couple of classical music lovers asked Winston-Salem, North Carolina-based planner Rebecca Rose to help them pull together their wedding. When she found out how big a role music played in their romance and their lives (the bride sang in an a capella group and they regularly attended symphony and opera performances), they decided to make that the theme of their celebration. Check out our complete guide to wedding music here ►
Instead of sending out save-the dates, for example, they sent out "note-the-date" cards that were in the shape of music notes. At the ceremony, guests were treated to a mini concert featuring a gospel choir, a chamber orchestra, and various soloists.

Photo Credit: Meredith Perdue Photography
Your fun-factor assignment: Before you start picking out venues and invitations, think about experiences that are important to you and your fiancé. "Figure out what makes you unique as a couple," says Rose. "Think about what brought you together, what you value, and what you both respond to. Those answers are your starting point."
Hook 'Em Before the First Kiss
Yes, your "I do" will be the highlight of the day, but there's lots you can do to generate smiles leading up to the big kiss. For a recent destination wedding on preppy-chic Nantucket Island in Massachusetts, Stiebel helped one couple create a weekend itinerary that included a lobster bake, island bike ride, and — most talked about — a bow-tie bar where the male guests could pick out a Nantucket-themed bow-tie to wear to the evening wedding. By the time the ceremony rolled around the guests had truly bonded.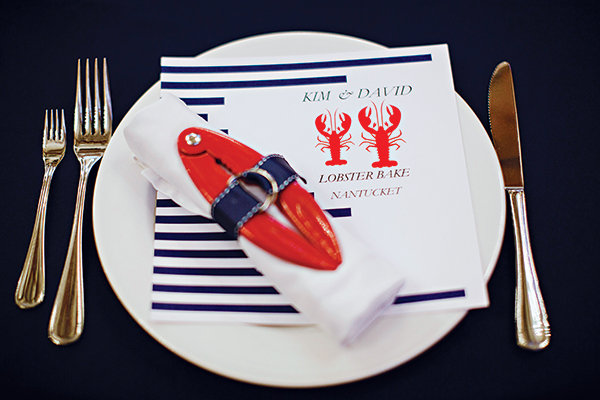 Photo Credit: Justine Ungaro
At the other end of the interest spectrum, Stiebel helped a sportsloving couple incorporate their passion for baseball into the day. "Instead of a standard guest book everyone signed baseballs," she says. "Guests enjoyed delivering their best autograph, and the couple now hangs those baseballs in their home."
Your fun-factor assignment: Once you've chosen a theme, brainstorm ways to carry it through to the wedding weekend and ceremony. Keep in mind that "fun" isn't a nice way of saying break your budget! Fun means unexpected surprises to keep your guests engaged and on their toes.
Think Outside the Ballroom
Many times, the brainstorming can begin and end with your choice of venue. Beth Huxta and Greg Conant, for example, knew they wanted their October 2012 wedding in the Delaware Valley to be relaxed and simple. "We're an easygoing couple so we didn't want a fussy wedding," says Beth. So rather than price out ballrooms and reception halls, she and Greg scoured the Internet for summer camps. "What's more easy-going than summer camp?" she says. Check out "glamping" honeymoon destinations here ►
The couple rented out the campsite and surrounding cabins (total cost, $3,000) for an entire weekend and sent out wreath-shaped invitations giving guests a heads-up that they were going to be heading off to camp. After the ceremony, everyone huddled around a crackling bonfire, sipped apple-cider spiked with whiskey and danced almost until dawn. "We didn't want to squeeze the whole wedding into five hours," says Beth. "We planned everything out so there was no time for people to wonder what to do next."

Photo Credit: Robin Proctor
What Beth and Greg did was make their wedding authentic to them, a key element to any great wedding, says Allison Laesser-Keck, owner of Viva La Diva events in Ann Arbor, Michigan. "Your wedding doesn't just need to be beautiful, it should have elements that speak to your personalities so it's meaningful," says Laesser-Keck.
As you consider different places to hold your ceremony and reception, she says, ask yourselves, 'Is this us?' Reception halls, she adds, can really come to life when you think beyond the tables and dance floor. Consider creating different "rooms" so guests can lounge in one area, have fun at a photo booth in one corner, maybe play table games in another and so on.

Photo Credit: Jason & Gina Wedding Photographers/Bluebird Productions (left); Katie Holstein Photographers/Bluebird Productions (right)
Pages