Embrace your festive style with a wedding that's anything but buttoned up!
By: Debra Witt

Photo Credit: Mark Greenmantle
Weddings are fun by definition, but if your goal is to make your big day a memorable moment for your family and friends — not just for you and your groom — you'll want to focus your attention on your guests.
"If a bride wants to hear, 'This is the best wedding!' she has to get out of the 'It's my day' mentality and think about the guest experience," says Sasha Souza, a wedding planner based in Napa, California. "From the moment a couple becomes engaged the classic line that gets repeated is, 'It's all about the bride' — but it's not! The couple is taking on the role of host for the biggest party they'll probably ever throw. What's a host's main role? To make sure their guests are comfortable and enjoying themselves." Check out more wedding planning myths here ►
"Guests have usually been to countless weddings and can predict what's coming next," says Jennifer Stiebel of SoCo Events in Washington, D.C. How does a couple set their wedding apart from the sea of other happily-ever-afters? "Inject personality and thought into every aspect of your celebration and friends will be talking about the fun they had for years to come!"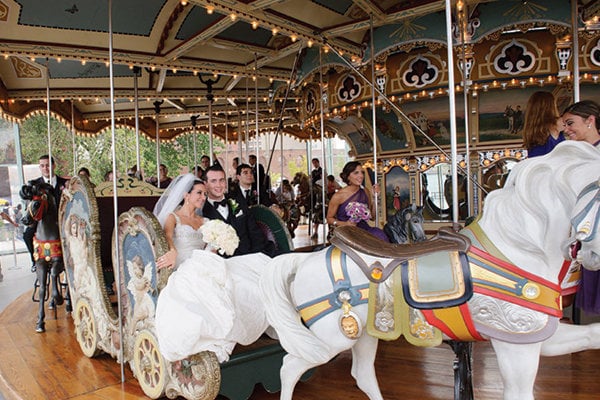 Photo Credit: Josh Lynn Photography
With that in mind, we asked recent brides and wedding planners from across the country to share some creative ways to send your wedding guests home with a smile and unforgettable memories. What they told us ranged from the oh-so-simple touches — like crafting a signature drink or setting up a photo booth — to the why-didn't-I-think-of-that ideas (midnight milkshakes on the dance floor, anyone?). Use these four concepts to help you and your groom up the fun factor at your wedding.
Pages