North, south, east, and west: See how couples across the country are celebrating their weddings.
By: Rachel Griffiths
Out West 
Forget tradition—West Coast brides write their own rules and the result is anything but cookiecutter.
Amber Gustafson of Amber Events in California gives us the scoop.
"West Coast brides love that California look," says Amber. "The oak trees, the sun on rolling hills. We have the perfect weather for celebrating outdoors." And don't expect to see the tents that are ubiquitous at East Coast weddings. "Tents take away from the views we love so much!" Amber explains. Instead, she likes to string bistro lights over the tables and dance floor. And she looks for shabby-chic couches and tables to set out under the stars.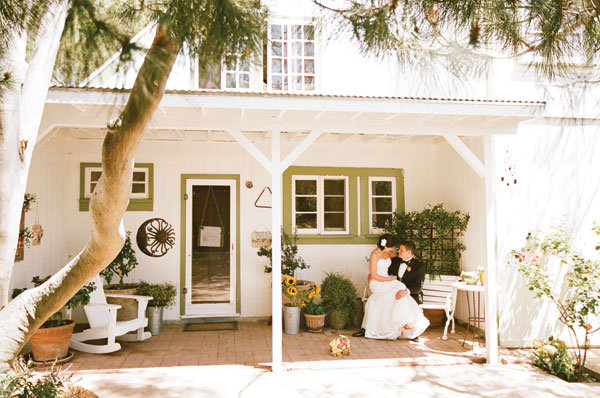 Stealing a moment alone. (Photo Credit: ©Suthipicotte)
West Coast brides also celebrate their surroundings with locally grown food. "The caterers get organic food straight from the market. My brides don't even know what their sides are going to be, because it's all based on what looks good at the farmer's market that week. And brides love that," Amber says. Brides are asking for fun food—at a recent wedding Amber hauled pizza ovens up a mountain for fresh-from-theoven pies. Another fun left-coast idea? "A food truck rolling up at the cocktail hour or for the after-dinner dancing."
Don't expect to see the standard dessert. Instead, West Coast brides are asking for dessert buffets laden with cupcakes, lemon bars, or fudge. "My brides tend to throw tradition out the window, much to
the chagrin of their mothers," Amber laughs.
Ranch weddings rule out west. (Photo Credit: ©Suthipicotte)
Another tradition that's a decided West Coast don't is the big band. Amber's brides prefer A-list DJs straight from the clubs. "Dance, dance, dance, dance! Couples want to celebrate with a dance party,
and with bands, there may be only one sound the entire night." For the cocktail hour, brides embrace the region's Latin infl uence with mariachi bands or Spanish guitar.
A breezy sense of style defines the look of a West Coast wedding. Roses and hydrangea don't bring a flush to these brides' cheeks. Instead, they fl ip for unusual blooms, such as succulents and wildflowers. Tabletops catch the eye with surprising details, such as table numbers embroidered on
fabric. But, as always, there are no hard and fast rules for the look of a West Coast wedding. "It's all about comfort and creating an organic experience for the guest."
Check out more Western weddings! 

Pages