North, south, east, and west: See how couples across the country are celebrating their weddings.
By: Rachel Griffiths
In the Heartland
What makes pulses pound in the country's heartland? We asked Oprah's go-to event designer—Debi Lilly of Chicago's A Perfect Event.
"When you are hometown proud, you are celebrating your roots and community," says Debi. Her brides show off their local pride with stunning historical wedding venues, such as old-school ballrooms, vintage lofts and warehouses. They also make plenty of time to memorialize their day with
around-town photography. For a bride getting married in a small town outside Chicago, Debi organized a special photo shoot with "big beautiful wheat fi elds in the background."

A romantic moment caught on film. (Photo Credit: Averyhouse)
Although heartland girls are serious about their roots, they're rarely serious about the rest of the wedding. "Even when we are doing the most formal, traditional, elegant wedding, it can't be too stuffy
or predictable," says Debi. At one recent wedding, she brought McDonald's chicken nuggets and fries into the ultra-swank Peninsula hotel as a midnight snack, and she loves surprising guests with light-hearted late-night bites, such as mini milk shakes, warm cookies, or Krispy Kreme donuts served with ice-cold milk.
Music is another way heartland couples like to have fun. Debi's brides might have formal bands or DJs, but they also embrace less traditional musical moments. For example, Debi has hired a bagpipe group to usher the guests into a ballroom for dinner. She also encourages musical grooms or dads to hop up on the bandstand and serenade the bride.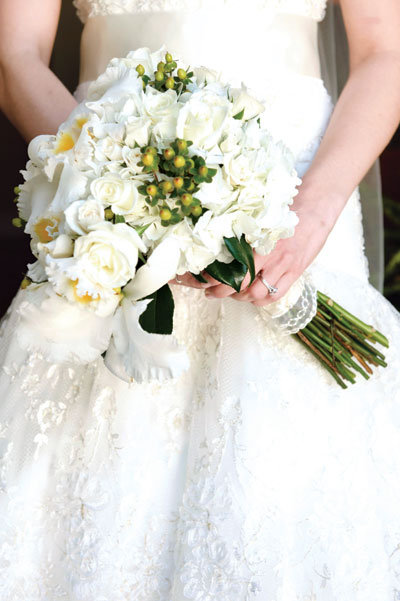 In bloom: simple, stunning white blossoms. (Photo Credit: Averyhouse)
And girls, in Chicago especially, aren't afraid to make a statement. Debi looks for bold ways to highlight what her couples love. During cocktails at a recent wedding, she had a crepe bar with cast-iron crepe maker and jams, cheeses, and fresh herbs.

Stylish décor. (Photo Credit: Averyhouse)
The bar is another fabulous place to make a big impression. "We do a really fun Bloody Mary bar, with jalapeño-infused vodka, red-pepper vodka, and lime vodka and then really over-the-top garnishes like a skewer with pickles, onions, tomatoes and salami."
Heartland brides celebrate what's important. Debi says her brides love having a detail that reminds them of family members who have passed on, whether it's a groom carrying his grandfather's pocket watch, or a bride tying her grandmother's favorite brooch to the sash of her bouquet. "Small details are a beautiful way to honor those not able to join you."
Check out more Midwest weddings! 

Pages