Top planners and tastemakers share all that's new in weddings, from cocktails to flowers, décor, cakes, and more. Here the delicious details.
By: Debra Witt

Photo courtesy of Hello Penny Bar
The Event
Intimate gatherings and grand affairs are both having a moment. "If a couple isn't asking me to plan something cozy, they're wanting to go all-out for the people they love. There is no in-between," says Kindra Browne, owner of Simple Elegance in Kansas City. The one constant? Make it memorable.
Keeping it Simple: Intimate weddings provide a chance to interact with your loved ones in ways that simply aren't possible when the guest count tops 100. Plus, smaller gatherings give you more room to show off your personalities. Food is often the focal point of these celebrations, with couples working closely with caterers to put together a menu that's personal and special. These celebrations lend themselves to tighter table arrangements (think one or two long tables) and warmly lit surroundings so guests feel as if they're at a fabulous, elegant dinner party. "The look and vibe is down to earth, approachable, but special," says Alison Laesser-Keck of Alison + Bryan Destination Events in Santa Barbara, California.

Photo Credit: Melanie Julian Photography
Going All Out: At the other end of the spectrum are couples who are fully embracing their role as hosts of the biggest party they'll ever throw. "Welcome parties, big rehearsal dinners, after parties, next-day brunches... these couples know it's rare to have all of their loved ones together at the same time, so they are looking for more opportunities to spend time with everyone and celebrate," says Browne. Dividing grand spaces into cozier vignettes helps create the illusion of intimacy, so here's where lounge furniture and strategically placed floral arrangements and lighting become important. Interactive food and drink stations and a mix of table shapes (some round, some long, some square) also help break guests into smaller groupings — until you want them all together and going wild on the dance floor! Crowd-pleasing DJs and late-night snacks are must-haves at grand weddings.

Photo Credit: Liz Banfield
Fantasy florals, bold color combinations, showstopping backdrops—here are the in-demand trends for table settings, backdrops, invitations and more.
Color is Back: Color is an easy way to bring in your personality. Keep an eye out for warm corals; brighter pinks, purples and blues; and moody jewel tones. Or do something completely unexpected and pair high contrast colors, like cherry red and aqua, pink flamingo and kelly green, or lemon yellow and tangy orange. Don't limit your color use to the flowers or table linens — colored glassware is an unexpected touch that elevates any tablescape.

Photo Credit: Milou and Olin Photography
And So is Black: This trend is pulled straight from the fashion pages, where black accents are giving wedding gowns a glamorous edge. Look for black ribbons to grace bouquets, invitations and table runners. Or go all in and request black chairs and black chargers, which look stunning paired with gold cutlery and glassware. Or consider black tablecloths and napkins. For a final touch, opt for chic black ink on mirrored glass for your display signage.
Dramatic Backdrops: Ceremony backdrops for outdoor weddings, escort card displays, backdrops for photo booths and food stations are getting more and more creative. "These are all key parts of the wow factor," says Sarah Chancey, founder of Chancey Charm Weddings, with planners in 13 cities. "They're showstoppers." A few ideas: macramé hangings with floral accents, commissioned murals, geometric wooden structures, boxwood walls, strings of dangling lights and fresh blooms in an ombré pattern.

Photo Credit: Meggie Taylor Photography
Whimsical Embellishments & Towering Floral Arrangements: Who says florals need to be fresh picked, or even real? Crafters are doing amazing things with paper, like jaw-dropping "flower" garlands with blooms so realistic even master gardeners will need to look twice. Ribbon streamers, tassels and balloons are other unconventional materials that lend themselves well to both ethereal and modern celebrations. As for flowers, things are looking up — literally. Hanging installations are still going strong, but florists are also noting an uptick in requests for super-tall centerpieces, as well as taller pillars to stage and display flowers at the ceremony and cocktail hour.
A Nod to Mod: Glitter and sequins aren't the only ways to add shine to your party. Light-reflecting lucite is striking and modern. The transparent material commands attention without distracting from the view. Display flowers and candles in (or under) containers of different shapes and sizes for a glitzy tablescape. Or give the reception space a luxe vibe with lucite chairs, cocktail tables and signage.

Photo Credit: Bryce Covey
Invitations That Push the Envelope: You know what they say about first impressions. So it shouldn't come as a surprise to hear that couples are interested in invitation suites with personality. Custom-painted invites are still going strong, as are pieces with foil stamping, watercolor or calligraphy. On the rise are invites made from something other than paper, like etched plexiglass or printed felt.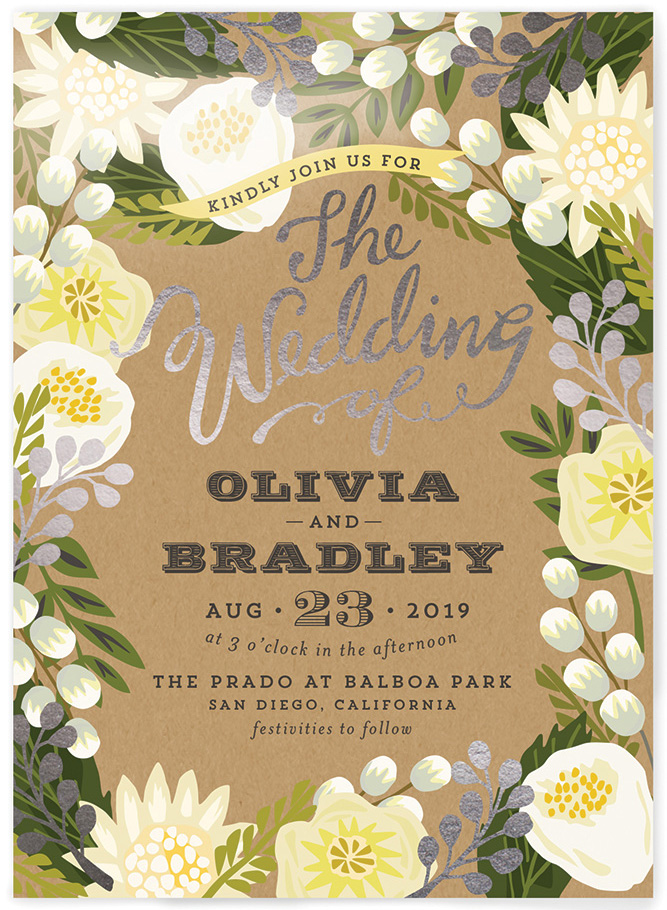 Photo courtesy of Minted.com
Creative Signage: Signs aren't just necessary (This way to the ceremony), they're fun. "They can get guests talking, and are one of my favorite ways to add a personal touch, " says Sara Fried, owner of Fête Nashville. In addition to clever directional signage, consider putting a portion of your vows, a signature saying or the lyrics to your favorite song on display near the bar, the photo booth or the cake table. Faux marble, slate, acrylic, mirrors and record albums are some alternatives to standard wood and chalkboards.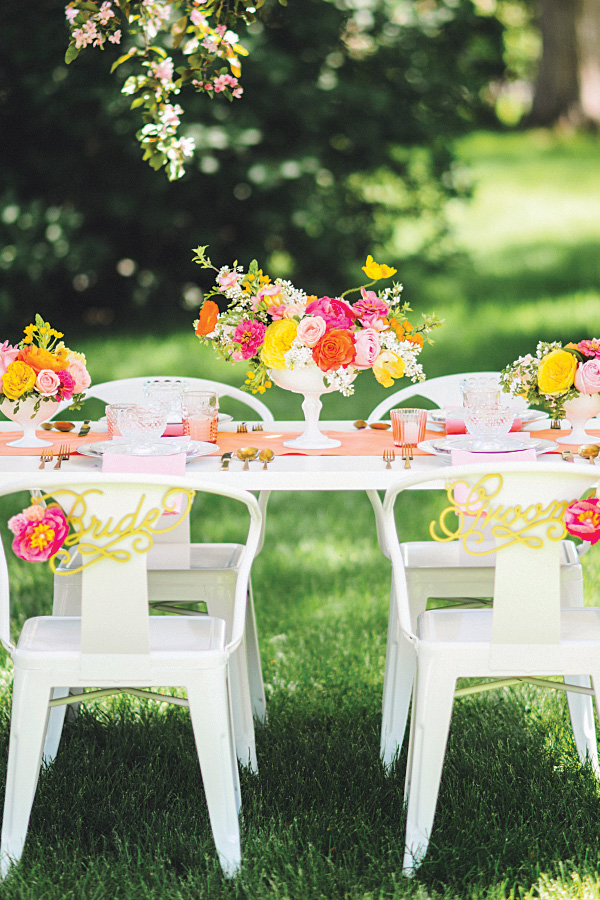 Photo courtesy of Extraordinary DessertsThe Eats
Just about everyone's a foodie these days, so think beyond the classic steak and chicken dinner. Instead, view food and drinks as entertainment.
Interactive Stations: Having guests move around gives them a chance to mingle, have fun and try something new, says chef Matt Antoun, founder of Modern Art Catering in Los Angeles. A Sunday morning wedding might include a juice bar where guests can pick their mix-ins. Or roll out a tacos-and-tequila station for a fun late-night snack surprise. Work with your caterer to come up with ideas that showcase where you're from or that celebrate some of the tastes you enjoy as a couple.

Photo Credit: Meggie Taylor Photography
Keep it Local: Your guests will like knowing that the meal they're about to eat is a local specialty, or that they're biting into the lasagne that your grandma served every Sunday when you were growing up. "Those authentic touches are what they'll remember," says Laesser-Keck. So go ahead and share passed-down recipes with your caterer, or call up the neighborhood burger joint and ask them if they can deliver sliders and milkshakes at midnight.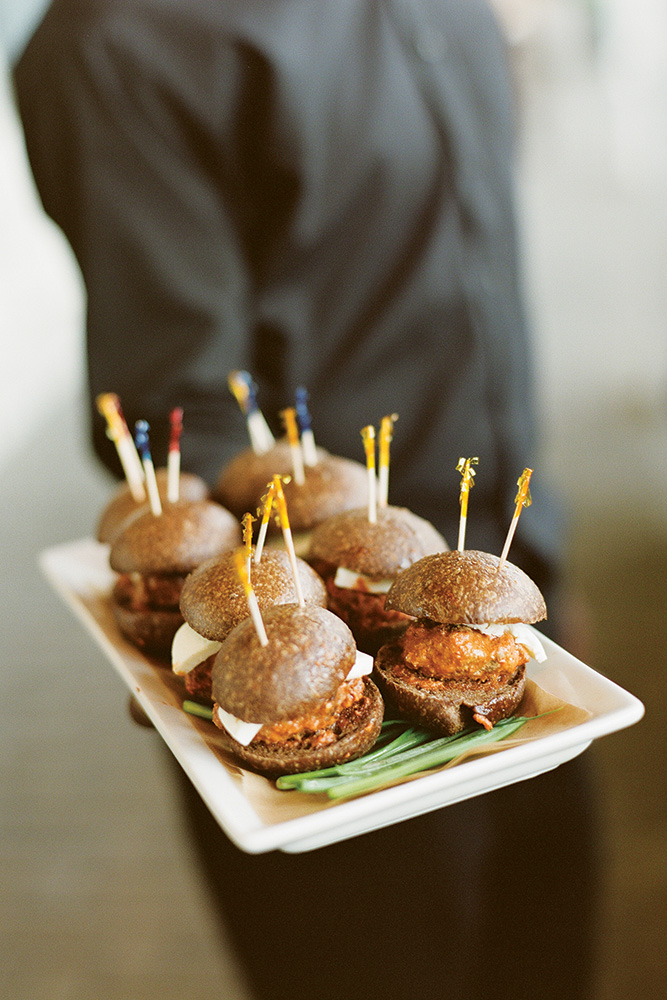 Photo Credit: Buffy Dekmar Photography
Presentation Matters: You'd think tables and platters would be the only way to serve food, but put a creative caterer and planner or florist in a room together and you might end up with hors d'oeuvres being served from oversized swings hanging from the rafters, or doughnuts displayed on a pegboard. "Glow cubes are also trending," says Chancey. These are illuminated plastic ice cubes that come in several colors and can be customized with a couple's logo or monogram. The point? Go for it!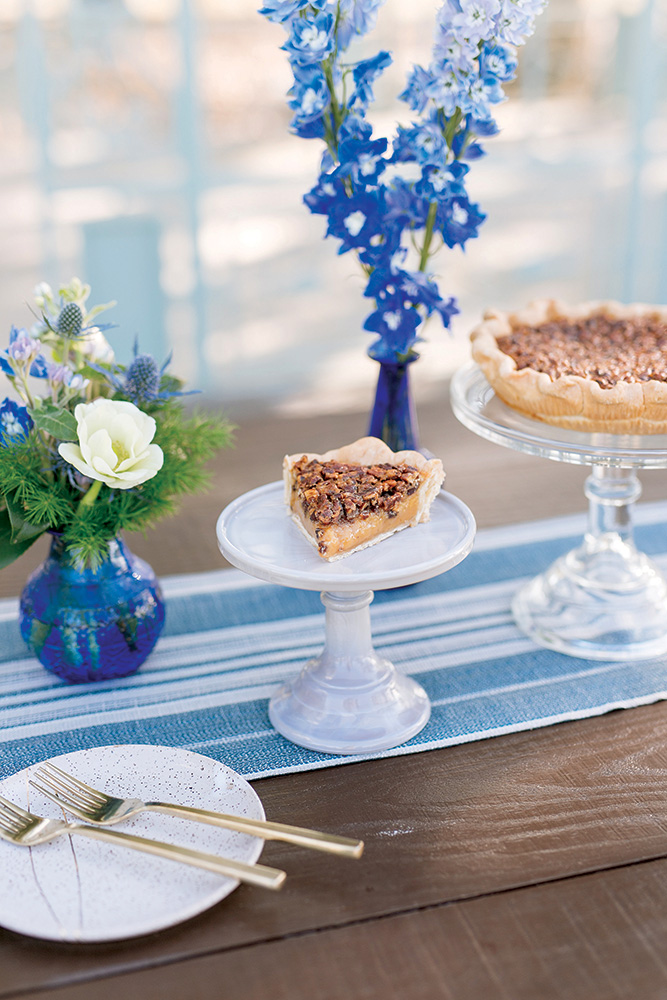 Photo Credit: Smith House Photography
Cakes Are (Almost) Too Pretty to Eat: Go ahead and serve petite desserts after dinner, or have cookies-and-milk delivered onto the dance floor, but don't skip the cake! "Wedding cakes as focal points are back and I couldn't be happier," says Fried. "To me, a cake is paramount to setting the scene for your reception." To that end, Karen Kresne, celebrated cake baker and owner of Extraordinary Desserts in San Diego, says she's seeing the re-emergence of pearl details, black accents and fresh flowers. She's also seeing interest in couples picking two cake flavors, often one chocolate and one that's light and fruity. "Carrot is a popular flavor for daytime weddings, chocolate with salted caramel sauce is number one for night, and a flavor like passion fruit is good anytime," Kresne says.

Photo courtesy of Extraordinary Desserts
Bring Back Punch: Signature drinks and open bars aren't going anywhere, but what's new again are "help yourself cocktails" — aka, punch. Whether you're keeping an eye on food and beverage costs or looking for fun ways to entertain guests, punch tables are a nostalgic touch that's been missing from the wedding scene for too long. If you're having an outdoor ceremony, consider serving punch as guests arrive and head to their seats (non-alcoholic is just fine). And keep the punch bowl filled during dessert and dancing.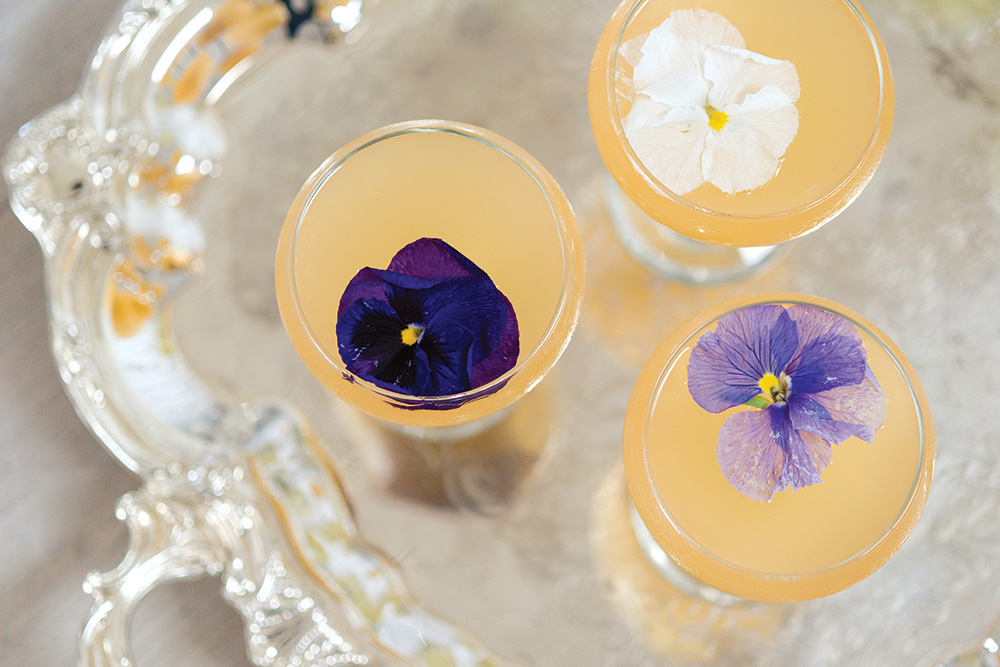 Photo Credit: Love Be Photography
Looking for ways to inject personality into your celebration? Check out these fun ways to up the wow factor and send guests home with a smile. 
Dinner and a Show: Cabaret singers, aerial acts, strolling magicians and caricature artists are just a few ways to give your guests something new. Consider short performances throughout cocktails or dinner. The entertainment shouldn't be a budget breaker — look to local talent, such as a high school jazz band or ballroom dancers from a nearby studio.

Photo Credit: Jeff Loftin Photography 
Play a New Tune: While live music will always appeal, digital entertainment options continue to evolve. A pair of dueling DJs are one way to get the crowd out of their seats. The two can have a friendly competition passing the beats between each other to see who can get the most guests dancing. Another idea is to invite live musicians to plug in and play along with your DJ. Guest-curated playlists on Spotify and the like are a great way to get friends and family involved early on.
Next-Generation Photo Booths: "Photo booths aren't disappearing anytime soon, because they give guests a tangible takeaway from the event, and provide a sense of community," says Browne. We're liking GIF-maker booths that let guests apply fancy filters over their animated portraits; booths that generate instant scrapbooks and flip books.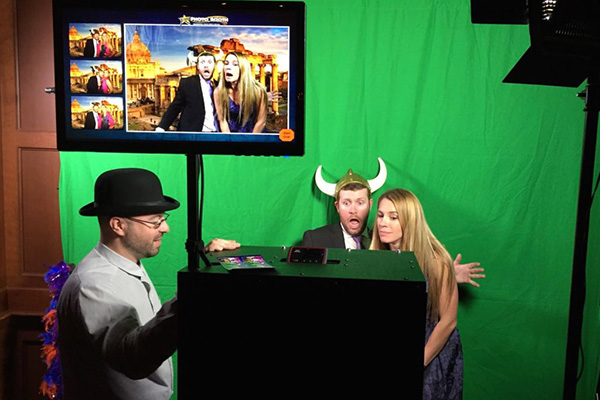 Photo Credit: Starr Photo Booth and Party Masters Entertainment
Culture Lessons: Couples are thinking globally. Maybe it's having a Chinese tea ceremony before the cocktail hour, or incorporating the Yoruba tradition of tasting four flavors (sour, bitter, hot and sweet, to show you can get through hard times together) before saying "I do." Weddings aren't just a celebration of love, they're a celebration of personal history and family heritage.