From save-the-dates to invitations, menu cards and thank-you notes, here's how to leave a fabulous paper trail without breaking the bank.
By: Sharon Naylor
Choosing your invitations and other printed matter is often the first taste of all the creative wedding planning to come. You've entered a world filled with rich colors, regal monograms and shimmering papers—and wide-ranging costs. According to wedding industry survey site theweddingreport.com, the average price for 150 invitations and response cards is $245. Factor in save-the-dates ($114) menu cards ($114), programs ($108), thank-you cards ($92) and place cards ($77) for an average grand total of $750 (before postage).
Yet it's possible to spend as much as — gulp! — $3,300 for a set of 150 engraved invitations alone. Clearly, some serious shopping around is in order. Get started with our guide.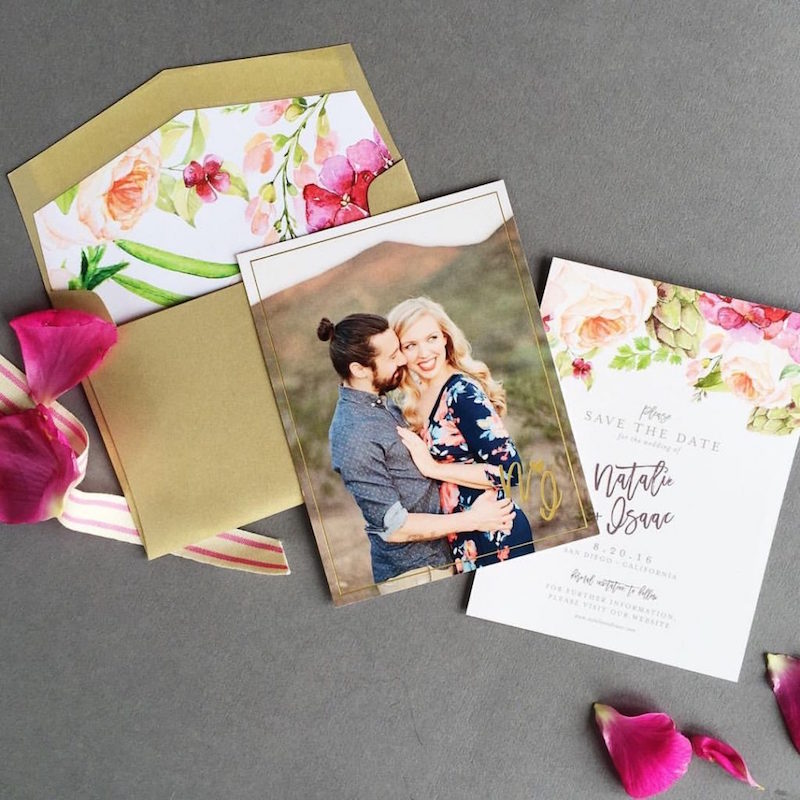 Photo courtesy of Posh Paperie
On Paper
The paper on which your invitations are printed is key to their overall effect. The heavier the stock, the more luxurious the feel, so many brides choose to save their price-cutting strategies for other areas (like the printing process) and indulge in slightly more upscale papers.
One-hundred-percent cotton paper is elegant, but is the most expensive. "Linen stock with a woven, textured surface is always a good alternative, still a decent weight at 80 lbs, but significantly cheaper than some of the thicker nontextured stocks," says Elizabeth Seaton, owner and paper stylist at Posh Paperie, in San Diego, CA.
Matte or shiny? In many cases, shiny or metallic papers cost more. At stationery supplier Mountaincow.com, for example, matte papers cost $8.99 for 25, while metallic papers cost $16.99.
Kraft card stock and brown recycled paper are popular picks, especially for today's rustic wedding styles. At some sources, they're priced at 15 cents per 8.5" by 11" sheet as opposed to cotton's 60 cents per sheet.
Natural papers such as bamboo can be surprisingly expensive, as can handmade paper and imported papers such as those from Nepal and Japan.
Printed Matters
The technique you choose greatly affects the cost of your order, since some processes require multiple steps. The methods, in order of expense from highest to least: Engraved and letterpress techniques create impressions in the paper in two distinct ways. The lettering in engraved invitations is raised, while in letterpress the letters are pressed down into the paper. Thermography delivers the raised print seen with engraving using heat and special inks.
Offset (also called flat) printing can cost half the price of thermography, according to Seaton. Digital offset printing is the least expensive. Says Olivia Suchman Joffrey, owner of Vigilante Paper: "It produces a crisp and colorful result and does not require creating a plate, which makes short runs (say, 150 wedding invitations) easier to produce. The result is quick, colorful and elegant."
Next: Pros reveal how to get a luxe design without spending a lot of money ►
Pages