Want your cake to wow? Here's how to guarantee confection perfection.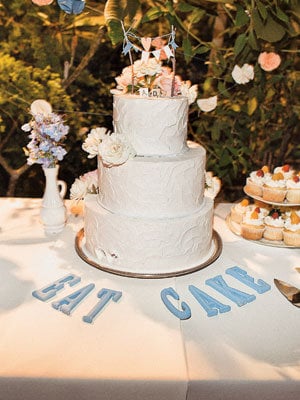 Sampling cake flavors and choosing from a rainbow of frosting colors make working with a cake designer a truly delicious task. To be sure you're just as satisfied with the end result, follow these steps.  
1. Ask Around 
Begin your search for a cake designer about three to six months before the wedding—even sooner if you want an in-demand pro.  Some bakers' schedules start filling up about a year in advance. 
Where do you begin your search? Word of mouth is the most powerful tool, says Jan Kish of La Petite Fleur, in Columbus, Ohio.  Ask recently married friends and family members for their recommendations. Many caterers, reception sites, photographers and florists have favorite bakers. 
2. Narrow the Search 
Most cake designers showcase confections they've created on their websites; you can also get an idea of whether you'll like their work from a phone conversation. Ask how they would define their style. Is it traditional, simply elegant, modern, whimsical, intricate? Don't forget to ask to ask for an estimated price range per guest. Then, "Interview two to three bakers," advises Ron Ben-Israel of Ron Ben-Israel Cakes, in New York, NY, and star of the Food Network's "Sweet Genius." 
In your initial meeting, look through a portfolio of the cake designer's work, and double-check that the details you know you want—say, intricate sugar flowers—are part of his or her body of work. If not, does he show versatility and an experimental spirit? Does she have the resources and background to do what want? Some small bakeries may not have the manpower or know-how to create the grand, geometrical structures in which others specialize. 
Also, be sure to taste the samples of the baker's work. "The flavor of the cake should be as good as any dessert you'd serve to guests, says Narcisa Vieira-Castillo of Cakes Unique, in Falls Church, Virginia. Do not comprimise taste for the look of the cake. 
The major deciding factor? "A good personal connection is very important" says Ben-Israel. "You must be able to trust the person." The ideal cake designer is someone whose personality sets you at ease and with whom you communicate well.
3. Keep Talking  
After you've booked your cake designer, you will begin to create the cake. Share with your pro photos of cakes from magazines that have caught your eye. Provide the baker with as much information about your wedding as you can: the location, the level of formality, your dress, the colors, the flowers, the menu. You can even bring in your invitations to show your pro—they may inspire her. "The whole idea is to costomize the look of the cake," says Ben-Israel. "I often work with a swatch of the bride's dress, to replicate the lace." 
During this process, taste four or five cake-and-filling combinations, to find your favorite. "Some flavors, like mango, are suitable for certain seasons like summer," says Vieira-Castillo. "Others, like white chocolate with raspberry, are year-round favories." 
Price will be based on the size of the cake, the amount of labor needed to create it and the cost of its ingredients. More experienced or reputable pros are usually pricier. 
4. Put it in Writing 
To ensure you get exactly what you want, check that all the details, including the date, place and time of the wedding, plus the style and flavors of the cake, are in your contract with the designer. Your baker sould update the contract anytime you change your mind, and as you choose further details. Whether it's with a written description or a sketch, it should be clear exactly how your cake will look on the wedding day. 
Tasty Details
"Brides and grooms are no longer afraid of color on cakes. Apple green, orange, hot pink and deep, orangy browns are popular choices. Color is also a great way to convey the season, along with sugar icicles, pine cones, flowers and fruit."—Jan Kish

"Cakes are being covered in stones, crystals, pearls, even embroidery, all made of sugar. We are combining stacked, round tiers with square ones, or 'swiveling' the squares."—Ron Ben-Israel

"Monograms are very much in vogue. Monogrammed tiles made of sugar can be applied to the top or sides of the cake. Personalization is also popular—I replicated the henna designs on an Indian bride's hands for her cake."—Narcisa Vieira-Castillo
Photo Credit: KT Merry