How to read the fine print on everything from flowers to food and much more.
By: Stella Katsipoutis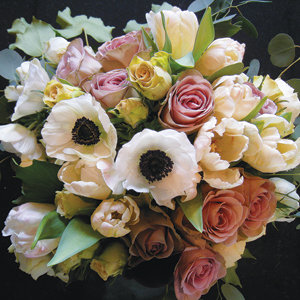 Décor & Flowers
"Selecting out of season flowers (such as peonies in October) will increase the budget considerably, as the flowers will need to be imported," says Lisa Gorjestani, founder of Details Event Planning in Los Angeles. "Choosing flowers that are in season, abundant and have popular colors play a big role in minimizing cost." Gorjestani recommends hydrangeas for spring because they are large, luxurious and full—and they fill up space more easily and cheaply than, say, tulips. "If you want the feeling of lush, but your budget doesn't provide for it, choose one type of flower and use a mass quantity of it. This will create impact," says Gorjestani. 
Gorjestani suggests adding cost effective votives and candles to your centerpiece. However, most event spaces require fire permits and have restrictions on candles. She notes that a good florist will take care of the permit and the fee. You can create depth on the tables and conjure up a romantic mood — without digging too deeply into your pockets — by adding light-reflecting mirrors. "The one item that is often overlooked that I feel plays an absolute integral part is lighting. It is a key element in the overall look of your wedding," says Gorjestani

Next: Catering ►
Photo by Sarah Brysk Cohen
Pages