A real bride shares her clever cost-cutting strategies.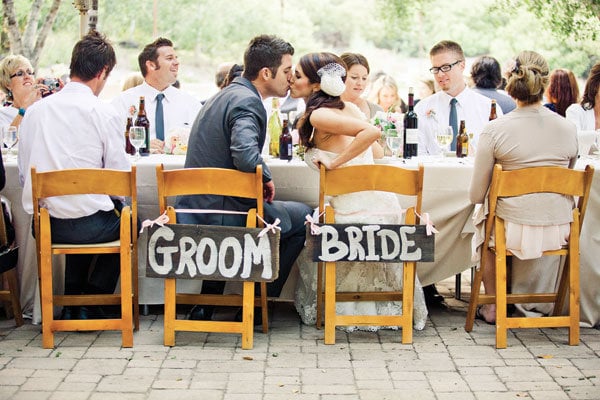 Photo Credit: Sara Kathleen
Hailed by planners and brides alike as "the new ballroom" backyard weddings are suddenly big news. (Most memorable so far: the low-key wedding of Facebook founder Mark Zuckerberg and Priscilla Chan in May 2012.) Here's how Kateri and Damion Waltermeyer found happiness and epic savings in their Philadelphia home sweet home. 
Take Stock of Your Network
Do you know someone who knows a florist? Do you know someone who knows a florist? Do you have a friend who's a talented baker? "Start asking around — you may be surprised by who turns up."
Avoid Per-Person Charges
"I didn't want to look at my guests as an expense, and didn't want to trim costs by cutting back on our guest list. A backyard wedding eliminates per-person venue costs and turns this into a fixed cost," Waltermeyer says. "Buying food from a local Italian restaurant and hiring a wait staff gave us more flexibility," she adds, since prices were based on waiter hours and a set group rate for food, rather than on individual headcount. 
Know when to Splurge 
"We made sure to get a big enough tent, tent fans, portable restrooms and a dance floor to keep our guests comfortable."
Re-use, Repurpose and DIY 
"Do you really need a birdcage shaped card holder, fancy pen holders, toasting glasses? Ask friends, shop garage sales and Craigslist and see what you already have that can be dressed up with ribbon and tulle," Kateri says. "We used baskets to hold programs and hung them on a garden hook used for hanging flowers. We also decorated a square of wood with leaves and tulle and hung it on a rustic wooden ladder, then pinned our escort cards to this." 
Borrow From Pals 
The couple snagged an unused asile-runner from friends, and Kateri wore a veil that had graced two other brides. "And we borrowed identical two-gallon beverage containers from two different friends." 
Don't Stress Over Snafus 
When the couple's DJ fell through they signed up for a premium (ad-free) Spotify music-streaming account and created a costom playlist. "I was able to share a playlist on Facebook so guests could request songs prior to the wedding," Kateri says. "We played music through a laptop and had a friend DJ the lists for us." 
Look to Mother Nature 
"Natural items are expensive to buy, but easy to make," Kateri says. So the couple cleaned up a tree stump they had cut down in their landscaping prep and carved their initials in it to make a stylish cake stand. 
Don't Forget About Parking 
"We called a local church and arranged to make a donation in exchange for use of their parking lot for the day."
Lasting Benefits
"One great thing is that we still enjoy the garden arbor and the other landscaping improvements we made long after the wedding is over." Kateri says, adding "We probably would have spent this money anyway, so in a way it was not even a wedding cost." 
Budget Breakdown
Kateri and Damion hosted 120 guests at their tented backyard wedding. Here, they reveal their biggest splurges and savings.
Splurges:
Rentals: Tent ($1,360), dance floor ($475), 3 portable restrooms ($730), 12 tables and linens ($300), bar ($40), PA system ($36), and other amenities. Grand total: under $4,500.
Landscaping: The couple built a wooden garden arbor for the ceremony, plus they hired a landscaper to help with bulb and seed planting and general cleanup and prettification. Total: $2,500.
Savings:
Food & non-alcoholic beverages: Chicken, pasta, green beans from an Italian restaurant, a taco bar and wait staff. Total: $2,880.
Cake: The couple bought 3 plain white cakes and decorated them with flowers ($250). "I made flan, and our families brought cookies and a chocolate fountain."
Flowers: Bridal bouquet, 4 bridesmaids' bouquets, 1 head-table centerpiece sourced through a friend ($500).
DIY décor: Candles galore, including bowls of floating votives and rose petals, tulle and faux flowering vines ($350 plus $80 shipping).
Other DIY: Tree-trunk cake stand; hand-painted signage (nominal cost).
Favors: Single-use cameras ($63), wedding bubble sets ($18), personalized memo pads ($80 plus cost of ribbon).
Music: Spotify premium account ($10 for one month).
Alcohol: "We had so much left over because everyone drank our home-made sangria!" ($650).