Everyone wants to pull off that luxury wedding look at budget prices. Here, creative pointers on how to pull off a posh look without going broke.
By: Kristen Finello
Table Tips
16. Upgrade your linens. Griffith suggests pintuck, shantung or another glamorous fabric. "For just $15 to $30 per table, they're the biggest bang for your buck you can get," she says.
17. While you're at it, you can rent napkins in a color or pattern for about $1 each, adding a pop of vibrant color and a more custom look at the same time.
18. Go a little longer than floor length with your table linens. "Pooling linens makes a much more luxurious, opulent look," notes Zachman.
19. Another option: Rent a gauzy overlay, for $9 to $25 apiece, to dress up your table. Or buy sheer organza at a fabric store and have overlays made for just $5 to $7 apiece.
20. Another table topper: If you (or someone else you know) is handy, create your own table runners. You can go for something extra luxury in your fabric because you won't need a great deal of it.
21. Fold it fancy. "A unique napkin fold can make a statement and most venues won't charge for it," says Price. One option: Fold the napkin to create a pocket to hold a menu.

Photo Credit: Ballad Hall/Ballad's Photography
22. Accent your table with pretty napkin rings. "You can rent them in different styles for three or four dollars each or buy them for as little as 99 cents apiece," says Goldberg.
23. Top each napkin with a single bloom and tie with a coordinating ribbon, recommends New York City-based event planner Leslie Price of In Any Event.
24. Shake up the table shapes. Try a long rectangular table. These come at the same price as typical round shapes but bring a more sophisticated look.

Photo Credit: Eric Craig Studios
25. Place a colored or textured charger ($1 to $1.50 each) underneath the dinner plates.
26. Instead of using clear glass votive holders, try colored or etched ones, suggests Price. Try your local crafts store or candles4less.com, where you can get a box of 12 for $5.
27. In place of pricey flowers for centerpieces, consider romantic candelabras draped in crystals. Tabletop candelabras can be rented for $25 to $55 at websites like simplyelegantwed.com.
28. Use mirrors or frosted glass to cover your tables. It makes a dazzling effect and saves you the cost of providing linens.
29. To make flower arrangements seem grander and more stylish for just a few dollars, wrap inexpensive glass containers in handmade paper, wallpaper or fabric and add a ribbon, suggests Griffith.
30. Go for chic and simple centerpieces. Instead of paying $75 to $125 each for elaborate table arrangements, purchase tall, clear cylinders from the local dollar store to use as containers for single orchids or rose petals in water with floating candles on top, suggests Goldberg.
31. Glow on! "Use candlelight to give your room a rich, romantic look," says Zachman. "It's highly affordable."
32. Or use colored water in your centerpieces to coordinate with your décor. The effect is magical in candlelight.
33. Set reception tables with colored or patterned china instead of standard white. The cost will be $3-$7 per setting.
34. Vary the height, size or shape of centerpieces. "Doing so creates dimension and keeps the eye flowing throughout the room," explains Griffith. "It's a nice effect."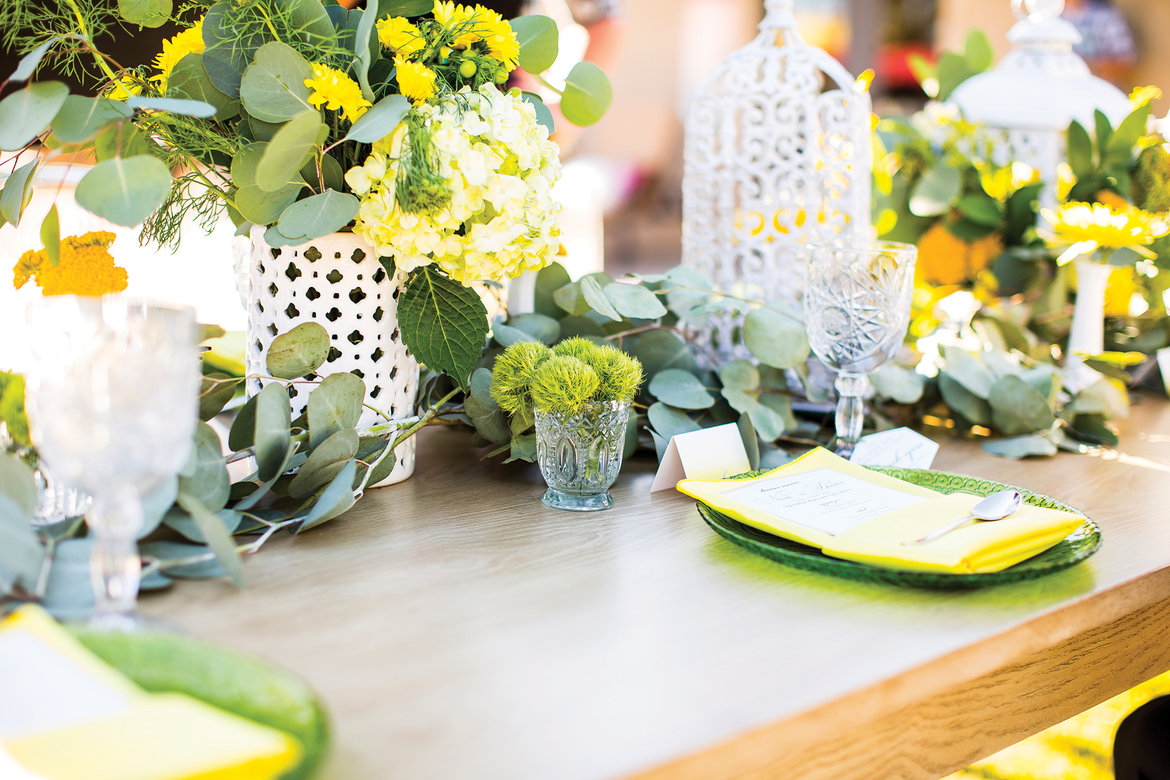 Photo Credit: Ballad Hall/Ballad's Photography
35. Make it metallic. "Metallic items look extravagant but don't cost any more than their counterparts," says Zachman, who suggests presenting favors in little gold boxes and choosing a shimmery champagne color for linens.
36. Play around with centerpiece containers for a more custom look. One of Zachman's Texas brides is filling specialty cowboy boots with wildflowers for a casually elegant air.
37. Want to double the impact of your flower arrangements without adding a dime to your florist bill? Place your blooms in front of a mirror — the reflection will create an ultra lush look.
38. A fresh centerpiece idea: Fill clear containers with sliced limes, lemons or oranges. In the center of the fruit, place a tall glass with a votive to illuminate the arrangement.
39. Use ribbon to give a design upgrade to everything from candleholders to centerpiece vessels to favor boxes, using sticky dots to hold it in place.


Photo Credit: Ballad Hall/Ballad's Photography
Pages