There seem to be a million details to planning your wedding. Here, we list items you can safely and cleverly save on without anyone noticing a thing.
By: Denise Schipani
1. The Wedding Guest List
The guest list's size is the biggest determinant of your total wedding cost, so keeping expenses trim is of the utmost importance. But if you're worried that you'll offend people by not inviting them to your wedding, stop now. Of course you wouldn't leave out your nearest and dearest, and anyone else you're considering would likely be flattered to be invited but not bothered if they're not (think: the group of college friends who live on the other side of the country whom you've not seen in five years). Your best bet to tighten your list is to make some wedding invitation list rules (for you, your fiancé and both families) and stick to them. That is, first cousins, but not second. Spouses and live-in or serious partners, but not random dates. Your boss, but not your whole office. One caveat: don't split up groups, says Syd Sexton, owner of Syd Sexton Event Productions, in Denver. "If you can invite your office gang, great. But if you can't, don't just invite one of them."

Photo Credit: Inspired Photography
2. The Wedding Flowers
The first time you gazed upon your wedding reception site, you saw veritable fields of flowers, right? It's no surprise, though, that piles and piles of blooms can ratchet up your costs quickly. Sexton notes that you don't need to fill every corner of your venue with flowers for a lovely look. Work with your wedding florist to use the freshest, most in-season blooms to their strategic advantage, then fill in the rest of the décor with budget-friendly candles or greenery. If you just adore flowers, check out botanical gardens in your area—you'll have a bounteous backdrop of blooms at your disposal (for not a penny more).
3. The Wedding Reception Cocktail Hour
One cocktail-hour trend these days is to overload (read: over-impress) guests with everything from sushi bars to towering displays of cheese, to passed hors d'oeuvres to pasta and carving stations. But there's no reason to make this a blowout, says Mindy Weiss, celebrity wedding planner and coauthor with Lisbeth Levine of The Wedding Book: The Big Book for Your Big Day. "Keep it short and sweet — this ensures that you'll need less food — and have your hors d'oeuvres hand-passed instead of having stations. This limits the amount of food you'll need." Stick with just enough food to keep guests from getting too tipsy too early in the evening, advises Meghan Walls, owner of Meghan Walls Events in New York City. A pretty display of cheese, fruit and crackers will do just fine.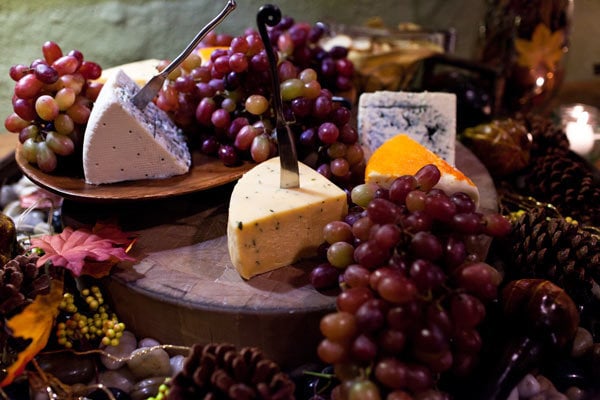 Photo Credit: Donnell Probst Photography
4. The Wedding Reception Dessert Table
"Unless you're having a dessert reception, you don't need to go overboard on sweets. Wedding cake is so spectacular that offering a dessert buffet, a crepes suzette station and mini ice cream cones is just excessive," says Levine. "After all, you don't want to weigh guests down with so many sweets during your wedding reception that they don't have the energy to get out on the dance floor!"
5. The Drinks
First of all, says Weiss, feel free to skip the champagne toast. It's no longer considered a must-do at weddings. Simply toast with whatever wine you already have on the table. As for your bar options, remember this is your party, so it's entirely up to you, not your hard-partying college friends or the snooty aunts who prefer top-shelf martinis. Work with your reception site or caterer to create a bar you can afford, whether that means offering only beer, wine, water and soft drinks; a signature drink at the cocktail hour and red and white wines with dinner; or less-expensive liquors for mixed drinks rather than pricey brand names. Also, keep mixed drinks as simple as possible: The more varieties of liquor that are involved in assembling the drink, the more you will pay. "If you're hiring an off-premise caterer and can buy your own alcohol, you can save even more by shopping around and being able to return unopened bottles," notes Walls. Instruct the wait staff not to automatically top off guests' wineglasses and, finally, arrange to have your bar closed an hour before the end of the party. You'll be doing the drivers a favor.

Photo courtesy of Stoli
Pages