These stunning vintage glamour wedding ideas will make you feel like Hollywood royalty.
From the stunning Dolby Theater location to gorgeous gowns worn by Hollywood's elite, every aspect of the 2018 Oscars was simply mesmerizing. In fact, many of the show's elements gave us tons of inspiration for throwing an equally fabulous wedding. Below, we've rounded up our favorite vintage glam wedding ideas you'll be eager to replicate this award season. 
The Venue
Photo Credit: Intothestory
There's nothing more glamorous than tying the knot in an old mansion, complete with timeless elegance and lots of history. Plus, the luxurious, residence-style venue provides plenty of opportunity to get some beautiful shots with your fiancé. 
The Fashion
 Photo Credit: IndigoBlue Photography
Turn up the drama with an all-over lace dress that's sure to turn heads. An illusion back and button details contribute to the refined yet captivating look.  
Photo Credit: Julie Anne Photography
Skip the traditional veil and opt for a fun feathered headpiece reminiscent of a 20s flapper girl. It will pair nicely with the beaded, lace gown you choose to walk down the aisle in. 
Photo Credit: B. Rich Photography
Feathers don't just belong in your hair on the big day, though. Add them as accents to your bouquet and centerpieces to really nail the retro theme.  
Photo Credit: Alora Rachelle Photography
Of course, this sophisticated style wouldn't be complete without a whole lot of bling. These bedazzled chandelier heels are simply mesmerizing.
Photo Credit: Alicia Hite Photography
Roll out the red carpet for you and your bridesmaids by choosing a rosy hue for the ladies' dresses. (Note: the vibrant color will make your own white dress stand out even more!)
The Details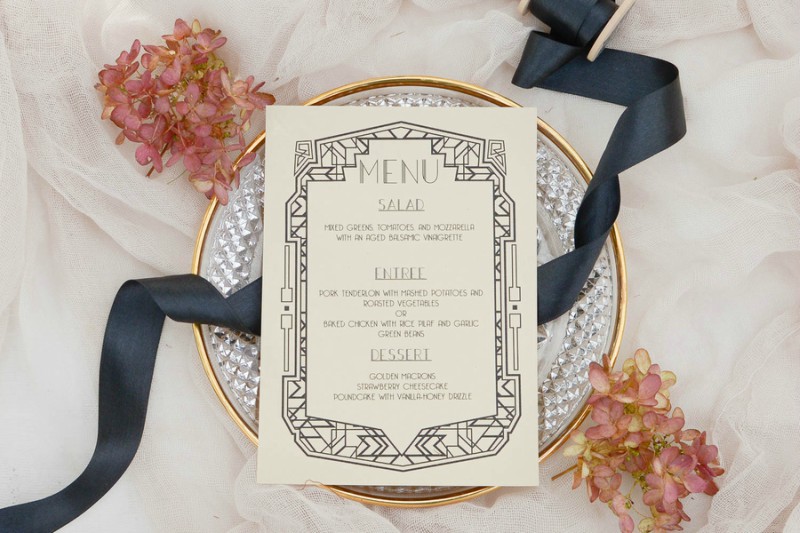 Photo Credit: B. Rich Photography
These Great Gatsby-themed wedding menus are fit for Fitzgerald's finest — as well as your own fabulous guests!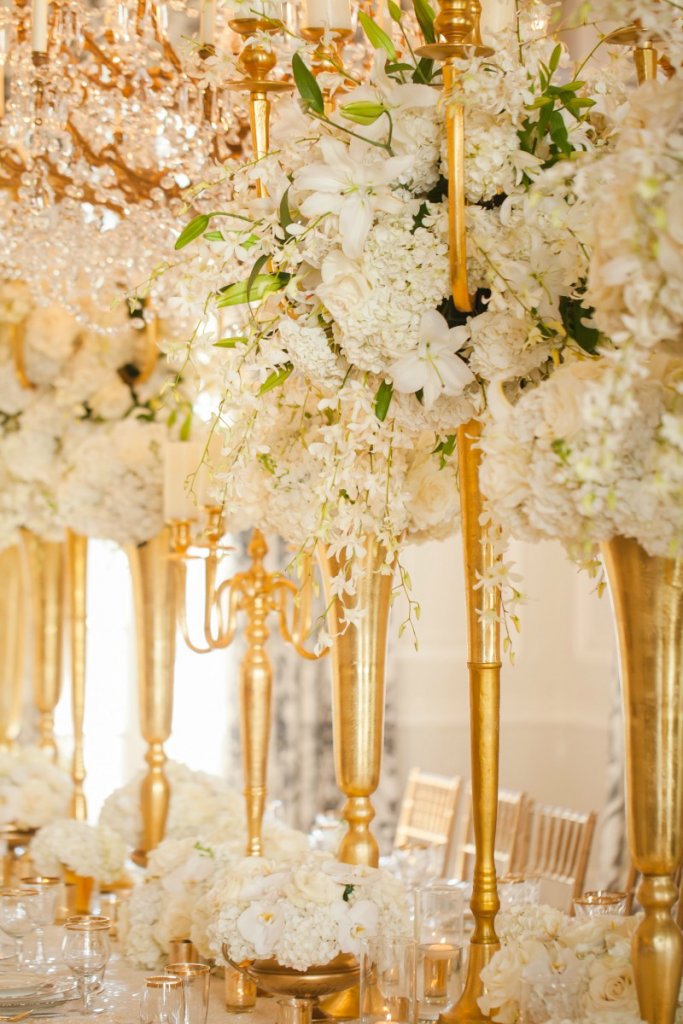 Photo Credit: Casey Hendrickson Photography
A white and gold color palette provides an elegant, neutral base for you to pile on the texture. Soft white carnations, gilded accents, and tons of dripping diamonds will exude A-list opulence at your reception.
Photo Credit: B. Rich Photography
If you're a less traditional bride, opt for gold macaroons (instead of a cake) to satisfy your guests' sweet cravings. Glass coverings and hanging crystals only add to the allure of the presentation.
Photo Credit: Paris Photographer Pierre
If you decide on a cake, however, one with sparklers is sure to light up the entire room. 
Photo Credit: Jodi B Photography
A vintage car is the perfect way to tie the classic ceremony all together. Talk about a grand exit!
So, will you be throwing a vintage Hollywood-themed wedding? We don't know about you, but we're completely starry-eyed over these stunning ideas!
—Sam Peters