Take your color cues from these bright ideas: Pretty pastels, gleaming metallics, and vivid brights.
By: Debra Witt
Color Play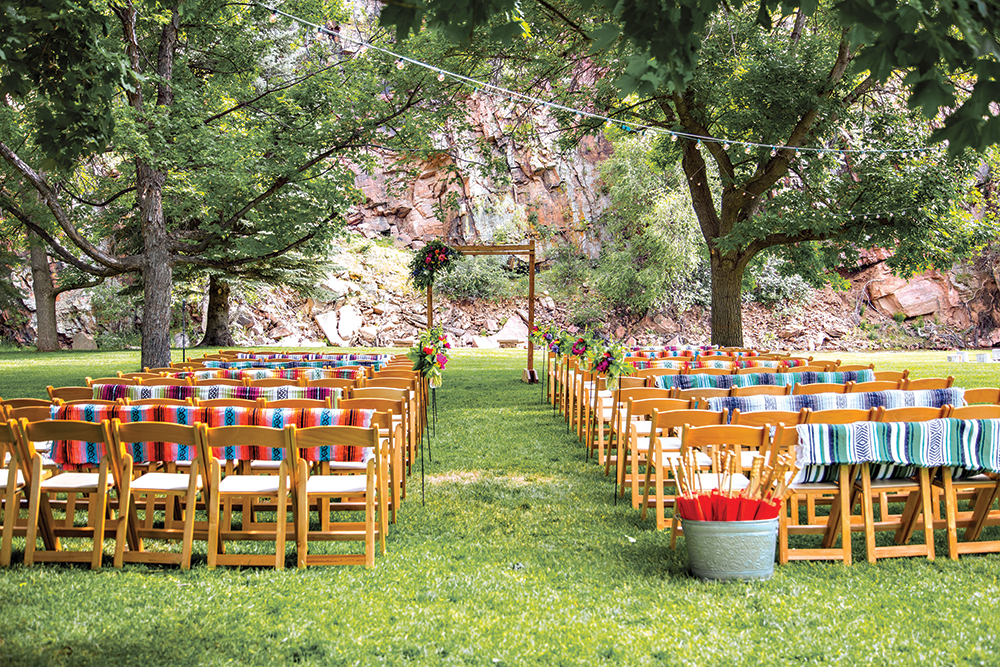 For this Colorado bride, color — and lots of it — was the way to make her day feel special. Part of the inspiration for this fiesta-themed palette was the outdoor venue, on the banks of the St. Vrain River. Another part of the inspiration was the abundance of locally grown flowers that were in season at the time. "But the key inspiration was born from a collection of brightly hued linen placemats that belonged to the bride's mother," says wedding designer Heather Dwight, owner of Calluna Events. "The colors on these items — bright pink, yellow, orange, royal blue, red — became the focal point of the wedding design," says Dwight. Guests knew immediately they weren't witnessing a typical wedding when they arrived at the ceremony: With towering stone cliffs in the background, rows of wooden chairs were adorned with Mexican serapes. "I think every guest stopped to take in the colorful sight," says Dwight. Red paper parasols were on standby for any guests who wanted shelter from the sun. After the ceremony, guests meandered to the cocktail area, where oak barrels served as cocktail tables. In the dinner tent, tables were covered with crisp white cloths and those bright placemats. Flowers were loosely arranged in understated wooden crates. They even showed up on the chocolate cake. After dinner, guests danced to the sounds of a Latin jazz band."Color led the choices for every aspect of the wedding," says Dwight, "and it all stemmed from placemats."
Guests got in on the colorful fun at the makeshift photo booth.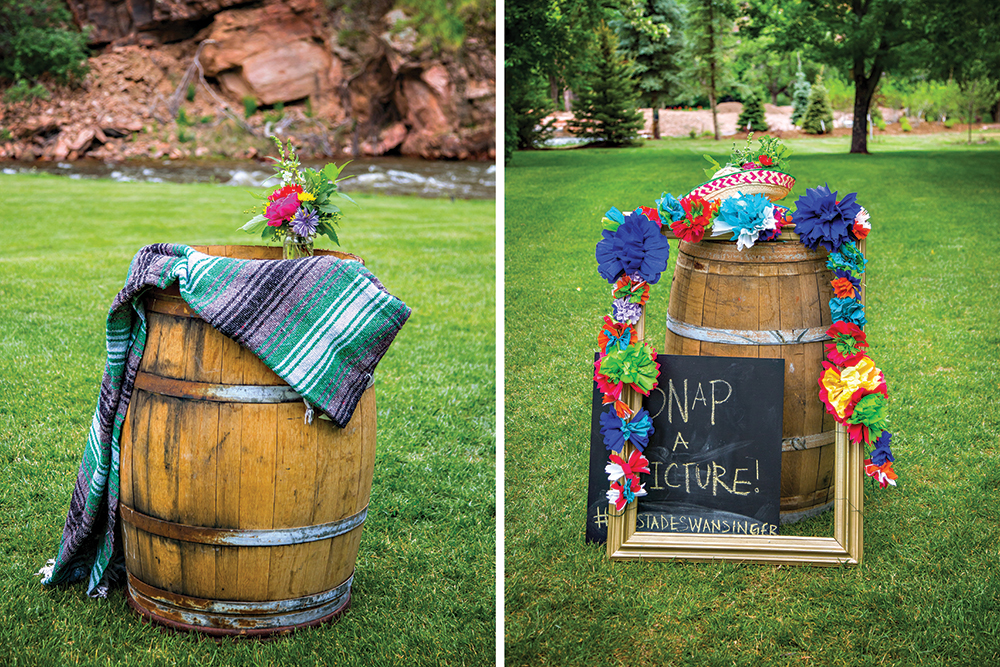 The bride's mother's bright linen placemats inspired the wedding-color palette.
The bride's bouquet and centerpieces were a fresh mix of locally grown blooms. Guests checked out hand-painted escort cards to find their seats.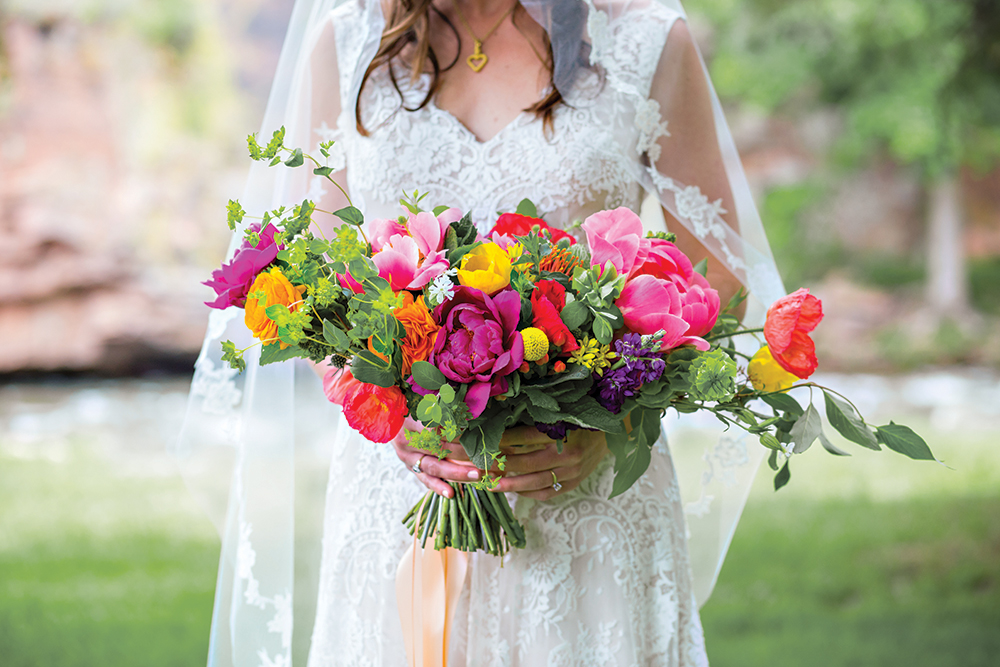 A Latin jazz band entertained.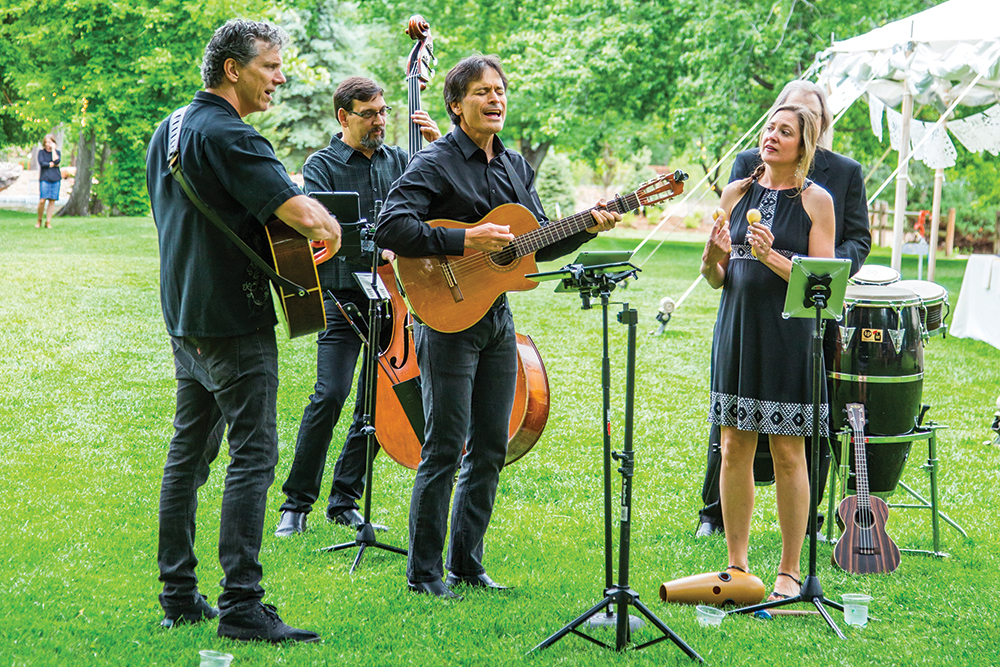 Flower girls provided the "aww" factor.
Fresh flowers adorned the tiered chocolate wedding cake.
Pages