Take your color cues from these bright ideas: Pretty pastels, gleaming metallics, and vivid brights.
By: Debra Witt
Shine Bright

Modern love. Classic ballroom. New Year's Eve. This Oklahoma City wedding had all the makings of a glamorous celebration. The missing ingredient? The right colors. "What's more romantic and elegant than silver and gold? Is there anything that says New Year's Eve better? It wasn't a hard sell for the bride: We had our color story," says wedding design pro Tara Guérard, of Tara Guérard Soirée. She set about transforming the traditional ballroom into a chic, 1950s-style Hollywood hotspot. The existing flooring was covered with a rented white carpet, and the walls and ceiling of the dining space were draped in gold and white. "Those two things are game changers whenever you book space in a ballroom," she says. "It's a good way to spend your money because you can now do any look you want — you don't have to worry about competing with the existing décor." Throughout the space, white roses and peonies appeared in simple glass and silver vases. Candles were also in abundance. Guests enjoyed cocktails at of-the-moment lucite tables. But jaws dropped when guests made their way to their dinner tables: There, the linens alternated between stunning silver sequins or a more subtle gold jacquard. The towering cake was surrounded with candles and placed atop a round lucite table. Later, guests counted down to the New Year on a custom gold-and-silver dance floor. "We mixed all the elements — small votives and taller tapers and lamps, soft and hard textures — so there were no competing elements," says Guérard. "It all worked together beautifully."
The invitations set the stage for a glamorous celebration.
Welcome bags were delivered with a golden touch.
In the dining area, the soup course arrived in gold bowls.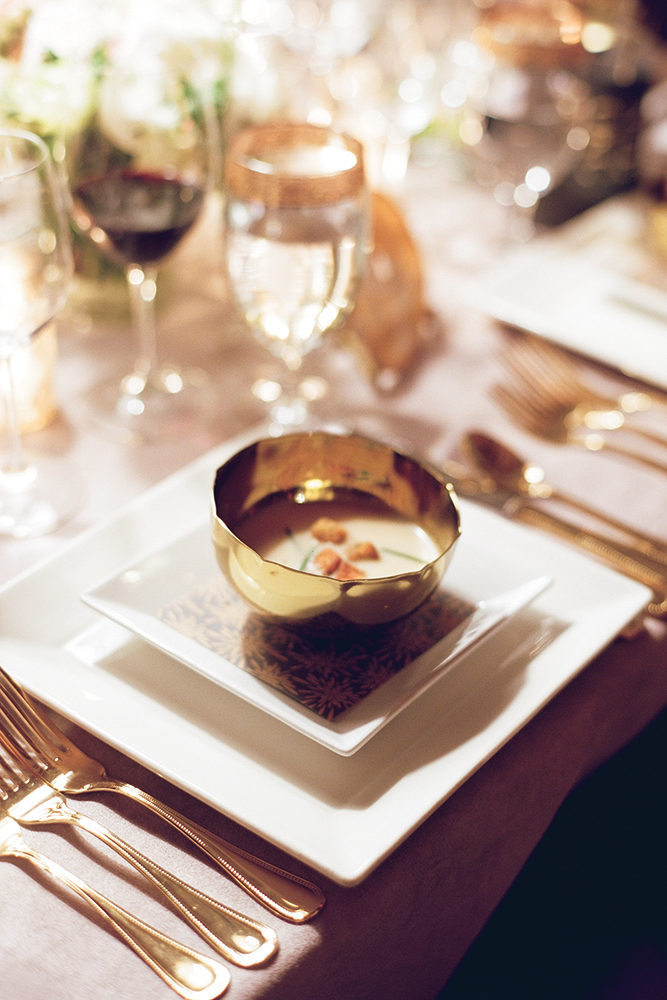 Silver and gold linens adorned the tables, while a mix of votives, tapered candles and elegant glass lamps gave the dramatically draped room a romantic glow.
The towering wedding cake ruled the room.
Black-eyed peas and mixed nuts came in gold tins.
Cheers to champagne!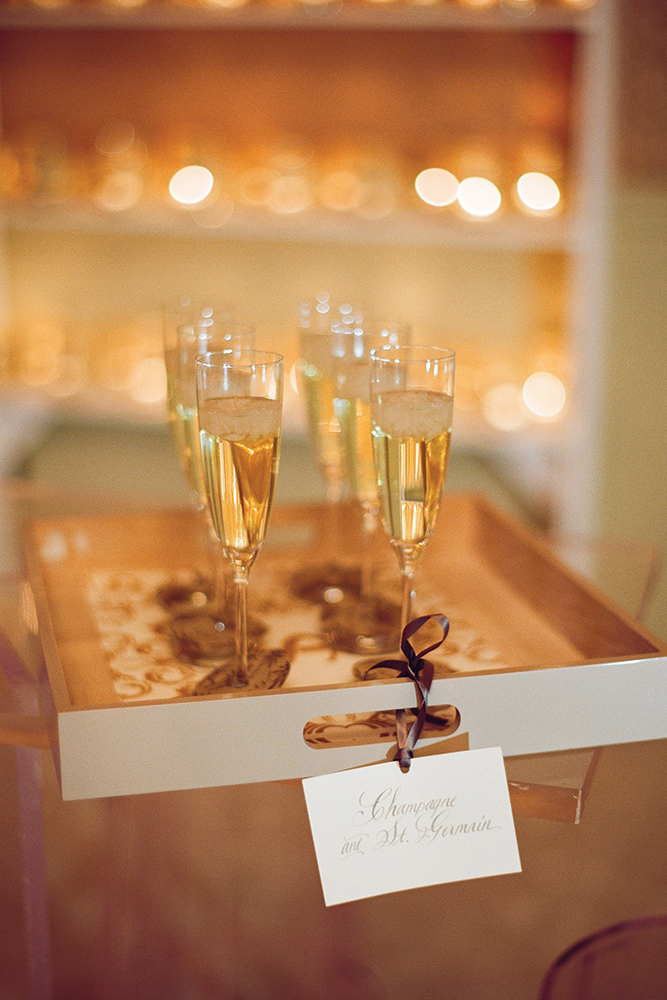 The wedding ceremony was held by candlelight. 

Pages