Seasonal Tones

Photo: Cheers Babe Photography via Feathered Arrow Events
"Some of my favorite color palettes for fall are sticking with the tones of the season but keeping them subtle and more modern. Include burnt oranges, yellows, reds, and whites with some dried florals, but keep the palette muted and soft so that it doesn't feel overly fall," says Kari Dirksen - CEO + Lead Planner of Feathered Arrow Events.
"Fall weddings are all about good texture and warm tones in each space you're designing on wedding day. Whether it's a slate velvet napkin, creamy table runner, or sunset inspired floral arrangement, we encourage our brides to lean into the warmth and comfort of the fall season as they make wedding design decisions," says-Danielle + Hannah of Joyfully Gathered.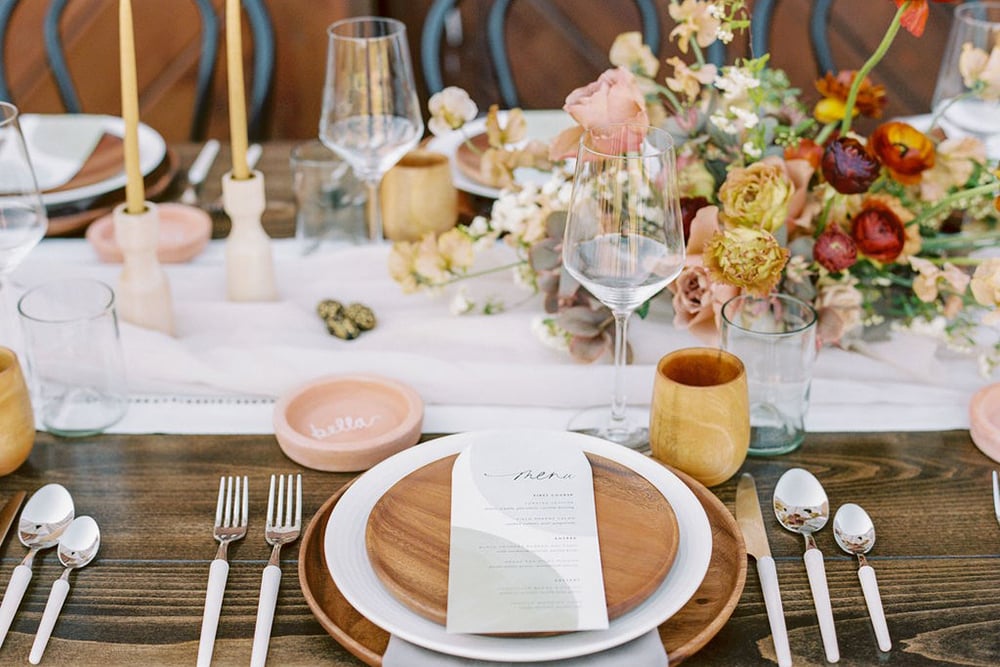 Photo: Olivia Marshall Photography via Joyfully Gathered
Moody Blues
"You have so many opportunities to get creative with color. We're seeing a lot of customers go with blue or gray for their fall wedding. Our Navy suit is topping the list, with the Mystic Blue Suit and Slate Blue Suit remaining as a popular choice as well. If you're looking for a good gray, we have a lot of customers that chose the Iron Gray suit for the Fall look. And if a classic tuxedo is your thing, The traditional Black Notch Tuxedo is in high demand this Fall. When it comes to accessories, we're seeing bright and bold choices with customers choosing Sangria, Mulberry, Merlot, Burnt Orange, and Dusty Sage." - Matt Ramirez, SVP of Marketing for Generation Tux.

Photo: Generation Tux
Berry
"There are a few different hues that come to mind when we are sketching and planning for fall weddings — terracotta, rust, and berry tones. These tones are the perfect deviation from the traditional reds, yellows, and oranges that we typically utilize in fall color palettes. Plus, they and warmth without being too predictable," says Randi Smith of Sugar Euphoria.

Photo: The Grovers Photography via Sterling Social
Purple Accents
"The colors of fall are so beautiful and have inspired many wedding color palettes. I love incorporating tones of orange, from apricots all the way to deep burnt oranges. Mix in with neutrals, natural greens, and even purple tones, and you have a very elegant, warm, and chic aesthetic. I also love incorporating neutrals with deep greens and deep purple/mauve or very saturated burgundy tones. Sophisticated but still timeless with a little pop to it. While most instantly envision pumpkin orange, brown, or dark red when they think of fall tones, there are so many more options that provide the same warm and cozy feeling of fall. Get creative!" says Nora Sheils, Founder of Bridal Bliss and Co-Founder of Rock Paper Coin.

Photo: Laura Memory Photography & Video
Neutrals
"Fall is our favorite time of year, and although a lot of couples will go with bold burgundy and orange color schemes, we like a more neutral palette with taupe and lighter shades of fall colors.," says Jen Halbert of Dulce Press.
"Beautiful toffee, caramel, cocoa, and blush colors always come in clutch no matter the season but pop beautifully against a nature's own fall palette," says Ashley Lachney, Owner of Alston Mayger Events.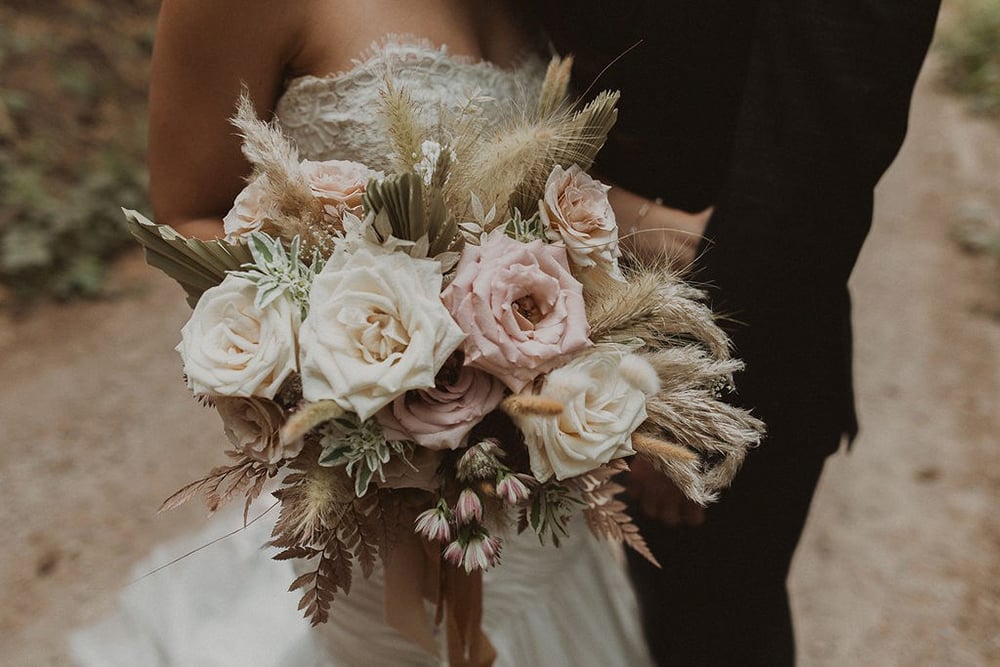 Photo: Tanzly Photography via Alston Mayger Events
Jewel Tones
"Jewel tones like deep red, magenta, burnt orange, and gold all look beautiful together for a fall wedding. We think using lots of color for the decor is perfect and seasonal for those months when summer has winded down and everyone is in the mood for all things fall. Lots and lots of candlelight sets the most romantic mood as it gets dark earlier and the candles glow," says Valarie Falvey of Kirkbrides Wedding Planning.

Photo: Haleigh Nicole Photography
Burgundy + Mustard
"I love earth tones with a pop of color, such as burgundy, mustard yellow, or burnt orange," says Lisette Gatliff of Lisette OC Photography.
"A few pro tips for a fall fete: Start by picking a venue that has built in character and charm to go with the fall season and a warm aesthetic. Embrace natural fall colors, such as burgundy, burnt oranges, mustards and chocolate browns. Add cozy elements, such as faux sheepskin over chairs or benches; fill the room with heavy candlelight, and if your venue has a built in fireplace definitely take advantage of that!" says Erin Sprinkel, Co-Owner of Sterling Social.

Photo: Lauren + Abby Ross Photography via Sterling Social