From flowers to favors, three wildly creative wedding palettes are filled with bright ideas.
By: Debra Witt
Citrus Chic
Laura Grim had three must-haves for her wedding: "I wanted the ceremony to take place in a lush setting, I wanted every detail to reflect my love of all things vintage and I wanted to pull it all together with one bold color."
Her choice of marigold came easily, as it's "my favorite happy color," says Laura, who happens to be co-founder of Portland, Oregon's Double Take Event Styling. To stay on budget, Laura scoured her own home (and those of close friends and family) for several of the accent pieces, like the heirloom dishes that graced the custom candy bar. Other repurposed antiques included wire bird cages that covered several small centerpieces and reclaimed picture frames that had been painted a uniform gold and placed down the center of the tables.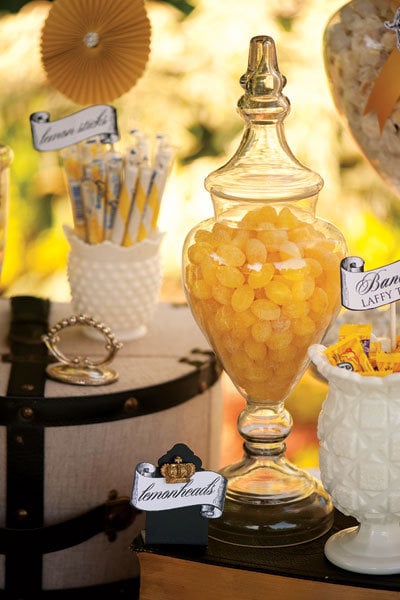 Stylish suitcases and trunks from various eras were strategically used to help put the 250 guests in a Great Gatsby-type of party mood, as well as to mark different areas of the reception. She also used her own vintage costume jewels and baubles to artfully accent table arrangements, including flowers and stacks of old books that she'd tied together. Gold-leafed initials punctuated tidy green wreaths.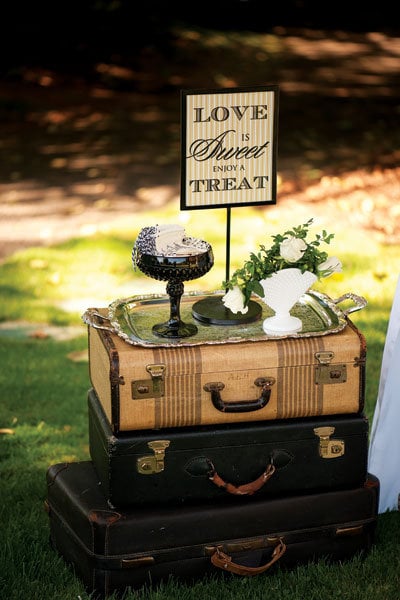 What Laura couldn't borrow she made. Table runners, for example, were cut from rolls of basic burlap, which she hand-stenciled and topped with a narrower piece of marigold-striped silk. "Layering gold and crisp white into the details along with touches of black allowed the vibrant marigold to be the star," she says. "Using my favorite color strategically — I put a lot of thought into when and where to use it — I think it lent a real French charm to the day. It was exactly what I wanted!"
Menus were tucked into rose wrapped linen napkins. 
The bride chose a vintage-modern look for her bridesmaids: sunny yellow dresses with black accessories. 
Photo Credit: Krissy Allori Photography
Pages