From flowers to favors, three wildly creative wedding palettes are filled with bright ideas.
By: Debra Witt
Something Blue
Antonia Christianson has three words when considering color: Go for it. "If you're only focused on using it for the big things, like the bridesmaids' dresses or the flowers and cake, it will look like random pops of color thrown in. It won't look cohesive," says Antonia, who's the force behind Antonia Christianson Events of Virginia Beach, VA and Pasa Robles, California.
Case in point is this Norfolk, VA wedding, which featured an abundance of turquoise and emerald —colors chosen because they so perfectly matched the historic grounds at the Hermitage Museum and Gardens where the intimate fall ceremony and reception took place. Upon arrival, guests were greeted with vibrant splashes of turquoise — a nod to the nearby water — which popped out as table settings, the three-tier cake color and the seat cushion hues. The bridal party also wore vivid turquoise dresses. And while the color grabbed guests' attention, what held it was the layering of soft greens everywhere else.
Succulents were handed out as favors with a reminder that "love grows." The turquoise and white fondant lattice cake by Patti Cakes, Inc. is almost too pretty to slice.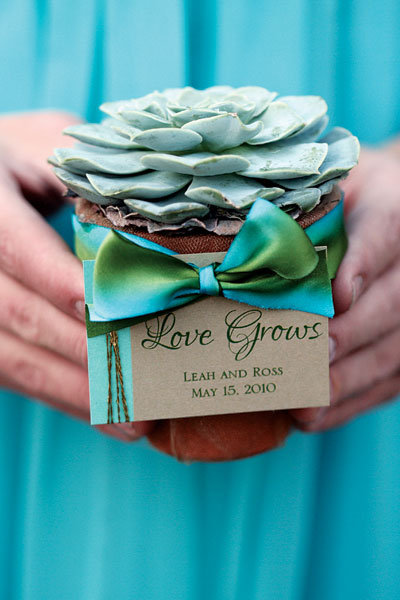 Tucked inside the centerpieces were green apples, grapes, baby artichokes, and cabbages. The stemware and table settings were a shimmering mix of blues and greens — a detail that was unexpectedly highlighted by the setting sun as guests made their way from the ceremony to the reception.
The plates are both something borrowed and something blue. Menus and all paper goods by RSVP Stationery. The china was another lucky find: "I was able to borrow a friend's china set that just happened to have strong touches of turquoise," Antonia says. "This couple had fun with their color choice: It became a sophisticated, subtle theme for the day that perfectly told their story."
Vinatge keys draped around bouquets and centerpieces represented the "unlocking of their love story."
Photo Credit: Eleise Theuer Photography
Pages