If you're dreaming of a wedding day that is as unique and playful as your love story, why not consider adding Barbiecore to the mix? This trend has been coming to the forefront recently, evolving from mixing classic bridal styles with modern designs.
By: Meghan Ely
By combining the signature pink glamour of Barbie in subtle (or not-so-subtle!) ways at your wedding ceremony and reception, you can create an atmosphere that captures both of your personalities with this en-vogue aesthetic!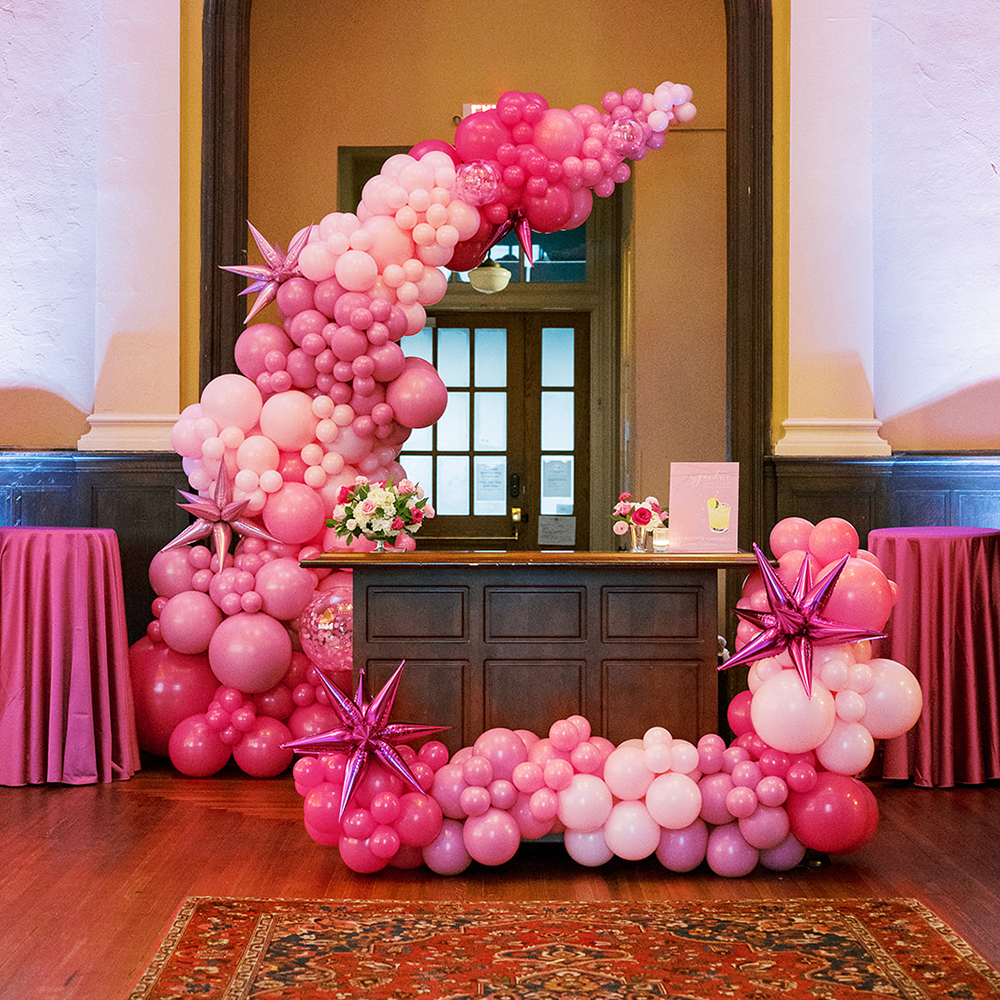 Photo: Molly Ann Photography via Samantha Joy Events
"Pink is in, and we are here for it in the wedding world! With couples looking to integrate colors into their wedding aesthetic, there are countless options to add bright hues elegantly.
The first and most classic way to incorporate Barbiecore into your wedding is through bridesmaids, groomsmen, or family attire. A pink dress paired with a bouquet or boutonniere integrates color while complimenting the couple. Likewise, since these members will be photographed beside the couple and with guests throughout the evening, the Barbie aesthetic will be present through their attire. Barbiecore is not just the color of an outfit but also the vibe of the clothes. A tighter fit, textured material like tulle, sequins, or floral pattern embraces Barbiecore with both the color and aesthetic of the icon herself.
Utilizing pink and white tablecloths overlaying one another creates a unique table design while maintaining elegance. I suggest using white floor-length tablecloths with a patterned pink table runner or overlay to create dimension and visual interest. Because Barbiecore is a maximalist aesthetic, using texture and color works perfectly. With the layered fabric, I suggest tall floral arrangements and gold details. These additions embrace Barbiecore while maintaining an elegance that is classically wedding." —Sarah Jobe, Twickenham House and Hall

Photo: Molly Ann Photography via Samantha Joy Events
"One way to incorporate the Barbiecore trend into your wedding day as a bride is to wear a cute bright pink robe during the getting ready part of the day before putting on the dress. Another way to show off the Barbiecore aesthetic on your wedding day is to wear a cute pink, very 'Barbie-y' dress to your engagement session and then print out those photos and spread it around your reception area as part of your decor. Lastly, show off your Barbiecore aesthetic at your rehearsal dinner by wearing hot pink heels to make sure you stand out." —Hellen Oliveira, Hellen CO Photos
"If you are not committed to the daring and bold hot pinks, please consider your accessories, hats, shoes, and flowers. They can make a bold enough statement and keep the fun. Part of the inspiration of Barbiecore is actually dressing in multiple ways with fun accessories. The lists are endless for your wedding day attire and encouraging your wedding party and attendees, too!" —Jen Sulak, Weirdo Weddings

Photo: Hellen Co Phptos
"Adding totally awesome '90s-inspired gifts for the wedding party. Neon green, yellow, and orange were very popular in the early '90s, but to be Barbiecore, the main color should be hot pink. Here are a few '90s gifts that will help your wedding party get in the Barbiecore mood.
Slap bracelets: Thin, brightly colored bracelets made of fabric or plastic that snapped onto the wrist with a satisfying "slap" sound.
Neon scrunchies: Brightly colored scrunchies in the shade of hot pink.
Hypercolor T-shirts: T-shirts that changed color when they came into contact with heat, such as body heat, would be a perfect bridesmaid or groomsmen gift.
Neon-colored sunglasses: Sunglasses were a must-have accessory for Barbie, Ken, and friends.
Neon-colored fanny packs: Fanny packs were a practical accessory that also happened to be a must-have accessory for '90s Barbie." —Mary Angelini,

Key Moment Films

Photo: Molly Ann Photography via Samantha Joy Events

"I love the idea of incorporating Barbiecore for late-night attire. Take your classic black-tie neutral wedding up a notch with an outfit change just in time to rip up the dance floor in your short pink number." —Nora Sheils, Co-Founder Rock Paper Coin, Founder Bridal Bliss
Whether you opt for bigger, louder details of Barbiecore or go the less-is-more route, embracing this fun trend will make your wedding unforgettable. Nix the traditional vibes and try your hand at a nostalgic, pink-filled celebration!

Photo: Molly Ann Photography via Samantha Joy Events