In addition to writing your own marriage vows, selecting readings that ring true to the two of you is another way to make your ceremony even more meaningful. From popular contemporary novels to beloved classic literature, humorous children's readings to heartfelt poetry, we've gathered some of the most inspiring passages for newlyweds to include on their big day.
By: Stefania Sainato
Contemporary Readings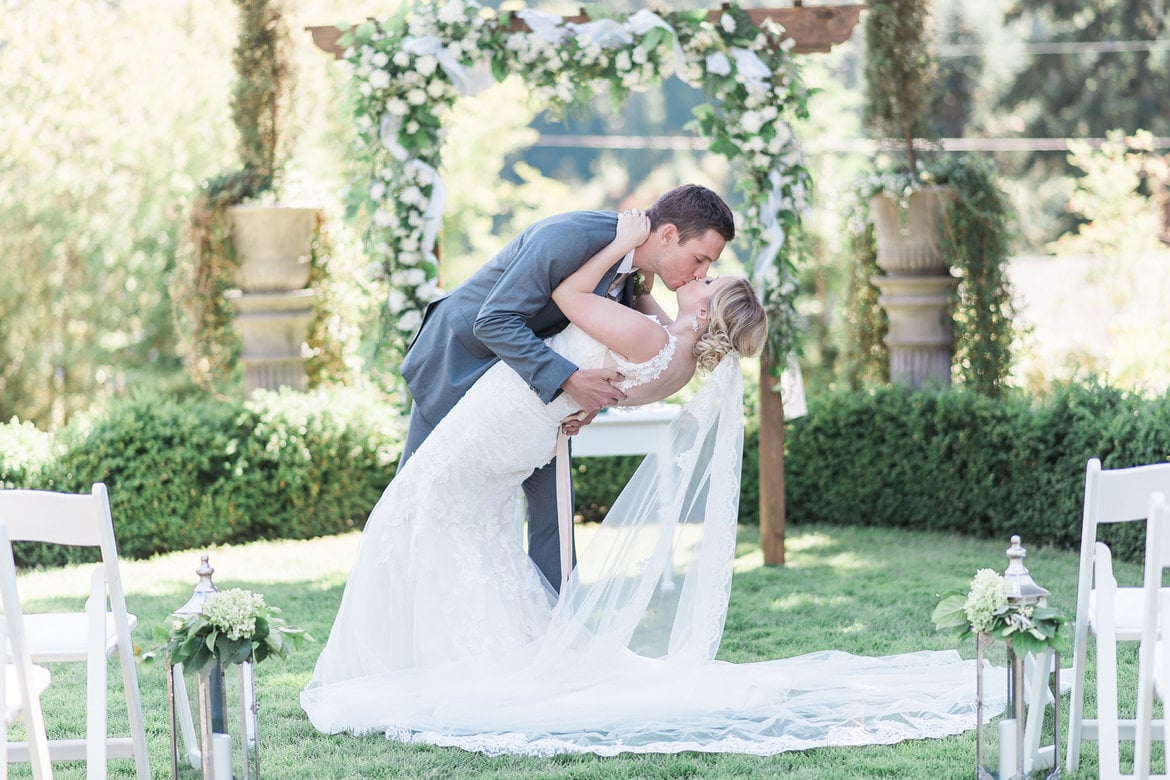 Photo Credit: B. Jones Photography
The Notebook by Nicholas Sparks
"I am nothing special; just a common man with common thoughts, and I've led a common life. There are no monuments dedicated to me and my name will soon be forgotten. But in one respect I have succeeded as gloriously as anyone who's ever lived: I've loved another with all my heart and soul; and to me, this has always been enough."
The Bridge Across Forever by Richard Bach
"A soulmate is someone who has locks that fit our keys, and keys to fit our locks. When we feel safe enough to open the locks, our truest selves step out and we can be completely and honestly who we are; we can be loved for who we are and not for who we're pretending to be. Each unveils the best part of the other. No matter what else goes wrong around us, with that one person, we're safe in our own paradise. Our soulmate is someone who shares our deepest longings, our sense of direction. When we're two balloons, and together our direction is up, chances are we've found the right person. Our soulmate is the one who makes life come to life."
The Alchemist by Paulo Coehlo
"When he looked into her eyes, he learned the most important part of the language that all the world spoke — the language that everyone on earth was capable of understanding in their heart. It was love. Something older than humanity, more ancient than the desert. What the boy felt at that moment was that he was in the presence of the only woman in his life, and that, with no need for words, she recognized the same thing. Because when you know the language, it's easy to understand that someone in the world awaits you, whether it's in the middle of the desert or in some great city. And when two such people encounter each other, the past and the future become unimportant. There is only that moment, and the incredible certainty that everything under the sun has been written by one hand only. It is the hand that evokes love, and creates a twin soul for every person in the world. Without such love, one's dreams would have no meaning."
A History of Love by Nicole Krauss
"Once upon a time, there was a boy. He lived in a village that no longer exists, in a house that no longer exists, on the edge of a field that no longer exists, where everything was discovered, and everything was possible. A stick could be a sword, a pebble could be a diamond, a tree, a castle. Once upon a time, there was a boy who lived in a house across the field, from a girl who no longer exists. They made up a thousand games. She was queen and he was king. In the autumn light her hair shone like a crown. They collected the world in small handfuls, and when the sky grew dark, and they parted with leaves in their hair. Once upon a time there was a boy who loved a girl, and her laughter was a question he wanted to spend his whole life answering."
Tuesdays With Morrie by Mitch Albom
"'Still,' Morrie said, 'there are a few rules I know to be true about love and marriage: If you don't respect the other person, you're gonna have a lot of trouble. If you don't know how to compromise, you're gonna have a lot of trouble. If you can't talk openly about what goes on between you, you're gonna have a lot of trouble. And if you don't have a common set of values in life, you're gonna have a lot of trouble. Your values must be alike. 
'And the biggest one of those values, Mitch?'
Yes?
'Your belief in the importance of your marriage.' He sniffed, then closed his eyes for a moment. 'Personally,' he sighed, his eyes still closed, 'I think marriage is a very important thing to do, and you're missing a lot if you don't try it.'
He ended the subject by quoting a poem he believed in like a prayer: 'Love each other or perish.'"
The Princess Bride by William Goldman
"Do I love you? My God, if your love were a grain of sand, mine would be a universe of beaches...I have stayed these years in my hovel because of you. I have taught myself languages because of you. I have made my body strong because I thought you might be pleased by a strong body. I have lived my life with only the prayer that some sudden dawn you might glance in my direction. I have not known a moment in years when the sight of you did not send my heart careening against my rib cage. I have not known a night when your visage did not accompany me to sleep. There has not been a morning when you did not flutter behind my waking eyelids...
I love you. Okay? Want it louder? I love you. Spell it out, should I? I ell-oh-vee-ee why-oh-you. Want it backward? You love I."
Captain Corelli's Mandolin by Louis de Bernières
"Love is a temporary madness. It erupts like an earthquake and then subsides. And when it subsides, you have to make a decision. You have to work out whether your roots have become so entwined together that it is inconceivable that you should ever part. Because this is what love is. Love is not breathlessness, it is not excitement, it is not the promulgation of promises of eternal passion. That is just being 'in love' which any of us can convince ourselves we are. Love itself is what is left over when being in love has burned away, and this is both an art and a fortunate accident. Your mother and I had it, we had roots that grew towards each other underground, and when all the pretty blossoms had fallen from our branches we found that we were one tree and not two. Love is important and you should love each other the most."
The Promise by Heather Berry
"Within this blessed union of souls, where two hearts intertwine to become one, there lies a promise. Perfectly born, divinely created, and intimately shared, it is a place where the hope and majesty of beginnings reside. Where all things are made possible by the astounding love shared by two spirits. As you hold each other's hands in this promise, and eagerly look into the future in each other's eyes, may your unconditional love and devotion take you to places where you've both only dreamed. Where you'll dwell for a lifetime of happiness, sheltered in the warmth of each other's arms."
Wild Awake by Hilary T. Smith
"People are like cities: We all have alleys and gardens and secret rooftops and places where daisies sprout between the sidewalk cracks, but most of the time all we let each other see is is a postcard glimpse of a skyline or a polished square. Love lets you find those hidden places in another person, even the ones they didn't know were there, even the ones they wouldn't have thought to call beautiful themselves."
Pages