Keep your wedding costs from spiraling out of control with these savvy money-saving strategies.
By: Elaine Stewart
Your Venue
Elegant options abound but costs vary significantly, so take this expert advice into account before you start scouting locations.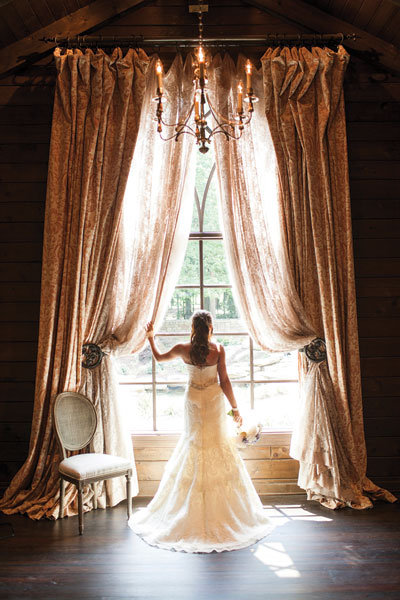 Getting More For Your Money
The venues that offer the best value are dedicated event spaces, like hotels and banquet halls (generally speaking, sites with prescribed wedding packages). This is because many services you would otherwise need to hire come included, and bundling them together makes your dollar go farther. When shopping around for a venue, "The number one thing is to make sure you're comparing apples to apples," says planner Claudia Hanlin of NYC's The Wedding Library. "Bringing-in always costs more because you have pick-up and delivery charges for every single thing." Many brides make the mistake of thinking an outdoor wedding at a family member's home will result in a big savings. There's no site fee, but the cost of transforming a backyard into a full-service reception space (tents, lighting, dance floor, portable toilets) can exceed even the most lavish pre-set package.
Paying Less For Places
Another way to save, says Hanlin, is by holding your ceremony, cocktail hour and reception in the same venue — such as a church or synagogue with an attached hall, or a restaurant with multiple party rooms. The cost of a few extra hours on property is considerably less than renting an entirely separate space, and you won't have to pay to transport guests between locales. Religious and charitable organizations tend to rent for nominal fees, as do government-run sites like cultural institutions and state parks. Plus, what you do pay to rent these places benefits the community. Parks, in particular, can be great bargains, considering they often include scenic backdrops.
Naturally picturesque locales don't need much adornment, which reduces your decor budget. The key is working with what you've got: "In California there are a lot of missions that rent for very little," says Sasha Souza, the Napa-based event designer, "and they often already have benches in place so you save on furnishings." Similarly, if your site features a stone patio, consider using that as the dance floor rather than renting one.
Pro Tip: At first glance, the fee for renting an empty loft may seem like a steal compared to a ballroom. But as soon as you factor in all the vendors (caterer, servers, bartenders) and rentals (tables, chairs, china, glassware, linens), you'll see the price tag go way, way up.
Stationery
There's so much info to share with your guests before and on your big day. But all those printed pieces add up. Here's how to get pretty paperie without paying a pretty penny.
Comparing Print Prices 
A significant factor in stationery costs is your choice of printing method. At the most expensive end are engraving and letterpress techniques, where the script is artfully raised off the page. If you like this formal feel but don't want to pay top dollar, consider thermography — it's much less costly. Offset printing comes next on the price scale, while digital printing is very economical — especially for incorporating multiple colors. Because offset and digital printing are cheaper to produce, stationers recommend using them for all your day-of needs, like ceremony programs, escort or place cards and menus. "These pieces are often left behind at the end of the night," says Karen bartolomei, founder of grapevine design studio in boston. "Splurge on the items that will be delivered to your guests' homes."
Saving by Consolidating
The more elements there are in a wedding invitation, the higher the price. One insert that's easy to eliminate is the reception card. "If you're getting married in a church and having your reception at a loft, print 'Dinner and dancing to follow at tribeca rooftop' on the invite itself," says Cheree Berry of Cheree Berry Paper in St. Louis, MO.
Rather than printing and sending out a veritable booklet of guest logistics in early mailings, stationers now recommend putting travel and lodging details on your wedding website and printing the URL on your save-the-date cards. Day-of items can be scaled back, too. Rather than calligraphed escort cards, print names and table assignments in a nice font on fine paper and display them in frames, or write them on a chalkboard.
Entertainment
From the melody that plays as you walk down the aisle to the band or DJ that gets guests out on the dance floor, memorable music is a must. Follow these tips to save on the soundtrack to your soirée.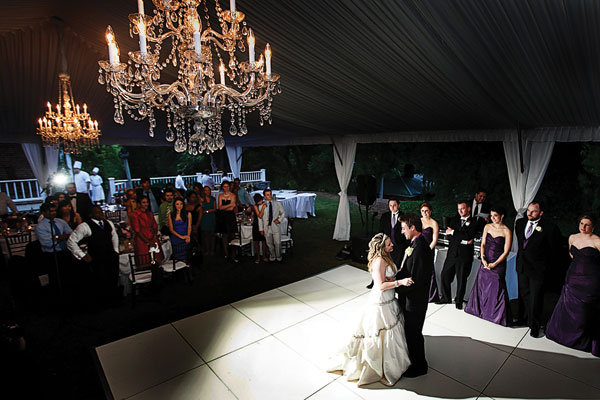 Paying Less For Live Acts
Musicians are almost always more expensive than DJs, so hiring instrumentalists to perform at your ceremony and cocktail hour, plus a band as the main act, will cost top dollar. But cash-strapped couples don't necessarily have to forfeit live entertainment. If you're having a religious service, check your venue contract before booking anyone, says Deanna Jones, of NYC's The Deanna Jones Orchestra. "Often you are already paying for a musician at your church or synagogue and just don't know it."
If that's not the case, look into nearby civic organizations and music conservatories. "In some areas, you can book an excellent jazz group or classical trio from a community theater or symphony for a donation or nominal fee," Jones says, and pre-professional students may charge even less. For reception music leads, explore your city's nightlife scene. A group that performs in local bars or clubs tends to be more cost-effective than a traditional wedding band. As with venues, you may get a bargain rate by holding your wedding on a weekday or a weekend in slow season. Saturday events incur the most competition for services, so they yield the highest price tags.
Thinking Outside the Band 
DJs typically cost less than bands, and some couples prefer them because of the greater variety of songs they can play and the fact that they don't take breaks. Although iPods let individuals create a playlist and "spin" their own tunes, DJs double as emcees — introducing the bridal party and announcing special dances and toasts. They also provide and hook up speakers, which you may have to rent unless your venue has a built-in sound source.
Lastly, don't overlook talented friends and family members. Asking your choir-star cousin to sing a hymn at your service or some college buddies in a cover band to play your first dance track adds the excitement of a live performance for free.
Pro Tip: When it comes to booking a band for your reception, size matters. A five-member group will almost always cost less than a nine-piece orchestra (not to mention individual tips and the number of mouths you will have to feed). 
Catering
Refreshments are an important part of every party, but feeding all your friends and family can eat up a good chunk of your wedding change. Here's how to get more bite for your buck.
Planning Frugal Fare  
You can reduce almost every wedding expense by editing your guest list, but nowhere does that tactic have more impact than in catering costs. Think about it: Food and drink may run hundreds of dollars per head, meaning that 10 or 20 fewer chairs will result in significant savings. If you can't get your numbers down, buffets may come in as a budget-friendly option because you don't have to pay for waiters; however, it's important to serve less expensive fare that can be easily prepared in bulk.
If you prefer sit-down service, request that guests make their dinner choice in advance. "Taking an order at the table means the kitchen has to have eighty percent of every option available, which costs a lot more," says Seattle-based caterer Lisa Dupar. She recommends including an entrée selection line or insert with your invitations so the chef can plan ahead. Also, giving guests fewer choices to begin with (filet mignon or wild mushroom risotto, for example, instead of a meat, fish and vegetarian dish), or the same sides with each alternative, is less work for the cooks.
Barely noticeable omissions or substitutions can have a profound effect on your final bill, too, says Brian Kiefer, a senior sales consultant at the Chicago-based caterer Food for Thought. "If you're serving a beautiful salad with seasonal veggies and simply leave off the cheese, you'll save one dollar per person," he says. Whipped potatoes cost less than fingerlings but make an equally fine side. And if you must have a fancy food like lobster on your menu, offer a small portion as an appetizer rather than an entrée. 
Nixing Excess Expenses
If your catering budget is tight, don't fall into the common trap of overestimating how much your guests will consume. Do you really need assorted passed hors d'oeuvres, a made-to-order sushi station and a mammoth crudité platter at your cocktail hour? "Pick one hearty, filling display — like a local artisan cheese table with fruits, breads and crackers — and have that be it!" says Dupar.

Another way to cut back is by shortening the event. "Costs are driven by length of time, so stick to an hour or less for cocktails," says Kiefer — noting that, on average, people consume one canapé every ten minutes—and consider trimming an hour off the reception. For even deeper savings, skip dinner altogether, and opt for a brunch, afternoon tea and dessert, or late-night cocktail reception. If you stay flexible and open to new ideas, you'll find lots of creative approaches to throwing a great party that will also save money.

Pro Tip: Don't get talked into splurging on top-shelf liquors. Go with one or two signature drinks in addition to red and white wine and two types of brews. And if the drinks are passed on trays as guests enter the room, most won't even realize the bar has been scaled back.
Flowers and Décor
Nothing says "wedding" like bountiful blossoms — but bouquets, centerpieces and other floral arrangements can make your budget grow out of control. Here's how to nip overspending in the bud.
Choosing the Blooms 
Flowers can be as dramatically different in price as they are in appearance. The best way to get more for your money is by selecting seasonal blooms that can be purchased locally rather than shipped in. As soon as you set your date and location, ask your florist to suggest flowers that will be available in that place and time of year. You can also save by using a less expensive flower en masse. It makes a striking statement but requires less effort for your florist than arranging multiple blooms, says Hanlin.

Alternatively, by using cheaper blooms like carnations at the base of your arrangements, you can get away with fewer, more prominently placed pricey blossoms. Chicago-based event designer Marina Birch boosts centerpieces with inexpensive greenery, like ferns and ivy. "Any kind of leafy filler adds a lush, organic touch and volume, so arrangements don't appear skimpy," she says. For ceremony decor, Souza counsels couples marrying in a large church to skip the flowers because they'll be overwhelmed by the space; just place wreaths on the entry doors.
Non-Floral Looks
Souza loves using hardy perennials like succulents and chicks-and-hens plants in reception displays instead of fussy, fragile blooms; they aren't pricey and can be replanted and enjoyed long after the event. Branches, topiaries and tree-trunk slices make great nonfloral centerpiece elements, too, while embellishing with fruits and vegetables adds texture for far less than a flowers-only arrangement.

Purchasing decorative items like candelabra or vintage vessels is often cheaper than renting them, says Hanlin, and you can always sell them after the wedding. If your floral budget is really limited, stick to adorning the center of the room (no one will notice if the perimeter is a bit sparse) and find other ways to spruce up the table and chairs. Many venues offer basic linens in an array of shades besides white, and a profusion of one color looks purposeful rather than penny-pinching. Similarly, standard ballroom seats can be dressed up by tying ribbon into bows on the backs.
Pro Tip: "One trick I love is going with the house china but adding colored napkins and wine goblets from a rental company," says Hanlin. "It looks as if you've done a custom table, but you haven't."
Wedding Cake
A decadent confection makes a fitting grand finale, but that fancy finish may not come cheap. Here's how to sweeten your deal and score a cost-conscious cake.
Impressing For Less
Some brides are surprised to learn how expensive wedding cakes run. But they have to look as good as they taste, and that takes effort. "The cake is a dessert, but it also plays a decorative role in the reception — similar to the flowers," says pastry chef Cheryl Kleinman of Betty Bakery in Brooklyn, NY. When a couple's eyes are bigger than their budget, a baker might suggest preparing a "fake" cake, made of iced tiers of cardboard or foam except for the tier that's sliced during the cake-cutting ceremony. The guests are then served pieces of an inexpensive cake that's cut in the kitchen.
Alternatively, you can have a diminutive but dramatic cake that serves 35 presented on a pedestal stand on the escort card table; this way guests notice it when getting their seat assignments but later eat slices of an unseen sheet cake.
Scaling Back on Sugar
Although cakes are priced by the slice, it's not likely that every single person will indulge — so you can usually get away with ordering a confection that feeds just 75 percent of attendees. Square cakes yield more slices than round ones, and rich flavors like chocolate make people full faster, meaning you can order less and cut thinner slices.
To further cut costs, have your cake divided into very small pieces to be passed on trays during the dancing; this way, you may only need to budget for 25 percent of the guest count. Finally, while it's fun to work with a pastry chef, it isn't absolutely necessary. If your venue has an in-house caterer, consider booking their baker to save on delivery fees. And consider offering a number of single layer cakes in a variety of flavors displayed on a collection of pretty cake stands.