Check out this sample booking breakdown from start to finish, based on wedding pros' suggestions.
By: Stefania Sainato
Planning a wedding is like putting a giant puzzle together — with each interlocking piece, an overarching vision will start to emerge. Your vendors are responsible for bringing each of those pieces to life, so it's important to book trustworthy and reputable professionals that you are confident can execute your needs. But how do you know where to begin?
First, evaluate what your and your future spouse's priorities are, and plan accordingly. For example, if you have your heart set on using a specific photographer or band, then locking them in might be more urgent, as opposed to another engaged couple who is more flexible. Location may also play a factor: "If your venue is in a field in the middle of nowhere or your backyard, you would need to focus on booking your caterer, tent, and rentals first, as you can't have your wedding without them," says Jamie Bohlin from Cape Cod Celebrations.
However, although nuptials have become ultra-customized, there is still an organic order to the planning process. "Some to-dos have to take priority only because you can't move on to the next vendor booking without crucial information," says Li Zhou from LadyMarry, an online and mobile app that guides couples through the wedding-planning process. For example, you'll have a difficult time securing any vendors if you don't have a firm wedding date, which is why the ceremony and reception venues tend to be one of the first things finalized. Likewise, it would be challenging to complete a rentals order before you've hired a caterer, because you wouldn't be clear on their needs, as well as what the caterer already provides.
Vendors are grouped into two major categories: those who can serve more than one wedding per day, and those who can't. "Always book the service providers who cannot take on more than one wedding first, including the wedding planner, caterer, photographer, and band or DJ. Many other vendors (such as cake designers, florists, etc.) can accommodate multiple events on a single day, and therefore, should be in the second tier of the hiring process," says Beth Helmstetter of Beth Helmstetter Events.
1. Wedding Planner
One of the biggest mistakes that engaged couples make is booking their wedding planner after their ceremony and reception. "Ideally, those who want to hire pro help should make it their first priority to fully take advantage of all of the benefits of working with a seasoned expert. He or she can guide you on the wedding-planning process, as well as assist with venue and vendor shopping," says Fabrice Orlando from Cocoon Events Management Group. A professional planner comes with a set of trusted vendors they can recommend — people they've worked with before and trust to not only make your wedding day better and more beautiful, but also make their job easier. "When I spend more time wrangling vendors I'm not familiar with or who aren't up to par, it's less time that I'm spending on your timeline, site map, and other important tasks pertaining to the overall design and flow of your big day," says Margaux of Harmony Creative Studio.
Plus, How to Find Your Perfect Wedding Planner ►
2. Venue
You'll want to reserve your venue ASAP, especially if you plan to tie the knot in a major city, where dates can book up as much as one (or even two) years in advance. It will set the overall tone and look for your event. "Don't get too attached to a vintage-themed wedding when you decide to have your reception in a modern loft," says Ngoc Nguyen Lay from Skybox Event Productions. During this time, you'll also need to nail down the ceremony plans — do you prefer to get married on the property or in a house of worship? Lastly, the venue you choose may determine which other vendors you'll be working with: "The last thing you want is to have booked your band only to find out they aren't on the venue's list!" Zhou says.
Plus: What to Ask a Potential Venue ►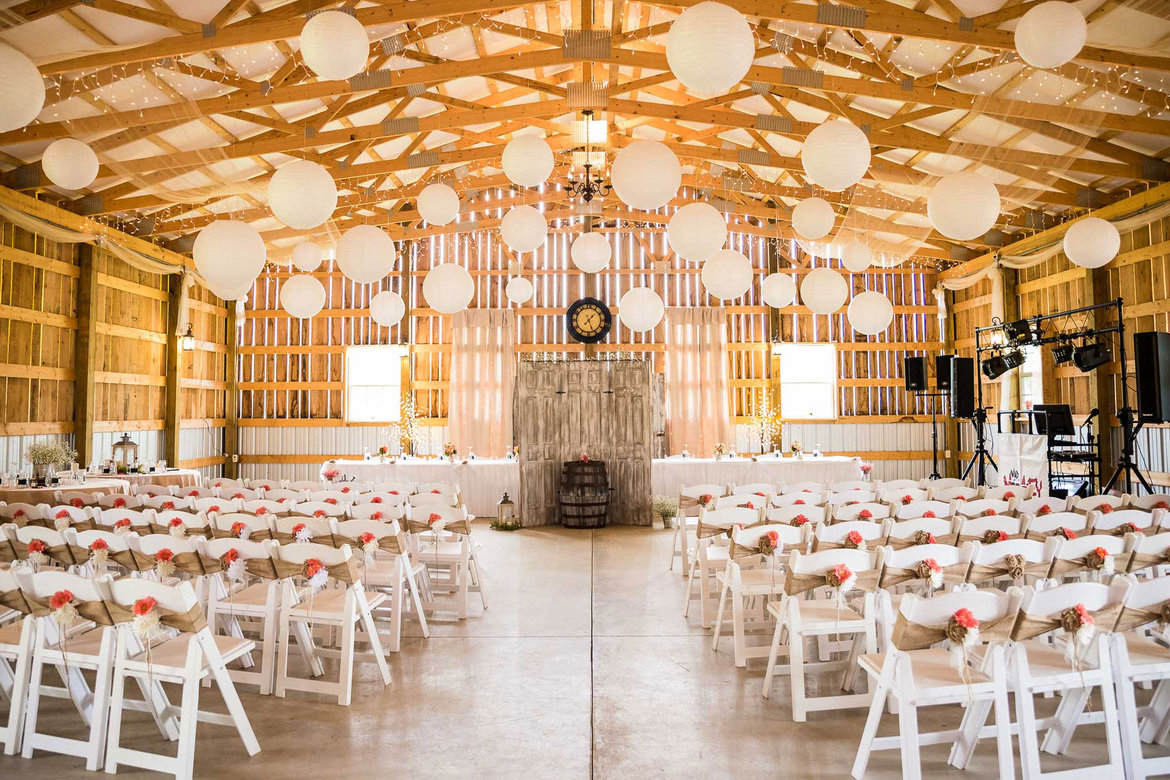 Photo Credit: Vision & Style Photography
3. Caterer
If your venue doesn't offer onsite catering, then you'll need to look into hiring an offsite caterer. Many catering companies provide not only food and beverages, but also rentals such as tables, chairs, linens, plates, and silverware. Many couples book their wedding venue and catering company in tandem with each other, since they often take up the largest chunk of the budget. "This is especially the case when you're considering a less traditional property to say your 'I dos.' You want the ability to tour the space early on with your caterer so that you can anticipate (and solve) any potential challenge," Orlando says. 
Plus: What to Ask a Potential Caterer ►

Photo Credit: Erin Kranz Photography
4. Photographer
Popular photographers book up quickly, so this should be one of the first tasks that you tackle. "Your photographer is the mouthpiece for all of your planning, designing, and execution. Securing someone who speaks your language is important," says Britt Chudleigh of Britt Chudleigh Weddings. Planning a destination affair? It's imperative to decide early on whether you want to hire a photographer from that destination or invest in transporting someone from home. "If you choose to source a local photographer, connect with the resort for a list of pros in the region who are very familiar with the property," says Megan Velez from Destination Weddings Travel Group.
Plus: What to Ask a Potential Photographer ►
5. Music and Entertainment
A fantastic DJ or band will get guests' energy up and ensure that the dance floor is packed all night long. If you're open to exploring a number of DJs and bands, then a good rule of thumb is to start the process about nine to six months before the big day so that you can check out each prospective vendor live in action. There's also been an increased demand for unique entertainment options for wedding receptions, so if you have a particular type of performer in mind (e.g. an electric violinist, a fire-eater, or a dance troupe), then don't procrastinate, since there are a limited number available per area.
Plus: What to Ask a Potential DJ ►

Photo Credit: Will Pursell Photography
Pages