Check out this sample booking breakdown from start to finish, based on wedding pros' suggestions.
By: Stefania Sainato
Planning a wedding is like putting a giant puzzle together — with each interlocking piece, an overarching vision will start to emerge. Your vendors are responsible for bringing each of those pieces to life, so it's important to book trustworthy and reputable professionals that you are confident can execute your needs. But how do you know where to begin?
First, evaluate what your and your future spouse's priorities are, and plan accordingly. For example, if you have your heart set on using a specific photographer or band, then locking them in might be more urgent, as opposed to another engaged couple who is more flexible. Location may also play a factor: "If your venue is in a field in the middle of nowhere or your backyard, you would need to focus on booking your caterer, tent, and rentals first, as you can't have your wedding without them," says Jamie Bohlin from Cape Cod Celebrations.
However, although nuptials have become ultra-customized, there is still an organic order to the planning process. "Some to-dos have to take priority only because you can't move on to the next vendor booking without crucial information," says Li Zhou from LadyMarry, an online and mobile app that guides couples through the wedding-planning process. For example, you'll have a difficult time securing any vendors if you don't have a firm wedding date, which is why the ceremony and reception venues tend to be one of the first things finalized. Likewise, it would be challenging to complete a rentals order before you've hired a caterer, because you wouldn't be clear on their needs, as well as what the caterer already provides.
Vendors are grouped into two major categories: those who can serve more than one wedding per day, and those who can't. "Always book the service providers who cannot take on more than one wedding first, including the wedding planner, caterer, photographer, and band or DJ. Many other vendors (such as cake designers, florists, etc.) can accommodate multiple events on a single day, and therefore, should be in the second tier of the hiring process," says Beth Helmstetter of Beth Helmstetter Events.
1. Wedding Planner
One of the biggest mistakes that engaged couples make is booking their wedding planner after their ceremony and reception. "Ideally, those who want to hire pro help should make it their first priority to fully take advantage of all of the benefits of working with a seasoned expert. He or she can guide you on the wedding-planning process, as well as assist with venue and vendor shopping," says Fabrice Orlando from Cocoon Events Management Group. A professional planner comes with a set of trusted vendors they can recommend — people they've worked with before and trust to not only make your wedding day better and more beautiful, but also make their job easier. "When I spend more time wrangling vendors I'm not familiar with or who aren't up to par, it's less time that I'm spending on your timeline, site map, and other important tasks pertaining to the overall design and flow of your big day," says Margaux of Harmony Creative Studio.
Plus, How to Find Your Perfect Wedding Planner ►
2. Venue
You'll want to reserve your venue ASAP, especially if you plan to tie the knot in a major city, where dates can book up as much as one (or even two) years in advance. It will set the overall tone and look for your event. "Don't get too attached to a vintage-themed wedding when you decide to have your reception in a modern loft," says Ngoc Nguyen Lay from Skybox Event Productions. During this time, you'll also need to nail down the ceremony plans — do you prefer to get married on the property or in a house of worship? Lastly, the venue you choose may determine which other vendors you'll be working with: "The last thing you want is to have booked your band only to find out they aren't on the venue's list!" Zhou says.
Plus: What to Ask a Potential Venue ►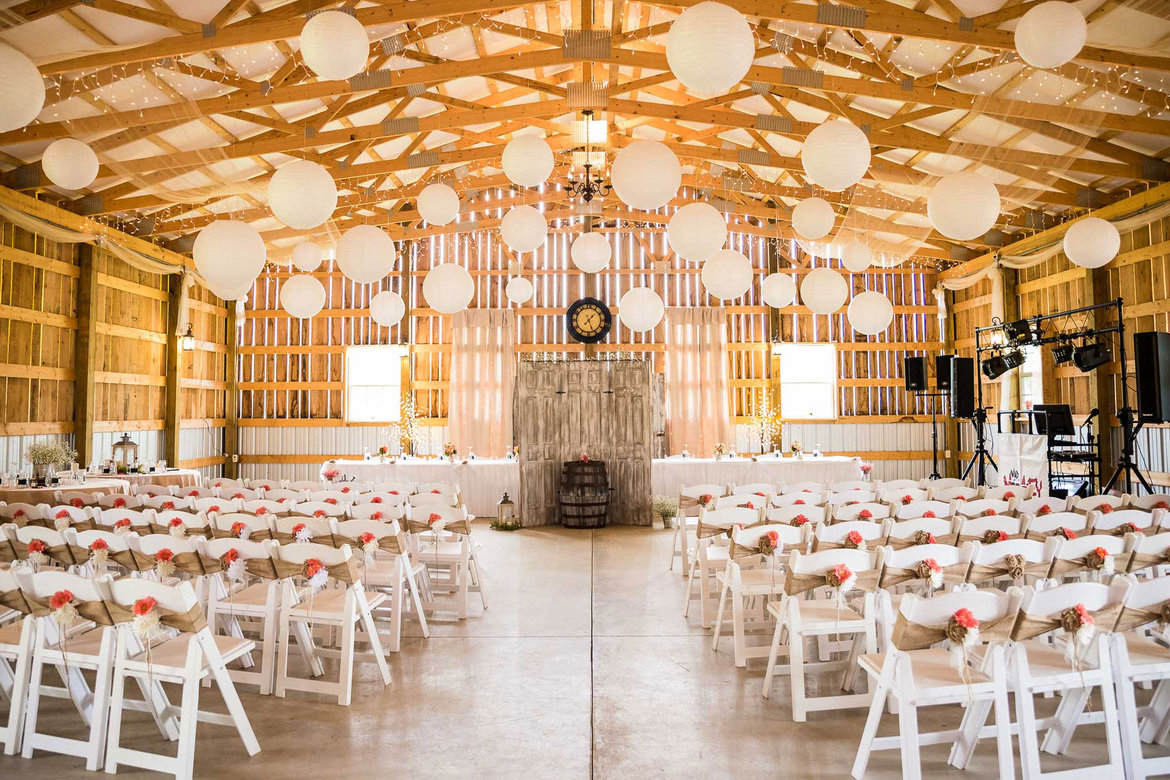 Photo Credit: Vision & Style Photography
3. Caterer
If your venue doesn't offer onsite catering, then you'll need to look into hiring an offsite caterer. Many catering companies provide not only food and beverages, but also rentals such as tables, chairs, linens, plates, and silverware. Many couples book their wedding venue and catering company in tandem with each other, since they often take up the largest chunk of the budget. "This is especially the case when you're considering a less traditional property to say your 'I dos.' You want the ability to tour the space early on with your caterer so that you can anticipate (and solve) any potential challenge," Orlando says. 
Plus: What to Ask a Potential Caterer ►

Photo Credit: Erin Kranz Photography
4. Photographer
Popular photographers book up quickly, so this should be one of the first tasks that you tackle. "Your photographer is the mouthpiece for all of your planning, designing, and execution. Securing someone who speaks your language is important," says Britt Chudleigh of Britt Chudleigh Weddings. Planning a destination affair? It's imperative to decide early on whether you want to hire a photographer from that destination or invest in transporting someone from home. "If you choose to source a local photographer, connect with the resort for a list of pros in the region who are very familiar with the property," says Megan Velez from Destination Weddings Travel Group.
Plus: What to Ask a Potential Photographer ►
5. Music and Entertainment
A fantastic DJ or band will get guests' energy up and ensure that the dance floor is packed all night long. If you're open to exploring a number of DJs and bands, then a good rule of thumb is to start the process about nine to six months before the big day so that you can check out each prospective vendor live in action. There's also been an increased demand for unique entertainment options for wedding receptions, so if you have a particular type of performer in mind (e.g. an electric violinist, a fire-eater, or a dance troupe), then don't procrastinate, since there are a limited number available per area.
Plus: What to Ask a Potential DJ ►

Photo Credit: Will Pursell Photography
6. Florist
In general, couples will meet with florists anywhere from a year to six months out. "By this point, they've selected their date, venue, gown, and bridesmaid dresses, and these components can significantly influence the types of arrangements they ultimately choose," says Christi Lopez from Bergeron's Flowers. If you're having a longer engagement, she suggests consulting with florists in the same season that you're getting married in so that you can see what blooms will be available firsthand. "If brides plan their aesthetics backward, it can be a huge letdown when they find out their desired flowers aren't available, and their wedding vision doesn't align with anything else they've already invested in," says Cristina Barragan from Posh Peony.
Plus: What to Ask a Potential Florist ►
7. Videographer
"You'll want to begin exploring videography at least six months before the wedding to ensure you have a range of options available to you," says Kevin Dennis from Fantasy Sound Event Services. Since you'll have your ceremony and reception locations finalized, you can determine if your prospective videographer has worked there before. Also, your photographer and videographer will need to work together to capture all of the most joyful moments of the day, so it's ideal if they're familiar with one another, so they don't step on each other's toes. Using the same company for photography and videography can save a lot of money and hassle. 
Plus: What to Ask a Potential Videographer ►

Photo Credit: Maria Angela Photography
8. Invitation Designer
The invitation design process begins anywhere from five to eight months before the couple's wedding. "Many people are overwhelmed by all of their options, and find it helpful to stop in a few different times before ordering to start to get a feel for what they like," says Heather Holub from Merrymaker Fine Paper. This allows couples to receive all their RSVPs in a timely fashion, and it gives calligraphers enough time to create the final wedding details, such as escort cards and signage. "Ideally, most calligraphers like to address the envelopes around four months before the wedding so that they're signed, sealed, and delivered eight to 12 weeks before the big day," says Eliza Gwendalyn from Eliza Gwendalyn. Also, if you're tying the knot in a destination wedding or around the holidays, then you'll want to give guests ample notice: "Send a save-the-date, which can be ordered as much as a year in advance," Holub says.
Plus: 50 Ideas for Your Wedding Invitations ►

Photo Credit: Debbie Neff Photography
9. Hair and Makeup Artists
Beauty services used to be a last-minute addition to a wedding budget, but those days are long gone. "Popular artists can book up six months to a year in advance, so if you have a great recommendation or have been admiring an artist's work on social media, reach out now. There's nothing sadder than getting an 'oops, too late' request from a bride who waited and now I'm already booked on her date," says Jennifer Trotter from Lip Service Makeup. However, you don't want to schedule your beauty trials too far in advance — three months prior to the wedding date should give you plenty of time. "You want it to be a fresh look and something you and your beauty team will remember," says makeup artist Donna Kelly of Donna Kelly Makeup.
Plus: Tips for Acing Your Hair and Makeup Trials ►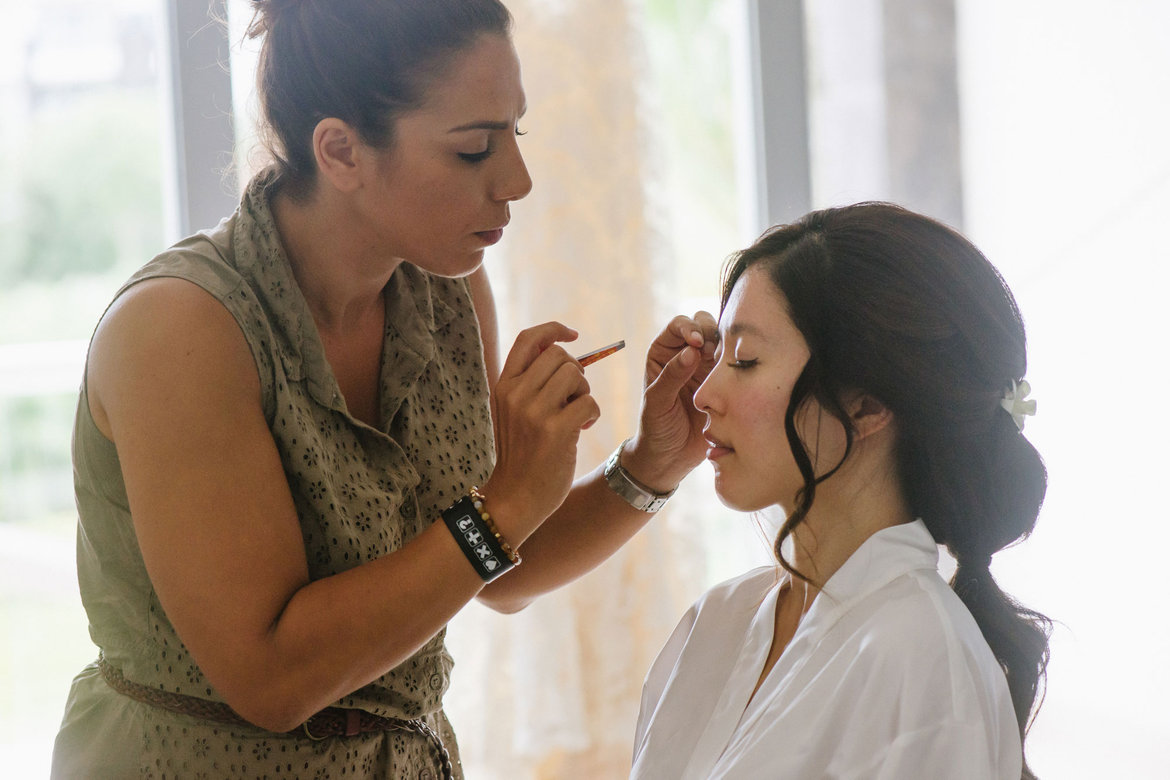 Photo Credit: Genya + Erik Shenko Photography
10. Cake Designer
"Brides and grooms should hire their cake designer about six to three months in advance, which ensures that they have booked all the other main details and definitively gauged the vision of their big day. The cake needs to complement every other detail," says Mimi Ospina from Whipped Up by Mimi. If you envision a very detailed and extravagant confection, then you'll want to pin down a baker nine months in advance so that they can buy all of the necessary goods and start early on prepping details such as cascading sugar flowers.
Plus: 101 Amazing Wedding Cakes ►
11. Transportation
Most couples book their wedding transportation about three months from their wedding date. However, if you're getting married in May or June, then you may have to do this sooner, as you're competing with proms and graduations around that time.