Some wedding trends spread far and wide; others are concentrated into specific area. Here, local industry pros share their favorite traditions across the country.
By: Kristen Klein
New York/New Jersey: Viennese Hour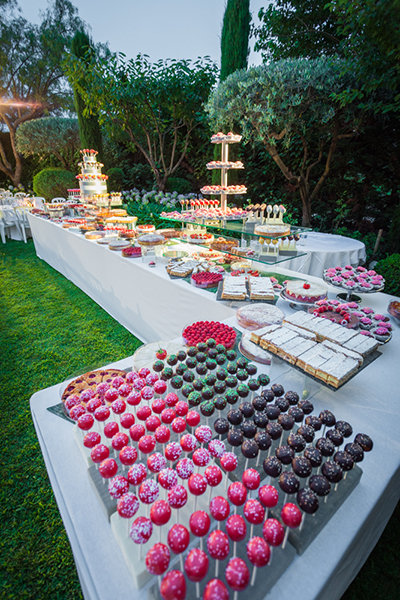 Photo: Cocoon Events Group
Also called a Venetian Hour, this over-the-top dessert course stems from Italian tradition. After dinner, guests are treated to a seemingly-endless display of cookies, pastries, cannolis, tiramisu, cheesecake, pies, brownies, and so much more. Gelato bars and chocolate fountains often make an appearance, too.
Pittsburgh: Cookie Table
 
Photo: Abby Rose Photo
A homespun tradition in Western Pennsylvania, friends and family members of the couple happily spend weeks baking dozens and dozens of cookies to share at the wedding. As the story goes, the cookie tradition was started by European immigrants in the area and grew during the Great Depression, due in part to the high cost of purchasing a wedding cake. Now, it's exceedingly rare to attend a Pittsburgh wedding without a cookie table. Common fixtures include pizzelles, ladylocks, biscotti, buckeyes, peanut butter blossoms, macaroons, and snickerdoodles.
The South: Groom's Cake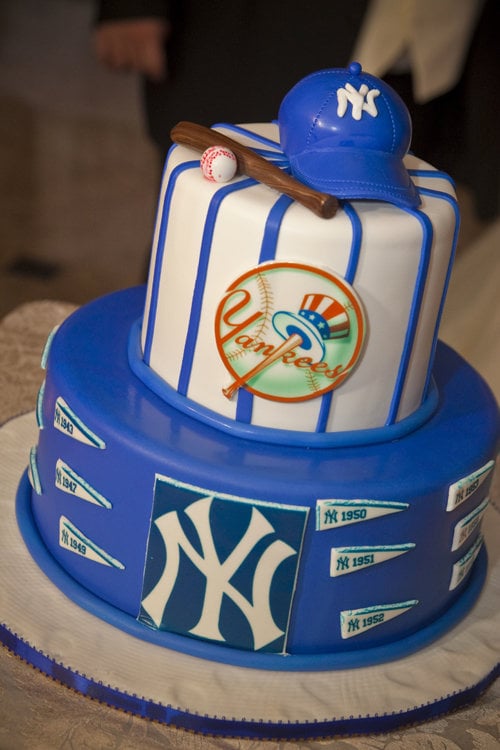 Photo: Palermo Bakery
Traditionally a gift from the bride to the groom, the groom's cake is designed to reflect his personality and interests – including his favorite cake flavor, of course. The groom's cake is displayed next to the wedding cake, and near the end of the night, it's cut and put into boxes for guests to take home. According to legend, if a single woman sleeps with the slice under her pillow that night, she'll dream about her future husband.
The South: Burying the Bourbon

Photo: Stephanie Yonce Photography
They say rain on your wedding day is good luck, but that doesn't exactly mean everyone is crossing their fingers for bad weather on their big day. Southerners have a unique superstition that involves the classic bourbon: "To this day, Southern couples still bury an upside-down bottle of bourbon to ward off bad weather on their wedding day. Our region is known for fairly mild temperatures, but it's a long-held superstition that you can ward off rain by burying the bottle and then digging it up on your wedding day to share with guests," says Paula Ramirez of Historic Mankin Mansion.
Florida: Caribbean Influence

Photo: Masson Liang Photography via Keith Willard
"Being near the Caribbean, it's no surprise that many of their traditions have become commonplace in South Florida. This includes having a king table that overlooks the reception complete with rattan king and queen chairs," says Keith Willard, Wedding Planner at Keith Willard Events. "Another couple decided to take it to a new level by having a coconut bar! Guests could select a coconut, have it cut, add some rum, and a paper straw – and the welcome drink is done!"

Photo: Masson Liang Photography via Keith Willard
Native American: Butterfly Whisper
"According to an American Indian Legend, if anyone desires a wish to come true, they must first capture a butterfly and whisper that wish to it. Since a butterfly can make no sound, the butterfly cannot reveal the wish to anyone but the Great Spirit who hears and sees all," says Willard. "This couple decided to add this to their ceremony. I used a butterfly release company that specializes in repopulating the butterfly population throughout the country. The environment had to be just right... The officiant asked everyone to whisper their wish to the couple and release at the same time. It was truly beautiful to see and watch."
Florida: Sand Ceremony
Unity candles are commonplace in most parts of the country, but in the Sunshine State, sand blending reigns supreme. "The sand ceremony is absolutely perfect for couples who are tying the knot on the beach, and also for those who want to add a nautical touch to their wedding that isn't taking place on the beach. Not only is it an incredible keepsake for years to come, but it's a personal piece of art from the most important day," says Bri Marbais, bridal stylist at The Bridal Finery.

Photo: Romanza Photography
Kentucky: Bourbon
Kentucky is known for its bourbon, so it's no surprise Kentuckians love to incorporate their homegrown beverage into their weddings. "Bourbon bars are a fun and classic nod to the great state of Kentucky. Guests will really enjoy a variety of local bourbon accompanied by creative mixers and garnishes to enjoy during the cocktail hour or reception," says Marbais. "Couples should inquire with their favorite bourbon distillery in regards to purchasing a barrel for their dessert display or guest book sign-in."
New Orleans: Second Line

Photo: Josh Williams Photography
"The second line is a beloved tradition with New Orleans weddings when a brass band takes the couple and guests from the ceremony to the reception. The first line is made up of the band itself and the couple being honored while those who follow as the "second line" are the guests, who are there primarily to enjoy the music," says Emily Sullivan of Emily Sullivan Events. "The second line is steeped in tradition, having initially taken place primarily at famous jazz funerals in the region."
New Orleans: Cake Pull

Photo: Sidney Lopez Photography
"The tradition of the cake pull is very much a part of New Orleans weddings and dates back to Victorian times. Also known as a ribbon pulling, small charms representing various fortunes would be attached to ribbons and then baked into the wedding cake," says Sullivan. "Single friends would then pull on the ribbons and the charm they received would be symbolic of their future. This is still quite popular with southern weddings- either at the celebration itself or during the bridal luncheon."